Sky IS the Limit for Buckeyes' Terrelle Pryor
February 16, 2009
The 6'6 235-pound quarterback from Jeannette, Pa., by the name of Terrelle Pryor is a phenomenal athlete and Jim Tressel knew it, and so did everybody else. 
One thing they didn't know was how big of an impact he would have as a true freshman.
In his first-ever college football game, he didn't play much but he made the most when he did play. Pryor completed 4 of 6 passes for 35 yards along with 52 yards rushing on 9 attempts.
Yes, granted it was an underpowered Youngstown State football program but those are not bad numbers for a true freshman in his first-ever game with limited playing time.
The same thing went for Pryor's next game against Ohio, again good numbers with limited playing time. However, the following game would be a gut check not just for the talented Pryor but for the Ohio State football team as a whole.
Who was the team?
None other then the very talented and physical USC team.
On Ohio State's opening drive they would drive all the way down the field, but only to kick a field goal. USC would answer right back but with a touchdown. As the first quarter came to a close it was only a 7-3 game with the Buckeyes still very much in it.
Terrelle Pryor was getting in plays here and there, and might i add he was very affective against the ferocious USC defense.
However he was not kept in long enough to get the offense in a rhythm. Bringing in Todd Boeckman disrupted any rhythm the Ohio State offense had while Pryor was in.
USC opened it up with 14 points in the second quarter and they never let up. USC would go onto win 35-3. It was a very disheartening game for the Buckeyes, who expected to compete and be there at the end of the game with a chance to pull out a win.
But, there was one bright spot for OSU. Terrelle Pryor never did break with the pressure of playing one of the best teams in the nation, and the best team in the Pac-10.
Pryor completed 7 of 9 passes for for 52 yards and gashed the USC defense with 40 yards rushing on 11 attempts. It seemed that even the speedy defense of USC was just a bit overmatched by Pryor's play making ability and elusiveness.
That was the game that opened everyone's eyes to what Pryor's future could hold in his latter years at OSU and possibly the things he could do for Ohio St. that year.
Coach Jim Tressel noticed it just as much as anyone else, and named the true freshman the starting quarterback for the rest of the season.
The next five games, Pryor showed maturity and leadership that hasn't been seen often by a true freshman. Five games after the beatdown USC gave them, Pryor had lead the Buckeyes to a 7-1 record.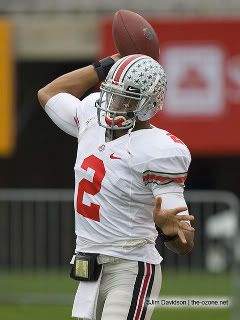 Then came the next test.
The Nittany Lions of Penn State.
Everyone already knew Pryor was a very mobile and agile quarterback, but against Penn State, he showed that he could also open it up in the passing game too, with 226 yards passing on 25 attempts with 16 completions.
With time running out, Pryor led his team down to the Nittany Lions goal line. The young quarterback took the snap off center and scrambled around and what quickly became Yess! became No! Pryor had fumbled on the goal line while going into the end zone.
The young quarterback was crushed and grabbed his face mask in frustration and angst.
His true freshman colors finally showed through at the wrong time.
Ohio State still managed to salvage the season and accepted a bid to the BCS in the Fiesta Bowl against a very determined Texas team led by a young quarterback of their own by the name of Colt McCoy.
The game lived up to the hype, and so did Terrelle Pryor. Even though he only completed 5 passes out of 14 attempts for only 66 yards he ran for 78 yards on 15 attempts.
With Ohio State down 16-7 with only a quarter left to play, Pryor did not disappoint.
With 7:26 left in the game Ohio State brings out senior quarterback Todd Boeckman and puts Terrelle Pryor as a receiver wide to the right.
Boeckman takes the snap from center and throws a 5 yard fade route to the gifted Pryor in the corner of the end zone. Pryor out jumps the corner and brings it in for the touchdown.
Ohio State would go on to lose their third straight bowl game, but the Buckeyes knew they had something special as a quarterback slash athlete in Terrelle Pryor.
Terrelle Pryor would go on to finish the season with 100 completed passes out of 165 attempts for 1,311 passing yards with 12 touchdowns, and 631 yards rushing on 139 attempts with 6 rushing touchdowns.
Ohio State has a very bright future with Terrelle Pryor at the reins of this Buckeye football program. He has fans and media excited with possibilities he presumes for himself, Ohio State, and all of college football.
Already he is getting comparisons to the Tennessee Titans' Vince Young who was drafted out of Texas. Let's just hope he doesn't turn out to be the Vince Young of late.
Pryor marks the new generation of quarterbacks coming into college football and eventually into the NFL.
Don't be surprised to see Ohio State ranked No. 1 before the college football season is over.
They are a young team on the rise with no limit to how well they can play and maybe how many titles they can win in the next three years.
Terrelle Pryor is the real deal and a sign of things to come for the talented Ohio State Buckeyes.
Source-Foxsports.com