Ranking the Best Home Run Derby Performances of All Time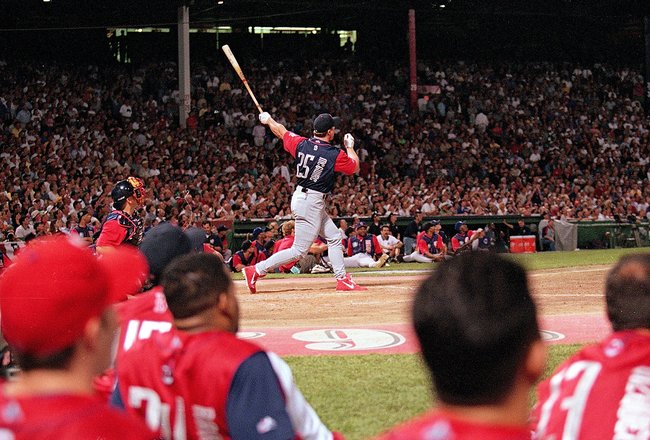 Brian Bahr/Getty Images
Some people do not get lured into the mid-summer classic festivities.
I, for one, love the entertainment that surrounds the Home Run Derby and All-Star game. Baseball is meant to be fun, and for one night out of the year the game is broken down to its simplest element--bat meets ball.
Over the 28-year history of the Home Run Derby, fans have been treated to some other-worldly performances that have blown away even the most cynical of baseball fans.
Here are some of the best individual performances in the derby.
5. Mark McGwire, 1999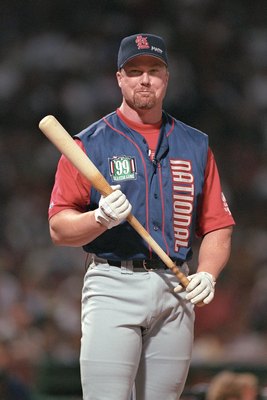 Brian Bahr/Getty Images
I do not care if Mark McGwire only hit 16 home runs in this famous All-Star contest in Fenway Park in 1999.
This derby was historic and memorable for a number of reasons.
First of all, it followed the announcement of the "All-Century Team," which featured every living legend on one field at the same time.
I remember watching from my great-grandmother's house as a seven-year-old boy and being in awe of these baseball greats.
Next, McGwire hit 13 home runs in the first round—a record at the time—and none of them simply snuck out of the yard.
People were standing beyond the Green Monster in Fenway and they had just as good of a chance to catch a monstrous homer as the fans in the stands did.
Despite the fact that Ken Griffey Jr. out-dueled him in the final round, McGwire made his presence felt by swatting home runs that Chris Berman announced were "ONTO THE MASSACHUSETTS TURNPIKE!"
He also nearly broke the light tower in a classic Roy Hobbs moment.
Though his career took a huge hit with the PED scandal, McGwire's power was nothing short of legendary and the nation was captivated during his historical run into the record books.
4. David Ortiz, 2010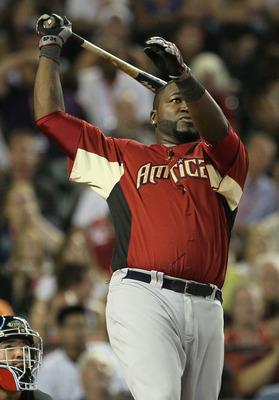 Jeff Gross/Getty Images
David "Big Papi" Ortiz is the perfect player for the Home Run Derby.
He certainly has the prodigious power, but also possesses the sweet swing and the affable personality for baseball to market.
In 2010, Ortiz put on a terrific performance in Anaheim.
Ortiz' smooth swing produced 11 home runs in the finals, and 32 overall, to defeat Hanley Ramirez of the Florida Marlins.
Luckily for Major League Baseball. Ortiz put on such a show because the other participants did not light up the scoreboard.
Matt Holliday, Nick Swisher, Chris Young and Vernon Wells combined for a dismal 12 home runs. Not exactly what the crowd was looking for.
Ortiz certainly did his part, and won his first career Derby in five attempts. According to Jayson Stark, Ortiz' home runs traveled a combined 12,975 feet!
3. Robinson Cano, 2011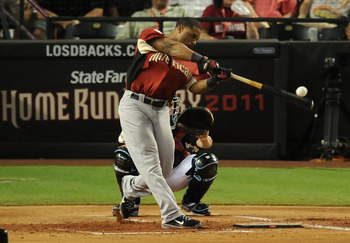 Norm Hall/Getty Images
Despite his gorgeous swing, Robinson Cano may not be known as one of the premier power-hitters in baseball, but he put on an incredible clinic in Arizona in 2011.
Perhaps he received a significant advantage by having his father, a former big league pitcher for the Houston Astros, throw to him for the duration of the derby.
Nevertheless, Cano hit some monstrous home runs, and it was even more impressive that he never tired through out the tournament.
Cano actually matched his single-round high with 12 home runs in the finals, outlasting Adrian Gonzalez by one home run.
Overall Cano bashed 32 home runs—tied for third in derby history.
The jubilation showed by Cano and his father was symbolic of everything great about the game of baseball.
Watching Cano splash several baseballs into the pool in right field was also a beautiful site.
2. Bobby Abreu, 2005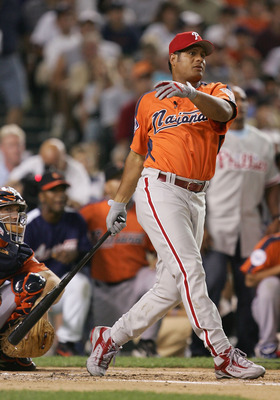 Jonathan Daniel/Getty Images
2005 was the year Major League Baseball experimented with the nation-oriented Home Run Derby format.
Bobby Abreu represented his home country of Venezuela well by setting a tournament record with 41 home runs.
Abreu is a patient hitter in real games—just imagine how long it took for him to hit 24 first-round home runs as he selectively chose which pitches to hack at.
Naturally, his total tailed off in the second and third rounds, but he still managed to hit six in the semis and 11 in the finals to defeat Ivan Rodriguez's total of 20 overall.
Unfortunately for Abreu, he may have used all his power that night.
Despite entering the derby with 18 home runs on the season, he hit only six in the second half.
Nevertheless, Abreu's performance that night was astonishing, as he broke the previous derby record by 14 home runs.
1. Josh Hamilton, 2008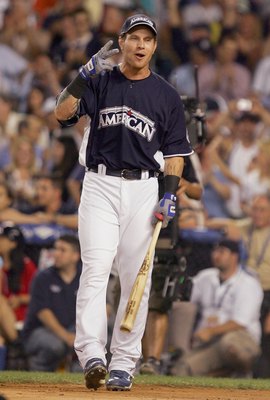 Jim McIsaac/Getty Images
In 2008, Josh Hamilton was THE story of Major League Baseball.
He was not only crushing baseballs at an unfathomable rate, but his inspiring story of recovery and perseverance was nothing short of miraculous.
His first-half statistics were enough to warrant an All-Star appearance and was chosen for the Home Run Derby.
Hamilton selected childhood coach Clay Council—who happened to be 71-years-old—to pitch to him.
He put on a legendary performance in Yankee Stadium, eerily similar to a dream he admitted to having during his days suffering from addiction, which caused much of the crowd to chant his name.
Hamilton hit 35 home runs in the entire tournament—somehow being outlasted by Justin Morneau—but his first-round total of 28, and 13 consecutive, was astonishing and remains a single-round record.
His total did not surpass Bobby Abreu, but on this night Josh Hamilton made the Home Run Derby a nationwide conversation starter that it had never before—or since—become.
Keep Reading