MLB All Star Game: 5 Ways to Improve the Midsummer Classic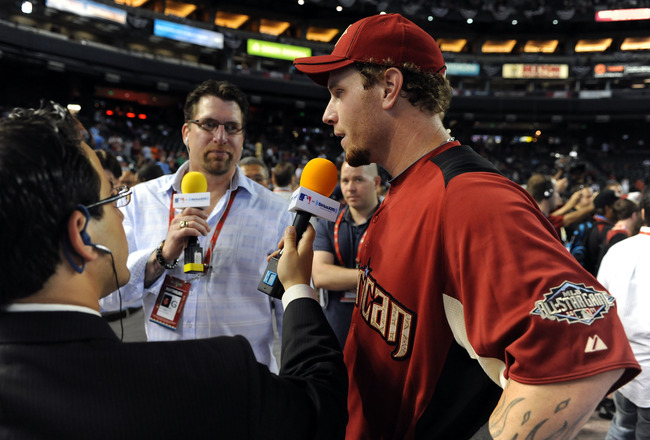 Norm Hall/Getty Images
The 2012 MLB All-Star Game will not be accused of being short on star power, showcasing players such as Josh Hamilton, Robinson Cano, Matt Cain and Joey Votto. Baseball's All-Star Game has always been the greatest midseason event to show off their best.
Fans of other major sports would be hard pressed to rattle off their favorite All-Star or Pro Bowl moments.
Only baseball has a moment like Ted Williams hitting the strange "eephus" pitch off of Rip Sewell in the 1946 All-Star Game.
Show me another sport that has something similar to Pete Rose crashing into catcher Ray Fosse during the 1970 All-Star Game.
Tell me it didn't mean anything to Fred Lynn when he hit a grand slam at Old Comiskey Park during the 1983 All-Star Game.
The MLB All-Star game is just as much a part of the fabric of the game as is Opening Day, the doubleheader, and the World Series.
Baseball's All-Star game has lost its luster in recent years. While it is an exhibition game, it becomes more of an entertainment vehicle each year and has lost its competitive element.
Several factors are to blame, including commissioner Bud Selig's constant tweaks. The huge amounts of money invested into players has also taken the air out of the All-Star balloon as well. Players and teams don't want to risk injury or fatigue by playing in the All-Star Game.
With the American and National League's best players about to square off in Kansas City for the 83rd Midsummer Classic, here are five ways that baseball can improve the All-Star Game.
Fan Voting Has to Be Re-Tooled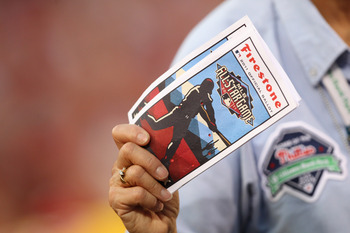 Hunter Martin/Getty Images
While it still remains one of the best ways to connect fans to the game, the fan voting process has created several poor All-Star choices through the years. 2012 is no different.
Players' resumes always contain their number of All-Star nods, and that also means that some of the game's best are left out because fans deem certain players not worthy of All-Star recognition. It's not an entirely fair process.
2012 has some head-scratchers among its starting lineups. Dan Uggla of the Atlanta Braves gets the start for the NL, despite a mediocre slash line of .351/.395/.746. Uggla has just six hits in his last 22 games.
Pablo Sandoval will man the hot corner in the first inning for the National League. Sandoval had an excellent 2011 season, but so far has managed only eight home runs in 2012.
While the fans got it right by voting in some of the game's top players, such as Hamilton, Cano, Votto, and Carlos Beltran, they also missed out on some deserving players who have out-performed their starting counterparts.
Even the managers representing each league get it wrong, using favoritism to fill out the final rosters.
A.J. Pierzynski, Josh Reddick, and Michael Bourn should have been traveling to Kansas City during the All-Star break, not hitting the links at their local golf courses.
The whole voting process should be reversed, and fans should get the final say on either reserves or the last few remaining spots, similar to the Final Vote process.
With plenty of smart baseball statisticians and sabermetricians working in baseball and writing about baseball, there should be a few who could conjure up a fair and smart computing process to select the game's best to the All-Star game.
Fans can vote for the reserves, and still get their say. Having five or more misses every season by allowing fans to vote in the most popular players diminishes the All-Star game, and unfairly leaves some deserving players out in the cold.
The Home Run Derby Needs a Reboot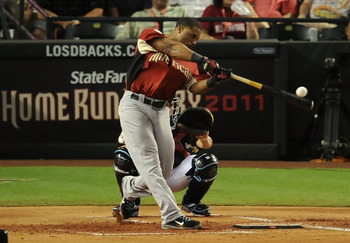 Norm Hall/Getty Images
The Home Run Derby now all but overshadows the actual All-Star game, thanks to the memorable past derby performances of players such as Mark McGwire, Sammy Sosa, and Ken Griffey, Jr.
It's now a popular and important part of the All-Star game. The Home Run Derby, like the All-Star game, has grown stale. It just takes too long.
While it might not be practical to re-format the derby completely, it should be considered.
Most people can spare three hours to watch a ball game, but three hours to watch a skills competition is asking quite a lot of the audience.
While home runs are arguably the most exciting aspect of baseball, even the most die-hard Home Run Derby fans would find it difficult to stay engrossed during the entire contest. It becomes too redundant after the first hour.
MLB might consider televising a preliminary round at a different time, or have each participant take their first round swings during the final regular season game. Baseball could cobble together the footage and make it available online, then the final rounds can be played the day before the All-Star game.
A one-hour competition with no commercial breaks could allow time for a new skills competition to follow, that way we're not bored with three hours of watching players essentially taking batting practice.
The All-Star Game Should Not Count, Mr. Selig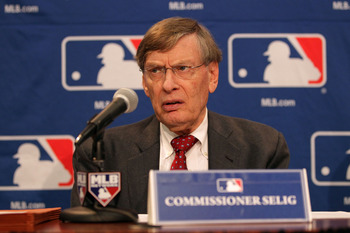 Doug Pensinger/Getty Images
MLB commissioner Bud Selig made the not-so smart choice of making the winning league of the All-Star Game have home-field advantage in the World Series.
This was in response to his poor decision of calling an end to the 2002 All-Star Game after the game was deadlocked 7-7 and both benches had been emptied.
The fact that both league's skippers were managing each All-Star's playing time so conservatively is yet another example of how the All-Star Game has lost its luster and importance, but that's another topic for another day.
Selig had the not-so-brilliant idea of granting home-field advantage during that season's World Series to the winning league of the All-Star Game, a ridiculous premise that still exists today.
Some players still don't show up to the All-Star Game, and some managers still make mass lineup changes every inning.
While eliminating this failed experiment might not do anything to improve the game, it just needs to stop immediately. It is not fair for a team to fight hard all season to make the World Series, and then not have home-field advantage because players from different teams lost an exhibition game in July.
MLB Needs to Pay for Play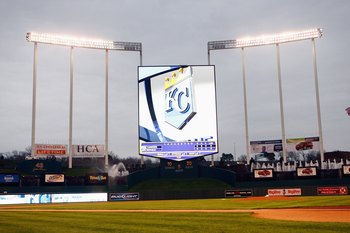 G. Newman Lowrance/Getty Images
Professional athletes are competitive by nature, and that competitive drive is what helped them achieve their success.
What really drives the modern athlete, however, is money, and there is plenty to go around judging by the huge contracts doled out this past offseason.
While many top players have incentive clauses in their contracts rewarding them for All-Star appearances, there are none that pay extra based on their performance in the All-Star game.
It might be a stretch rewarding players for their performance in an exhibition game, but if MLB wants to showcase their best players in an entertaining, competitive game, they can take some of Bud Selig's $20 million contract and foot the bill.
Pete Rose didn't need money to all but end Ray Fosse's career in the 1970 All-Star Game, but it's doubtful you'll ever see that kind of play again. Opposing players fraternize with each other, and likely share investment tips in order to earn a return on their huge salaries.
Players and teams don't want to risk their stars getting injured in an exhibition game. It's not the sport that matters anymore, it's the money. Offer incentives to players to perform at a top level, and you'll see a return to the great All-Star Games of years past.
Not Every Team Needs to Be Represented at the All-Star Game
Bob Levey/Getty Images
While it's nice for Houston fans to see Jose Altuve represent the Astros at the All-Star game, the reality is that Altuve is not a worthy All-Star this season.
Five home runs, and a .344 on-base percentage doesn't exactly scream All-Star.
The game should be reserved for truly the best, and teams that don't have any players representing them will just have to get better.
One of the marks of a last place team is its lack of All-Star-caliber players. With every team needing at least one representative at the All-Star game, the rosters are watered down each year.
If a particular All-Star game is uneventful, it can't be supported by fans waiting to see some of the game's best coming off the bench. They have to see Ryan Cook replace Jered Weaver in the sixth inning because Oakland is required to have at least one All-Star.
If you want people to watch the best, showcase your best. This is not little league where everyone gets to hit and everyone is a winner.
Keep Reading