Arsenal Transfers: How Arsene Wenger Can Get the Best out of Giroud Next Season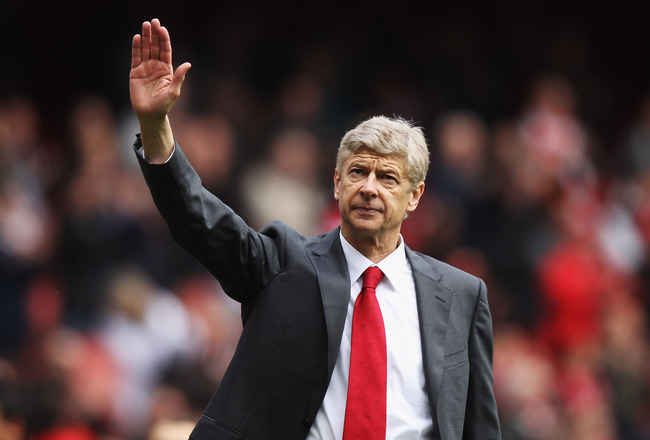 Bryn Lennon/Getty Images
While speculation continuing to swirl in regards to Robin van Persie's future, Arsenal manager Arsene Wenger continues to build his squad and move on as if the Dutchman will not return.
Recently the head man brought in fellow Frenchman and Ligue 1 joint leading scorer Olivier Giroud.
After scoring 21 goals in 36 appearances for Montpellier in 2011, the 25-year-old striker decided to take his talents to Emirates Stadium.
With this addition, Wenger will need to make a few adjustments to his coaching style and make Giroud feel comfortable and confident in an Arsenal kit.
Considering new additions and the continuing van Persie sweepstakes, let's take a look at how Wenger can utilize Giroud properly with the Gunners.
Deal van Persie Before the Season Starts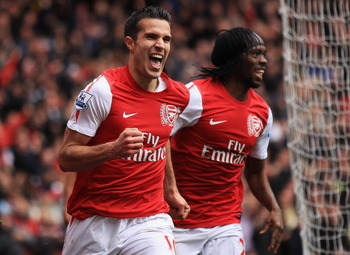 Bryn Lennon/Getty Images
After already stating that he won't renew a contract with the Gunners, Dutch striker and center of transfer attention Robin van Persie has presented Arsenal with a tough decision: sell him now or watch him walk after the season.
With the addition of not only Olivier Giroud, but also Lukas Podolski, Arsene Wenger would be smart to dump RvP while they can still get some money for him.
Even though Arsenal don't really need the money, sending the Dutchman elsewhere is the best route to ensure the development and prosperity of Giroud.
While some could argue that having van Persie on the club would relieve pressure from Giroud in his first stint in the EPL, that type of situation will probably cause more bad than it would good.
With the rumored Juventus target obviously demanding touches and play time, Giroud would be left watching on the sidelines.
Sure he would come in as a substitute and earn spot starts, but if Wenger wants his Frenchman to blossom, he'll need to do so in an immediate starting role.
Giroud was the man at Montpellier and him taking the backseat to van Persie in 2012 would only cause frustration and controversy.
Foster Chemistry Between Him and Podolski
Martin Rose/Getty Images
Giroud wasn't the only new major addition to the Gunners as former FC Cologne man Lukas Podolski will be added into the mix in 2012.
With an illustrious international career with Germany, it was only a matter of time before Podolski packed his bags and headed for the Premier League as Arsenal was fortunate enough to reel him in.
Not only does the multi-faceted German have a powerful and accurate left boot, but he also owns the unselfishness to dish the ball to attackers and potential scorers around him.
Likewise, Giroud possesses the same type of productivity passing the ball even though it may not be as documented as his flashy goals.
While he was the joint leading scorer in Ligue 1 in 2011, Giroud also distributed nine assists, showing his uncanny ability to complement his fellow forwards.
If RvP is out of the picture, a supported relationship between Giroud and Podolski would be the best thing Wenger could do for the Gunners this year.
Wenger is known for instilling confidence in his players and if he does the same with a Podolski-Giroud partnership, the Arsenal attack—and Giroud's productivity—will be in good shape in 2012.
Switch to a 4-4-1-1 Formation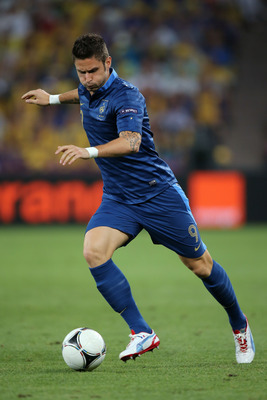 Ian Walton/Getty Images
Even though Arsene Wenger has always been partial to a 4-3-2-1 setup, he will have to make some needed adjustments if Giroud and the Gunners are going to thrive.
With Wenger's preferred formation not really suited for Arsenal's 2012 situation, a shift to a 4-4-1-1 would do just the trick.
While Podolski has the skill set to play striker or attacking midfielder, he's best suited as a centre forward and that's where Wenger should look to play him.
This would leave Giroud to be the lone striker up top, giving him the responsibility and fair shot to play like he played for Montpelier.
Also, this formation would provide help from all over, giving Giroud the opportunities needed to score.
With Theo Walcott and Alex Oxlade-Chamberlain likely working the sidelines and Jack Wilshere and Alexander Song as center midfielders, Arsenal will be able to keep possession theirs and bring chances to fruition.
The main aspect I like about having this type of formation is the threat of the counterattack.
With speedy and crafty footballers in Walcott and Oxlade-Chamberlain on the sides, the Gunners will be deadly in transition.
In a 4-4-1-1, those left and right mids will be able to push the ball up the pitch and send in crosses to Giroud, or find Podolski to maneuver around and dish it to the Frenchman.
Either way, a formation change by Wenger would produce much more chances for the Gunners and especially Giroud.
Give Giroud Heading Opportunities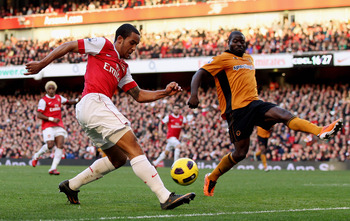 Scott Heavey/Getty Images
One aspect of the game that Wenger must instill in his players in 2012 is to send in more crosses into the box.
While at Montpellier, Giroud not only made the fancy plays, but also he was able to win the ball off headers and create opportunities for himself.
In league play last year, Giroud won 132 headers (70.2 percent) and scored a goal off of a header in Ligue 1.
While he may not have scored as much off headers as Mario Mandzukic or Peter Crouch, the man does stand at 6'3" and poses a threat to knock the ball in the back of the net anytime he gets his head on it.
While it may take a little time adjusting to some of the most physical defenders in world football in the EPL, Giroud's past success and body structure has him in solid position to challenge center backs such as John Terry and Nemanja Vidic in the Premiership.
If Wenger can work on getting his players to swerve it into the box, Giroud will have more lethal opportunities and it will bode well for the Gunners in the end.
Play Him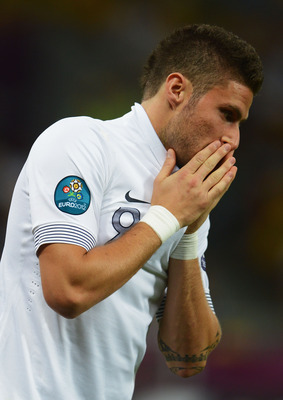 Lars Baron/Getty Images
While this goes along with the likely departure of Robin van Persie, the main thing that Wenger must do for Olivier Giroud is to simply play him.
At the age of 25, the physical French forward is just about to hit his prime and letting him rot on the sidelines for a year won't do any wonders for the man's confidence.
Simply put, Giroud is a guy coming from a smaller French club where he was the go-to guy and letting him see the field sparingly will cripple his way toward productivity for Arsenal.
Despite his inexperience at the highest level of play, Giroud has the right mentality and skill set to come in and perform superbly for Arsenal.
However, he'll only gain that shot to prove himself if Wenger injects the Frenchman and his teammates with confidence in his abilities.
The first step in doing that is putting Giroud in the starting XI.
Keep Reading

Arsenal: Like this team?