LA Lakers: Under-the-Radar Free Agents the Lakers Must Pursue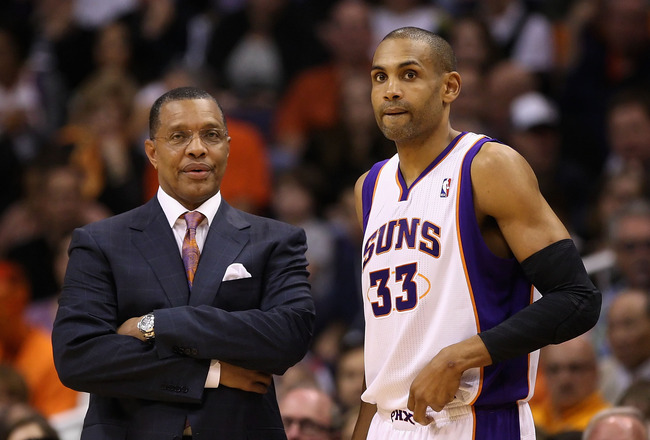 Christian Petersen/Getty Images
It's been an interesting summer for the Los Angeles Lakers. In a move that nobody could have seen coming, GM Mitch Kupchak signed All-Star and future Hall of Famer Steve Nash to a three-year deal and only sent draft picks to the Phoenix Suns. The Lakers finally have the point guard that they have needed for years, but they aren't even close to finished.
Sure, Los Angeles looks a lot better now, but some depth is still needed off the bench as the starters can't carry the entire load. For example, Metta World Peace has been awful at small forward, so until the young guns are ready to step in permanently, why not go after Nash's Phoenix teammate and phenomenal leader Grant Hill? (pictured above)
Hill isn't the great player he was in his early days, but can still be a great contributor despite the fact that he'll be 40 at the start of next season. In fact, he is just one of a few under-the-radar players that Mitch Kupchak should be pursuing.
No. 5: Nate Robinson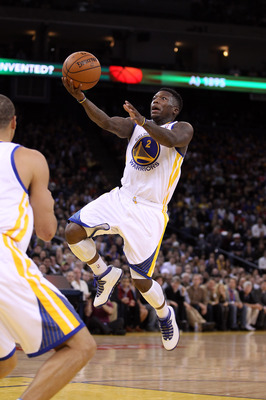 Ezra Shaw/Getty Images
At 5'9", Robinson doesn't look like a major threat. However, he is actually a pretty good athlete on the court.
Playing for the Golden State Warriors last season, the former Washington Husky averaged 11.2 points (primarily coming off the bench) and shot 36 percent from long range. This is a man who plays hard night after night, and could easily inject some electrifying play into the aging Lakers lineup.
Oh, and let's not forget that he is a phenomenal dunker.
No. 4: Kenyon Martin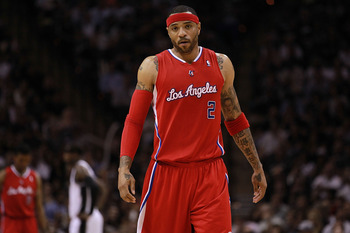 Ronald Martinez/Getty Images
Martin is a risky signing for any team, as he is prone to injury and isn't the tough enforcer he was in the prime of his career. Still, he has good size at 6'9" 240 pounds, and if he can be healthy and in shape for the upcoming season, the Lakers could use him.
Nothing against Pau Gasol, but he isn't the tough defender that the team needs at power forward. If Martin can stay healthy and provide a solid 20 minutes off the bench, the Lakers' second unit would be a lot stronger under the basket and make significant strides in defense.
No. 3: Grant Hill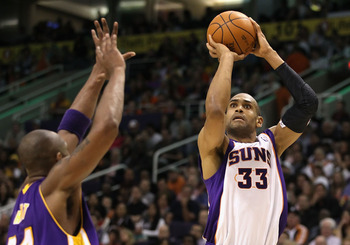 Christian Petersen/Getty Images
David Mehrwein of Yahoo Sports is reporting that the Lakers are interested in Hill, and Hill's interest is mutual. He's going to be 40 years old in October, but still has enough gas in the tank for one more year.
Despite his age, Hill averaged 10.2 points per game for the Phoenix Suns last year and is still a great leader to have in the locker room. Given how the Lakers could soon be in a transitional period that sees the old guard pass the torch to the younger players on the roster, like Andrew Goudelock and Darius Morris, having Hill around to give them the necessary guidance could prove to be a blessing in disguise.
More importantly, he could easily be signed for the veteran's minimum, or just slightly above it.
No. 2: Carl Landry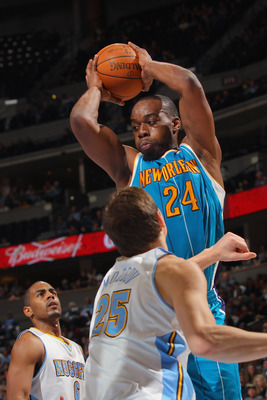 Doug Pensinger/Getty Images
Easily one of the most underrated power forwards in the game, Landry provided great bench minutes for the New Orleans Hornets last season. The 6'9", 248-pound former Purdue Boilermaker averaged 12.5 points and 5.2 rebounds last season while shooting 50 percent from the field.
If a deal can be reached, Landry would easily provide some instant size and toughness under the basket for Los Angeles. As I mentioned before, Pau Gasol is good, but not necessarily a blue-collar defender.
Landry is just that, however, and if he can be lured to the Lakers, their defense will get a lot better.
No. 1: Carlos Delfino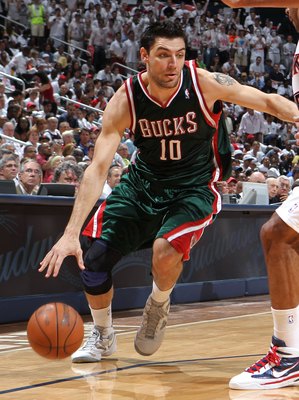 Mike Zarrilli/Getty Images
The Lakers need a Bruce Bowen-type player, one who can play exceptional defense and also consistently sink the occasional three-pointer. Unfortunately for them, Metta World Peace has not been able to play this role with the necessary consistency.
Yet, Delfino has played that role well for the Milwaukee Bucks the past three years. Not only has the Argentine forward done a good job shooting three-pointers, having shot 36 percent from long range in Milwaukee, but he has also been an absolute pest on defense. Last season, he averaged 1.5 steals per game.
Just how much Delfino is worth is debatable, but one thing is for sure. He has great size at 6'6", 230 pounds and is just a great athlete. On the Lakers, he could be a great silent assassin.
Keep Reading

Los Angeles Lakers: Like this team?