The Ugly Truth of CFB Recruiting: Robert Nkemdiche and the Media Monster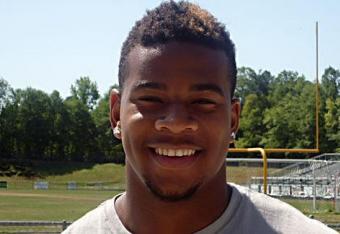 Via ESPN

Robert Nkemdiche, the consensus No. 1 overall player and a terrorizing defensive end—especially if you're a parent of a 5'10" high school tackle that will be tasked with "blocking" his chiseled 260-pound frame next fall—committed to Clemson a few weeks ago, and his commitment created an immediate stir.
A verbal agreement involving a player this talented would be newsworthy regardless of the circumstances. The background and recent comments (some of which could be in question) courtesy of Nkemdiche, however, have escalated matters. Yes, it's July. And yes, recruiting has the most horrid case of insomnia you've ever seen.
Nkemdiche told the Atlanta Journal-Constitution last week that if the school offered defensive back Ryan Carter—a high school teammate—his recruitment would be "locked, it's a done deal, it's over."
Including Nkemdiche, Clemson is already expecting four players from Grayson High School in Loganville, Ga. Running back Wayne Gallman and defensive back David Kamara were already committed to the Tigers, while quarterback Nick Schuessler is expected to be a preferred walk-on. The addition of Carter would make it five, which is a huge cut of the recruiting-class pie.
This past weekend, however, Nkemdiche took to Twitter to share his side of the story regarding the comments that were published. Needless to say, he wasn't pleased with the print:
I Never said any of those things but I guess the AJC will do anything for a story and to keep his job !

— robert nkemdiche (@Robertusmagna_1) July 8, 2012
He added to this sentiment further, clearing up matters with the New York Times regarding his comments and his potential future at Clemson:
"Of course I would want to play with him," Nkemdiche said of Carter. "But if it doesn't work out, I'll still go to Clemson."

Nkemdiche said he never demanded that Clemson's coaches pursue Carter; he said Carter joining him at Clemson would simply make a good situation better.

"I didn't give Coach Swinney an ultimatum about anything," Nkemdiche said. "I hope he doesn't feel obligated to offer anybody a scholarship because of my commitment."
And so, in a weeklong stretch, a young man preparing for his senior year in high school has attempted to explain the recruitment of a major university through the media and has had to take to other media forums to explain his first media encounter, and what he may or may not have meant.
The root of the insomnia, the core of the madness, the reason that recruiting has transformed into much more than a necessary process for talented athletes to select their college destination. And really, it's never been that simple.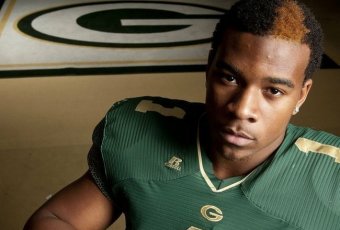 Via Bloguin
The process of "recruiting" has been far from pure through the various changes and financial increases the game has endured. The shady booster became a "street agent," and there is still plenty of ugly in the luring of talented players to one school over another. This, of course, has always been about the money. For the player, the coaches, the school and even the connected but somehow-not-connected man delivering the envelope or RV.
A new form of financial gain has brewed, however, and while it doesn't pad the pockets of the player, others are running out of places to tuck the dollar bills. It involves a keyboard, sometimes a pay wall and a fanbase seemingly glued to the every move of an athlete elite more than a half-year away from National Signing Day.
It has a direct influence over the player without trying to generate any influence at all. Instead of being tugged in one or two directions, the top players in the country are now being pulled every way possible.
The question is: Where is the breaking point?
I worry for the well-being of the young man, not the athlete, only because I can't imagine the outside pressure that this media blanket must create. I think of myself as a 15- and 16-year-old, assess what my problems were at the time and wonder what life would be like if I trended on Twitter worldwide over something I said.
Image Via Gwinnett Daily Post
I also worry where it could be headed next. How can the spotlight possibly get any larger for these marquee targets? Coverage certainly won't shrink.
This is the strange territory of the game right now and the process many of the future stars will have to endure. They are stars well before they can officially take on scholarships, and they are extensions of brands (on a smaller level, schools, and on a larger level, the game) well before they step foot on campus and stay there.
The skills take a backseat to the rest of the hysteria, at least until an athlete gets there. Before that, he's viewed as a program savior. No pressure here, either.
Some will argue that those in the spotlight "bring it on themselves" with extravagant announcements and engaging Twitter accounts, and perhaps they're correct to a degree. Then again, they're only doing what those before them did on a forum that craves more. This forum has grown over time, and there is no sign of stopping this expansion. Well, unless the money stops coming in...and it won't.
In February of next year, Robert Nkemdiche will sign with someone, likely Clemson, and will do so in front of hundreds of cameras. It likely won't be extravagant. Simple, with his teammates—however many that might be—and his college-football career will begin just about 14 months from now.
The attention on where he'll go and whom he'll go with will finally give way to what we want to see. Football, results and on-the-field turnout. He will likely be an incredible talent, but not as elite as we all hoped. In reality, how could he be?
That bar was set unreasonably high well before he ever got there.
This article is
What is the duplicate article?
Why is this article offensive?
Where is this article plagiarized from?
Why is this article poorly edited?