Minnesota Wild Among Cup Faves After Parise, Suter Signings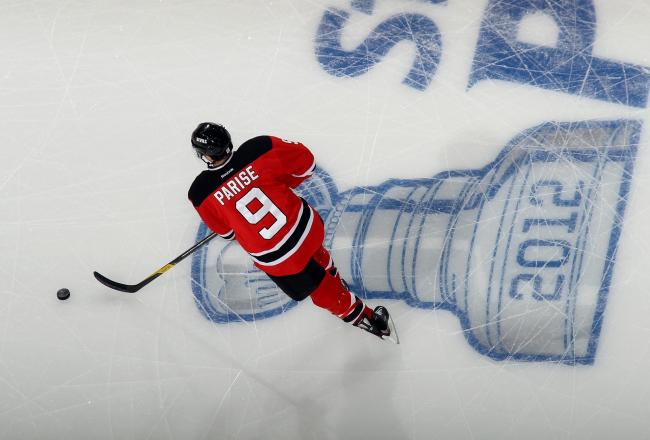 Bruce Bennett/Getty Images
There are three things you should never ask someone:
Never ask an overweight woman if she's pregnant.
Never ask Michael about his business.
And never ask me if I think my team will win a championship.
I will always say yes.
In 2009 I was convinced we were going to win the Super Bowl and the World Series.
Then the Vikings put too many men the huddle and Brett Favre threw a pass across his body to the New Orleans Saints and Joe Mauer and the miracle Twins couldn't get past the Yankees and their Evil Empire.
In 2003 I thought we were going to win both the Stanley Cup and the NBA Finals.
Then the Anaheim Ducks figured out Jacques Lemaire's trap and Kevin Garnett and the Wolves couldn't get past the Kobe Bryant and the almighty Lakeshow.
It's always the same old story: one of the big four—the Twins, Wild, Wolves or Vikes—always teases us, saying, "We'll be the team to win, Minnesota," only to lose in the playoffs.
In fact, last year when the Wild were the best team in the NHL for the first half of the season I penciled them in to the Stanley Cup finals…only to see them free fall after the All-Star Break.
Year after year, I'm a sucker.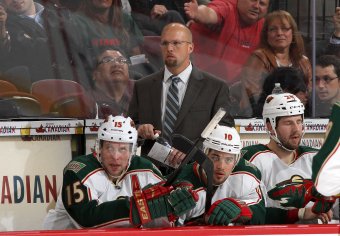 Jana Chytilova/Freestyle Photo/Getty Images
I get my hopes up. I start talking smack to all my friends, skipping classes to watch games and save up to buy a championship t-shirt…only to be disappointed once again.
(If I had a theme song, it would be The Offspring's Self Esteem.)
This year will be different though.
This year an owner in Minnesota decided to spend in free agency. Craig Leopold just threw down $198 million to bring two of the best hockey players in the world to Minnesota.
Ryan Suter is going to lock down the best forwards in the league:
Nobody. Will. Score. On. Him.
Zach Parise and Mikko Koivu are going to go off, terrorizing goaltenders from Vancouver to Tampa Bay.
Parise is going to make the Minnesota public go Marian who?
It's going to be the Vancouver Olympics every night, except after Parise scores and send the team into overtime his team will win.
And that's not all.
With Koivu and Parise on the first line, Dany Heatley, Devin Setoguchi and Mikael Granlund will get to play on the second line and face the first defensive pair less frequently.
Hannah Foslien/Getty Images
You know what this means: Heatley returns to CASH Line status, depositing 40-plus goals per season. Setoguchi drops 30 this season. Granlund is named Rookie of the Year.
On the other end of the ice, this team becomes so solid defensively that it doesn't matter who's in net: Niklas Backstrom, Josh Harding, Matt Hackett the hockey player or Matthew Hackett the computer graphics animator.
The Homeboys, Tom Gilbert (Minneapolis) and Nate Prosser (Elk River), will thrive in front of friends and family and the-guy-who-kinda-looks-like-Chris-Pine, Clayton Stoner, will deflect slap shots like he's James T. Kirk fighting off Klingons in the starship Enterprise.
I'm not calling us the Miami Heat, nobody is going to compare the Wild to the LeBron James vanity show, but I do expect this team to contend.
Think about it logically:
Edmonton is still too young.
Calgary is still too old.
Colorado always underachieves.
And Vancouver has internal problems. Plus, they always come up short of expectations.
So we can win the division, get a top seed and then make a run.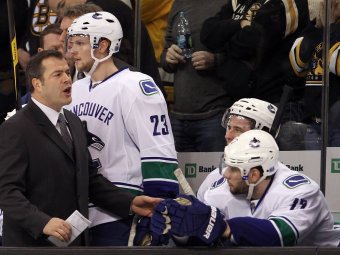 Elsa/Getty Images
Hey, LA won as an 8-seed this year.
Detroit got worse because they lost Lidstrom and we took the guys they wanted in free agency.
We got the better end of the San Jose trades.
St. Louis still will be going through growing pains.
Patrick Kane is probably still hungover from partying in Madison.
And once you're in the finals, all you've got to do is win four games.
This year I'm expecting the best…
And bracing for the worst.
Tom Schreier writes a weekly column for TheFanManifesto.com.
Follow him on Twitter @tschreier3.
This article is
What is the duplicate article?
Why is this article offensive?
Where is this article plagiarized from?
Why is this article poorly edited?

Minnesota Wild: Like this team?