NY Yankees Trade News: Why Bronx Bombers Should Stay Put at Trade Deadline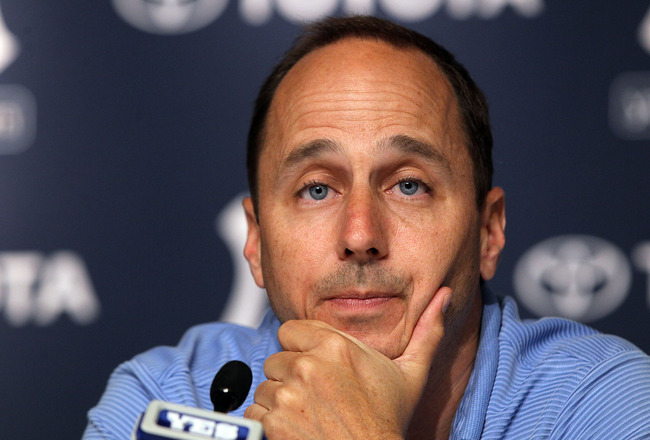 Jim McIsaac/Getty Images
The MLB Trade Deadline is rapidly approaching and contending teams will be looking to make last-second deals to boost their roster and make a run at the 2012 World Series.
Of course, the New York Yankees are always one of the teams very much in the hunt for the various talent on the trade market, but this year is different. The Bombers could very easily fill their needs with players they already have.
Here's how.
Speed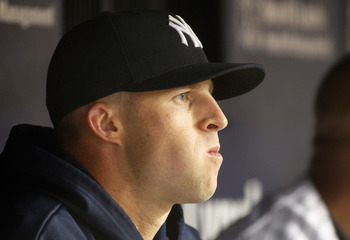 Mike Stobe/Getty Images
This would be of much more importance if not for the imminent return of Brett Gardner from the DL after the All-Star break. According to Ray Monell of Yahoo! Sports, the outfielder could make his return in mid-to-late July.
New York has had trouble manufacturing runs all season, as they've relied heavily on the long ball to win games.
While that has worked so far and should get the Bombers to the postseason, it will become extremely difficult to win with such an approach going up against a playoff team's best starters.
Gardner is the only guy the Yanks have who can change a game with his speed. The 28-year-old has stolen 96 bases the past two seasons and been the major source of speed for New York.
This year, the Bombers are 25th in the Majors in stolen bases, but thanks to Gardner, relief is on the way.
Catcher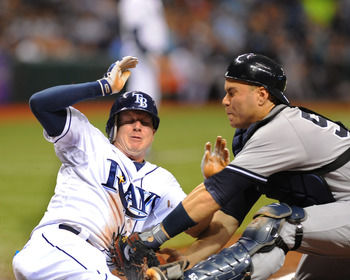 Al Messerschmidt/Getty Images
Russell Martin was fortunate enough to break his 30-at-bat hitless streak, but that doesn't change the fact that he's sporting a .179 batting average and has been the single worst hitter on the Yankees' roster by far.
But does this hole in the Yankees' lineup really affect their production that much?
New York is still sixth in runs scored and have more than enough offensive punch to replace Martin's non-existent bat.
But the amount of work Martin has done with this pitching staff can't be overstated. The Yanks' catcher has more than had a hand with the improvement of this team's pitching. That's still a valuable part of what Martin does for this team and I don't see any need to replace him.
Besides, the Bombers have plenty of catching prospects in the minors and Martin can help make the transition to them.
Clutch Hitting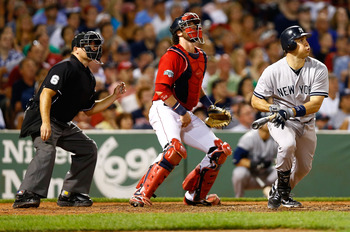 Jared Wickerham/Getty Images
I'm not sure how you target clutch hitting at the trade deadline, but the Yankees could definitely use some.
By clutch hitting I mean being able to get hits with runners in scoring position. As it stands, New York is 27th in that category and are instead relying on the long ball to score runs.
The Bombers could look for hitters who have a high average with runners in scoring position, but those types of hitters are normally in the upper echelon of talent in this league and are either unavailable or would require too much in return.
Besides, there really isn't much wiggle room in the Yanks' lineup to squeeze in another bat without making a drastic roster change and this team will certainly make the playoffs even without much success with runners in scoring position.
New York will just have to hope that when the big moments come, their own high-priced stars will get the job done.
Starting Pitching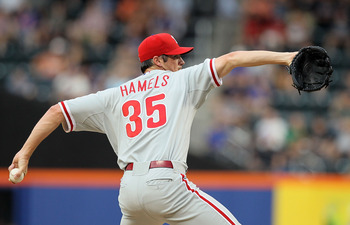 Jim McIsaac/Getty Images
According to Buster Olney of ESPN, the Yankees do not plan to make a move for Philadelphia Phillies starter Cole Hamels, unless the team's asking price comes down.
Unless Philly's asking price for Cole Hamels diminished dramatically, the Yankees have no intention of joining the bidding, sources say.

— Buster Olney (@Buster_ESPN) July 4, 2012
Hamels is the only starter on the market that could backup CC Sabathia as a viable No. 2. Since he's off the Yanks' list, this particular need is dramatically lessened considering every other pitcher potentially on the market isn't much better than what New York already has.
The biggest name thrown around has been Matt Garza of the Chicago Cubs (per Jon Heyman of CBSSports.com), but despite his experience in the AL East, his numbers are less than impressive this season and are comparable to the back-end starters of the Yanks' rotation.
Garza, or any pitcher other than Hamels for that matter, won't make an enormous impact, and the Bombers are just better off staying put and saving their farm system for another day. The price for Garza would be sky-high and not worth the Yanks' time for the caliber of pitcher they are receiving in return.
Sure, Sabathia and Andy Pettitte are both on the DL, but Sabathia will be back right after the All-Star break, and Pettitte will be back just in time for October baseball. Until then, 35-year-old Freddy Garcia can continue to right his ship filling in for Pettitte. That should be more than enough to bridge the gap to the 40-year-old's return from injury.
Pitching is one thing the Yankees don't need unless they have a shot at a legitimate top-of-the-rotation starter that they can lock up for the long term. Nothing else is really worth the price.
Bullpen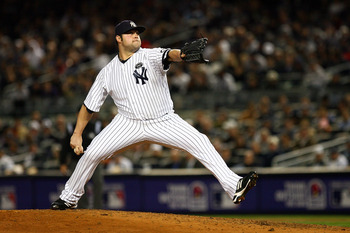 Andrew Burton/Getty Images
Surprisingly, the Yankees have been doing just fine without Mariano Rivera after his season-ending injury and that's thanks to a stellar job by Rafael Soriano, who has saved 20 games in 21 chances and is pitching to a 1.65 ERA.
But getting the game to Soriano has become a problem.
After a great 2011 season, Cory Wade has struggled mightily and was designated for assignment recently. He was called up for the Bombers' doubleheader with the Boston Red Sox on Sunday, but was subsequently smacked around for three runs on four hits over 0.2 innings.
Back to the Minors he goes!
Now, the Yanks are relying on Chad Qualls, Cody Eppley, Clay Rapada and Boone Logan to make their playoff push. Not exactly an ideal cast of characters worthy of much trust in a big spot.
However, manager Joe Girardi could be getting reinforcements soon by the name of David Aardsma and Joba Chamberlain, with both coming back from serious injuries.
Marc Carig of the Star-Ledger is reporting that Chamberlain could inject the Yankees' bullpen with some much needed depth in a matter of weeks.
Aardsma will take slightly longer, but according to Erik Boland of Newsday, Yanks general manager Brian Cashman believes the former Seattle Mariners closer can make an impact this season.
With these two relievers set to return and a solution to their bullpen problems already in-house, the Bombers are better off saving their trade assets for other needs.
Keep Reading

New York Yankees: Like this team?