Stephen Strasburg vs. the Nationals: Who Will Win Innings Cap Tug-of-War?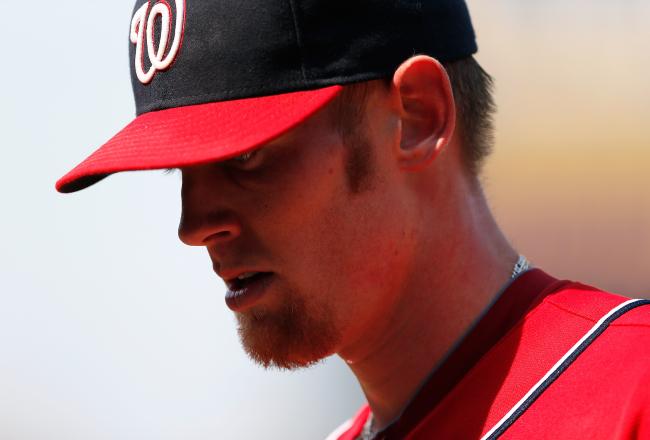 The second half of Stephen Strasburg's season begins Sunday when the Washington Nationals face the Miami Marlins.
After pitching one inning in Tuesday's All-Star Game, Strasburg is at exactly 100 innings for the season. That appearance in the All-Star Game didn't count toward Strasburg's regular season innings total, of course, but it gives us a nice round number to work from.
The clock has been ticking on Strasburg from the very beginning of the season. The Nationals have said that they will limit Strasburg's innings as he pitches through his first full season since having reconstructive surgery on his right elbow.
General manager Mike Rizzo refuses to put a number on the innings limit, but it's presumed to be approximately 160 innings, the workload Jordan Zimmermann had last season after returning from Tommy John surgery.
Strasburg has averaged six innings per start this year. So are we then looking at the Nationals' ace having 10 starts left while they're fighting for a playoff spot and division title?
If the Nats stick with that plan, Strasburg's season will be over by early September. There will be a month still to play in the regular season. The NL East race will likely be a tight one between the Nationals, Atlanta Braves and perhaps the New York Mets. (The Marlins lurk on the fringes of the race as well.) And then there's the postseason.
Do the Nationals really intend to keep Strasburg—their best starting pitcher and Cy Young Award candidate—on the bench with so much at stake?
We're not talking about the Nats just sneaking into the playoffs by virtue of an extra wild-card spot this season. They're in position to win a division title with home-field advantage throughout the NL playoffs as the top seed. This team can make it to the World Series.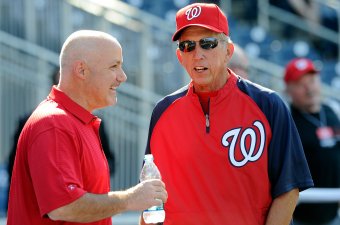 Mike Rizzo and Davey Johnson have a tough decision to make with Stephen Strasburg.
Greg Fiume/Getty Images
However, that path would be a whole lot easier to travel with Strasburg taking the mound once or twice per playoff series.
Does this team—players, coaches and front office, along with its fans—want to face the opportunity that could be squandered if a best effort isn't put toward winning a championship?
It could be argued that the Nationals can make it through the last month of the season and the postseason without Strasburg, as crazy as that might sound.
The Nats have the best pitching staff in the league, compiling a 3.16 ERA going into Sunday's play. Gio Gonzalez and Zimmermann can be a strong top two, with Edwin Jackson and Ross Detwiler manning the back end of the rotation. And John Lannan can be summoned from the minors to help out, along with long relievers Tom Gorzelanny and Chien-Ming Wang contributing.
Perhaps Rizzo can also make a deal at the trade deadline to bolster his rotation, adding a middle- to lower-tier starter.
If those are the options the Nats' front office and coaching staff are mulling over, why not implement that plan now, give Strasburg a rest and save him for the end of the season? Doesn't it make as much sense to do it now rather than wait until September?
Rizzo seems determined to stick to his original plan. He's not going to let Strasburg pitch 200 innings (and beyond, including the postseason). But it's also safe to say that the plan has changed for the Nationals. They were expected to be on the fringes of playoff contention this season. Instead, they're in the driver's seat. The Nats are looking more like the front-runners in the NL.
As you might expect, Strasburg wants no part of being shut down. He's a competitor, and he wants to be a meaningful part of his team's playoff run. He's already said the Nationals will have to rip the ball out of his hands if they want to limit his innings, per ESPN.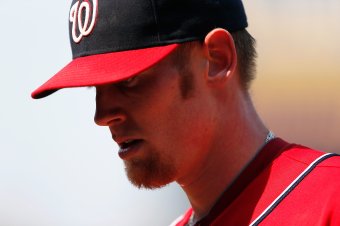 Stephen Strasburg wants no part of being shut down this season.
Kevin C. Cox/Getty Images
So we have a potential standoff developing here between Strasburg and the Nationals. Who's going to win this in the end?
Rizzo is the boss. If he says Strasburg isn't going to pitch, then he's not going to pitch. And the Nats' GM appears ready to take all the criticism and scrutiny that would come with that decision.
However, it's not that simple anymore. Rizzo has to know that. The Nationals have exceeded expectations, while presumed contenders like the Marlins and Philadelphia Phillies have fallen far short of preseason predictions. Rizzo's plan needs some wiggle room in it because of these developments.
(The wiggle room has always been there. Otherwise, why does Rizzo refuse to put a number on Strasburg's innings limit? He knows he's not just dealing with cold numbers here.)
Strasburg won't need to have the ball ripped out of his hands. He might have to sit down or take a break more often than he'd like through the next three months of the season, but for the greater good of what could be a special season for the Nationals, Strasburg will do so grudgingly.
Ultimately, both sides will get what they want, though there will be some bending in the process. Nationals fans (and baseball fans) will get to watch one of the best pitchers in baseball through October because of it.
Follow @iancass on Twitter
This article is
What is the duplicate article?
Why is this article offensive?
Where is this article plagiarized from?
Why is this article poorly edited?