One Word for Oregon 2013 Recruit Dontre Wilson at the Opening: Wow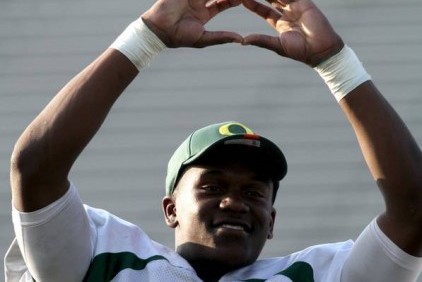 fishduck.com
Latest Nike sneakers? Check. Nike cap? Check. Even Nike prescription sunglasses? Check.
As a former Nike employee, I know that one doesn't dare show up on the Nike campus wearing, God forbid, a competitor's product. It's just not done.
I'm decked out in Nike and ready to check out The Opening, Nike's invitation only, uber-elite training camp for the country's Top 150 high school football players.
While everyone else was enjoying a long holiday weekend, I spent the better part of it watching 150 17-year-olds run around a field. If you can call the palatial Ronaldo field behind the equally palatial Tiger Woods Center a field.
Since we're talking palatial facilities, it has to be said that The Opening is brilliant marketing by Nike. You have to figure that a large percentage of these kids will one day turn pro.
By the time they leave the state of Oregon Sunday night, where do you suppose their footwear and apparel allegiance might lie?
And, does this event help the Oregon Ducks? Every time I got close to a Ducks' prospect I wanted to say: "The weather is always like this in Oregon (temp in the 80's with a gentle breeze blowing off the Pacific) and every place looks like the Nike campus."
But I demurred because I wasn't sure if a fan lying to a recruit is an NCAA violation.
Let's look at the weekend's action.
Begin Slideshow

»
CBSSports.com
Does this feel right to you? Flying kids from their dusty, hot hometowns, and dining and lodging them as kings? Should we let ESPN interview them and watch the media hang on every word like the kid is Gandhi?
I get that football is the ticket for most of these kids, and Nike makes sure they have a great experience. But they are such babies, really, in spite of their (often considerable) size.
I wonder how many of these kids are on their first trip away from home? If they are, does Oregon look a whole lot better than their hometowns in Alabama, Texas and Tennessee? Is that fair at this stage of their lives?
In the car on the way home, my brilliant husband told me to get over it. He reminded me that in Canada, kids are plucked out of their family homes at tender ages like 12 and 13 if they show hockey promise. And the Russians and Chinese do the same thing to tennis, basketball and Olympic prodigies.
He's right of course. So that ends my rant—now it's on to Dontre.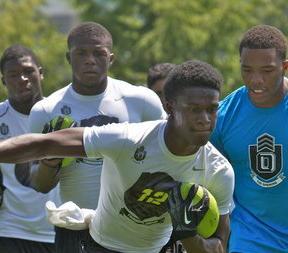 Oregonlive.com
I tried to be objective, really, I did. I looked at all the running backs, including those rated higher than Oregon commit Dontre Wilson.
Honestly, all the running backs at The Opening looked good. But I am here to tell you that Wilson would be my choice for the top RB in the 2013 class.
Wilson was shorter in stature than most of his teammates, and, I would guess, many of the other 12 or so running backs in attendance.
Strangely, the minute the play starts, you don't notice Wilson's size at all. That's because he is a blur. The kid looks like he's been shot out of a cannon.
On more than one occasion this weekend, Wilson reminded me of De'Anthony Thomas' Rose Bowl touchdown run. On both days that I saw him in the seven-on-sevens, he had the two best runs of the day.
Wilson isn't just fast; he also has good cut moves that reminded me of LaMichael James. He is also a sure-handed receiver, and executed a beautiful catch and run that went 80 yards for a touchdown on Sunday.
Wilson is just lightning fast off the line, and on a couple of plays I remember, the defenders weren't within 10 yards of him. He was also used as a decoy occasionally, and the defenders bit big-time.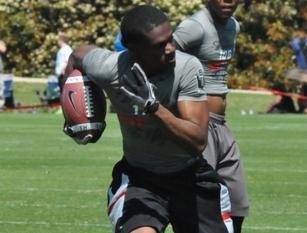 247Sports.com
I did witness one scene that was a little troubling.
Wilson appeared to run one route that his team coach didn't like. He walked Wilson off the field talking and coaching as they walked. Wilson didn't appear to want to listen and walked away from the coach on the sidelines.
Now, it was hot and I was getting cranky myself, and it had been a long weekend. Plus, I was across the field from them, so it might not have been as unpleasant as it looked from where I sat.
I want to give Wilson the benefit of the doubt. But, personally, I would like to see high school students be completely open to learning, especially when you know the adult is really trying to help them.
But as long as Wilson doesn't have a 'tude, there's not a doubt in my mind that he is the perfect choice to be next in the long line of terrific Oregon running backs.
Scout.com
One: Offensive lineman Alex Redmond, another verbal commit for Oregon, is an absolute moose. More on him soon in a follow-up article, but just know that he could pick me up with one hand and toss me across the field.
Two: This looks to be a particularly strong cornerback class. Every CB I saw was big, fast and strong, with great leaping ability. There were approximately 25 CBs here, and, truly, I would be happy if the Ducks signed any one of them.
Three: Can the Ducks steal offensive lineman Nico Falah from USC or UCLA? Falah has added a visit to Oregon, and he looked great at this event. I'm going out on a limb here and say that the beautiful Oregon weather and Nike did its trick, and that Falah picks the Ducks.
Lastly: The future of college football in America looks very, very bright. These kids are talented beyond belief, and, for the most part, are charming and thoughtful young men.