Auburn Football: What You Need to Know About Tigers TE Philip Lutzenkirchen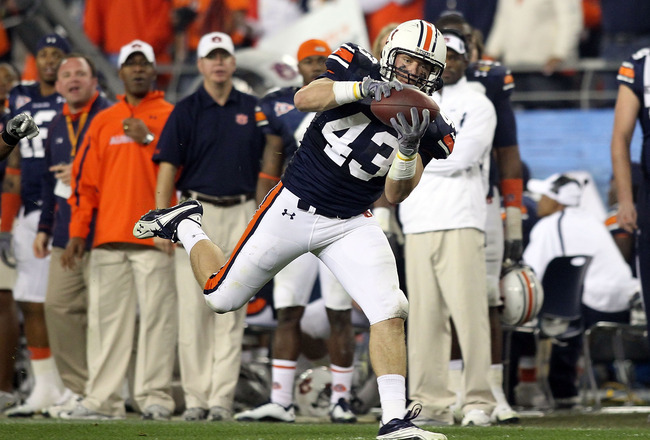 Jonathan Ferrey/Getty Images
Auburn has very few seniors when it begins fall camp this August, with one of the most prominent players being Philip Lutzenkirchen. Lutzenkirchen is a vocal leader for the team, but also a player that fans need to know more about before the 2012 season kicks in.
Lutzenkirchen has been a player that will now play in two different offensive systems, and has been successful at adapting to the roles that were laid before him each season by the Gene Chizik coaching staff.
Lutzenkirchen came to Auburn as a slot-type pass catching tight end, and he is now a player that will be one of the best overall tight ends in the 2013 NFL Draft class—also, he is likely to be one of the first off of the board.
With the 2012 season right around the corner, here is what you need to know about one of the best tight ends in the college game.
High School Highlight Reel
It was no secret what a strength Philip Lutzenkirchen was coming out of high school. Auburn had just moved to the Tony Franklin high-flying spread, and Lutzenkirchen was one of the first big-name players to sign on for the system. The Tigers needed a pass-catching tight end.
Lutzenkirchen began to waiver his commitment when the firing of Tommy Tuberville came, but after Gene Chizik hired a spread-oriented offensive coordinator—Gus Malzahn—Lutzenkirchen's concerns seemingly disappeared.
Few high school stars make it to highlight reel legendary status, but Lutzenkirchen did just that with a play in which he caught a football midair out-of-bounds in the rear of the end zone—only to toss it back to his teammate who scored a touchdown.
There was no denying the pass-catching and overall athletic prowess that Lutzenkirchen possessed in high school. He was the No. 3 ranked tight end in the country according to Rivals.com, and the No. 172 player nationally that season.
Best Hands on Team
There is absolutely no statistical data to back up this claim, but if you ask any current Auburn Tigers staff member or player, they will likely agree.
After making two diving touchdown catches against Georgia in traffic in the 2010 season, it seemed that his reliability was solid. Then came last season's one-handed touchdown grab against Ole Miss that put his highlights on the national stage.
In the past few seasons Lutzenkirchen has played a lot of halfback as a blocking back in the rushing attack for the Tigers, and has not been freed up to make plays in the passing game.
This season should be his most productive yet, as he could catch more passes than his career totals to-date in just this coming season. He is simply too good to be kept ineffective in the passing game.
Pre-Season All-American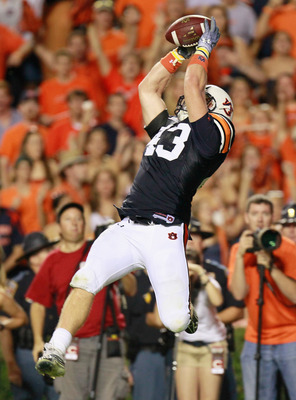 Kevin C. Cox/Getty Images
Phil Steele dropped his pre-season All-American list this summer, and a few Auburn Tigers names landed on the list as a result. One of those was Philip Lutzenkirchen.
Lutzenkirchen comes in as a third-team selection on the list as an All-American—as well as a first-team All-SEC selection.
The all-conference awards are expected, but don't be surprised if Lutzenkirchen overachieves at the All-American level. With the return to a tight end pass-friendly offense, and the addition of Jay Prosch to the lineup as a lead-blocker, Lutzenkirchen will be dangerous.
Selfless Player—Offensive Leader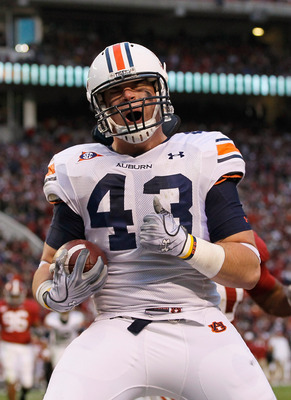 Kevin C. Cox/Getty Images
Being a selfless player in the college football world of today is rare. Lutzenkirchen is one of those guys. Kodi Burns is another former Tiger that reminds me of Lutzenkirchen—always willing to do whatever it takes for his team to win.
When Lutzenkirchen came to Auburn, he expected to be used as a pass-catching lightning bolt in the slot that resembled Dallas Clark for the Indianapolis Colts. Unbeknownst to Lutzenkirchen, the Tigers got scary thin at fullback, and were in dire need of a physical lead blocker.
For the past two seasons, Lutzenkirchen has been that physical lead blocker the Tigers needed from the backfield. He has been a very hybrid-type tight end, but his primary role has been to create holes for rushing lanes.
His selfless, team-first attitude is one that is followed. His teammates respect him on and off the field and follow his work ethic during summer workouts. As a senior, Lutzenkirchen has won a national title, and stood disappointed on his homefield after a tough defeat to an archrival.
Lutzenkirchen knows how to help the Tigers win, and is guiding the young lineup this season as they search for championships. His willingness to do whatever it takes is respected—it's what makes him a major leader for this offense.
Top Tweeter in College Football
Butch Dill/Getty Images
Not often is the reputation as one of the top personalities in college football a good thing—unless it is for all the right reasons. Lutzenkirchen gives all the right reasons.
Twitter has been the downfall of a number of college and future-college athletes, as they have said stupid things and truly put out despicable material on a public forum.
Lutzenkirchen has over 25,000 followers and is always bringing great commentary for fans to eat up. He is truly a funny guy that is a great example as to why coaches need to let their athletes stay on the public forums.
Lutzenkirchen interacts with his followers as well, keeping the Auburn Family closer to the vest than most would expect.
Record Breaker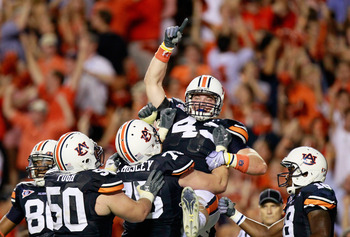 Kevin C. Cox/Getty Images
With all that Lutzenkirchen brings to the table as a leader and an athletic tight end, he also brings records to the sideline.
Last season, Lutzenkirchen set the record for the most touchdown receptions for a tight end at Auburn in a career by hauling in seven touchdowns last season. In 2011 he entered the season tied for second in Auburn history, with seven total touchdown catches.
He has totaled less than 50 catches in his entire career. Look for more records to fall for the tight end position this season, with Lutzenkirchen freed up to make plays.
By season's end, Lutzenkirchen will be one of the most dangerous tight ends in the country.
Keep Reading

Auburn Football: Like this team?