Robin van Persie: Top 5 Goals for Arsenal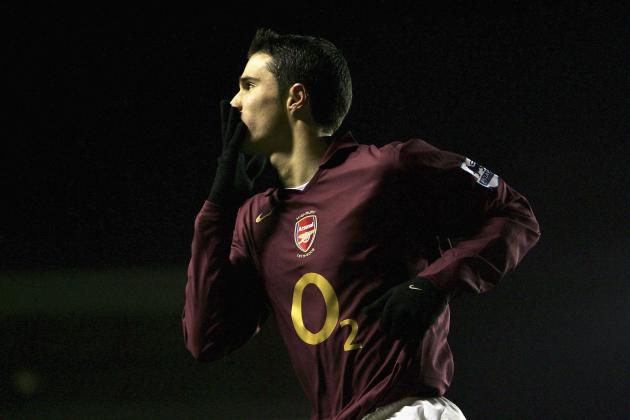 Clive Mason/Getty Images

After eight memorable seasons and 96 goals for the Gunners, Robin van Persie's time in North London is expected to come to an end.
Under the wing of Arsene Wenger, Van Persie has matured into one of the most feared forwards in Europe, and at the age of 28, has a few more strong seasons ahead of him.
His power and speed leave opposing defenders flatfooted, and his rocket of a left boot has proven to be the opposing team's worst nightmare.
This summer, Van Persie is expected to become the latest in a long line of Arsenal stars (Cesc Fabregas, Samir Nasri, and Gael Clichy) to depart the Emirates in search of greener pastures.
The lucky team that lands RVP will undoubtedly look for him to recreate some of the magic that made him the legend he is today.
Here is a look at his top five goals in an Arsenal shirt.
Feel free to share others in the comments section.
Begin Slideshow

»
We praise him for his mighty left boot, but sometimes his right does just fine.
This goal, which came from Arsenal's Emirates Cup final showdown with Inter Milan in 2007, exemplifies Van Persie's variability in and around the box.
Just when it looked like he was about to whip a curler to the back-post, RVP fooled us all by sweeping the ball onto his unfavored right foot and smashing it past the helpless Francesco Toldo.
Although this was only a preseason tournament, that piece of genius proved to be decisive. Arsenal went on to win 2-1.
A classic Van Persie free kick.
We've seen him line them up and spank them on numerous occasions, but this one is the pick of the bunch.
From a good 30-35 yards out, Van Persie not only had the audacity to attempt something this crazy, but had the skill to pull it off.
The pace and accuracy of the shot was straight out of the top drawer.
All the goalkeeper could do was dive in an act of desperation, and watch as the ball sailed past him.
This goal is a testament to Van Persie's individualistic play and his willingness to take on defenders.
Arsenal were playing Blackburn at Highbury. Out of nowhere, Van Persie sprang into life.
For no reason whatsoever, the Blackburn defenders allowed him a ridiculous amount of time and space.
Once the mistake was made, RVP was quick to capitalize.
One touch to explode into space, one touch to set himself, and bang.
What a finish.
Sadly, this goal never came to stand.
It was a beauty, in my opinion, but was not to the liking of referee Alan Wiley.
Trailing 2-0 late in the match, Van Persie cheekily swept the ball away from Joe Hart and cooley slotted home into the empty net.
With so little time left in the match, it would have been nice to see the goal stand.
Having said that, with 70,000 City fans ready to rip the referee's head off, I can sympathize.
It just had to be, didn't it?
Robin van Persie's unforgettable screamer against Charlton at the Valley takes the number one spot, hands down.
Everything about this goal was simply perfect.
From Alexander Hleb's measured through ball, to Emmanuel Eboue's overlapping run—you knew something special was in the making.
Van Persie didn't disappoint.
He strode onto the scene from out of nowhere and smacked the ball into the roof of the net.
This was pure class from the Dutchman, and a goal that will forever be remembered as not only his finest, but one of the Premier League's best.