The Robin Van Persie Saga: Why It's All About Money, Part 4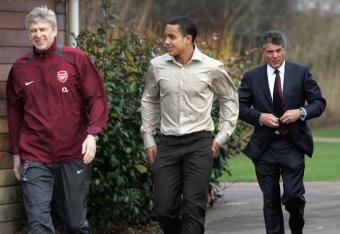 The powers behind Arsenal's success?
Mark Thompson/Getty Images
For some observers, the problem at Arsenal (a la the Robin van Persie saga) is a simple one indeed: Spend some money (add an expletive if you want). For them, this is the only thing that makes sense, after all, aren't Arsenal adjudged to be the fifth richest club in the world?
Indeed.
But what is implied is a whole load of cash buried somewhere in the recesses of the Emirates Stadium, or at any rate, stashed midas-like in some bank. Or worse still, it's hoarded periodically to line the pockets of the board members.
While this kind of thinking is a good ingredient for conspiracy theory, it merely (if sadly) exposes ignorance.
In the Deloitte ranking of the richest clubs for 2000-01, Arsenal are not among the top 10, then made up of Manchester United, Juventus, Bayern Munich, Milan Real Madrid, Liverpool, Lazio, Roma, Chelsea and Internazionale, in that order.
Now refer to the following from the 2006-07 Deloitte club ranking report. It's rather long; it does, however, clarify the point I want to make.
2006/07 was Arsenal's first season in their new 60,400 capacity Emirates Stadium, and the club saw a step change in its revenue as a result. Total revenue of €263.9m (£177.6m) was 37% higher than in 2005/06 and – as we predicted last year – this moved the club into the Money League top five for the first time. It is also the first time that one country has provided three of the top five clubs.

This revenue excludes non-core football activities of €35.4m (£23.8m) which relate to property development, the ongoing proceeds of which have helped to fund the new stadium. The new stadium has driven a €70.8m (111%) increase in matchday revenue which is now their largest source of revenue at 51% of their total.

The total matchday revenue of €134.6m (£90.6m) is the second highest of any club and represents an average of €4.6m (£3.1m) per match played at the Emirates Stadium. Despite 10,000 new season tickets being issued in 2006/07 the club reports that the season ticket waiting list increased by 28% to 41,000.

Broadcasting revenue fell by 17% to €65.8m (£44.3m) predominately due to a €15.7m (£10.6m) reduction in UEFA Champions League centrally generated broadcast and sponsorship revenues after the club's elimination at the first knockout stage. A second consecutive fourth place finish in the Premier League generated €42.9m (£28.9m) in central Premier League distributions which can be expected to rise sharply next year.

Commercial revenues increased 29% to reach €63.5m (£42.7m). The principal reason for this increase was the start of the reported €133.7m (£90m) stadium naming rights and shirt sponsorship agreement with Emirates Airlines.

The new stadium has also enabled the club to develop enhanced relationships with second tier and overseas sponsors. Arsenal's first season at the Emirates Stadium has been a stunning success. However, the club will need to be at its very best on the pitch to challenge Manchester United and Chelsea as England's highest placed representative in the Money League.
My survey dates back only to 2000. After this year, Arsenal do break into the top 10. Here is how they've fared on the Deloitte ranking since:

A question is in order. What changed at Arsenal? How did their surge into top ranking happen?
This isn't unconnected to the rise of English football after 1985 following the nation's dark age of football when a number of tragedies occurred in the stadiums and when the English were ban from European football as a result of these tragedies and of the spate of hooliganism that reigned.
The injection of cash into the system via television money was consolidated in the formation of the Premier League in 1992. This benefited the so-called Big Five of the time which included Arsenal, Everton, Liverpool, Spurs and Manchester United.
Although Arsenal benefited from the new television money, this, in itself, was not enough to admit the club into the top rank of the richest.
One thing was holding Arsenal back financially. Alex Fynn and Kevin Whitcher write (See their Arsènal, p. 15):
Of more pressing concern was the fact that Arsenal were falling behind other clubs with lower attendances whose stadium improvements, especially for the corporate customers, produced a much higher per capita income than Highbury.
In the previous page they had written:
Manchester United, Tottenham Hotspur and Aston Villa had paved the way in showing how executive boxes could not only produce a healthy new revenue stream but in so doing also subsidise ticket prices in other areas of the ground. All very well in theory, but in practice the cost of a seat at Tottenham has always been amongst the most expensive in the top division.
What was logical and incumbent, then, was the maximization of the Highbury ground in terms of revenue—a necessary move to ensure competitiveness.
Accordingly, a two-tier stand on the Clock end of Highbury was built, costing £22.5 million. The wisdom of this move, vigorously opposed by the fans, quickly became apparent.
Fans' discontent arose from the fact that the renovated terrace meant they could no longer pay a mere five pounds for a seat. David Dein (now revered) who spearheaded this change was vilified and persecuted by fans.
This reaction, to a certain extent understandable, wasn't unlike the current complaint about the prices of tickets for the seats at the Emirates Stadium.
Again, although one sympathizes with fans in this regard, it's logical that the best seating in England would be the most expensive, and as the reference to Spurs above shows, Arsenal's aren't the only expensive seats. Besides, a long waiting-list of fans does exist, those who would happily pay to watch their darling team.
What I'm saying is that there isn't just one argument to the situation.
Highbury Stadium. Photo courtesy of Arsenal.com.
The nature of the ground at Highbury was such that further expansion was impossible, and without this, and as the Fynn and Whitcher quote indicates, Arsenal would financially be left behind by her immediate competitors.
A move then, or at any rate, a solution, was incumbent.
David Dein, to a great extent a visionary, the one who had overseen the above-referenced television deal for the top five clubs and subsequently other clubs who later branched out on their own to form the Premier League, opted for "a switch to King's Cross or to the restored Wembley."
In this, he was opposed and prevailed upon by a man who, for all intents and purposes, played a pivotal role in the boardroom war that was to engulf Arsenal just a few years after—Danny Fiszman.
When the story of Arsenal's immediate past is told, David Dein tends to feature in it very prominently, rightly so, but the fact of the matter is, there have been other equally influential figures in the narrative. Two of such are Fiszman and Keith Edelman.
Arsenal's ascent into the rank of the richest clubs owes not indirectly to the insistence of Fiszman that Arsenal needed a ground of their own. It is well-recognized (again as the Fynn and Whitcher quote shows) that a big ground plays a huge role in the fortunes of a modern club.
If, for example Wigan Athletic were to build a 60,000-capacity ground, they would suddenly break into the top rich clubs.
A big ground is huge revenue. A big ground means more television time, and more television time means more revenue, besides match-day earning.
All of this means ability to purchase more players, but the better your players are, the higher your wages—a necessary price to pay and one that advances your status both on the pitch and off it.
In any case, Keith Edelman oversaw the building of the Emirate Stadium. He is highly praised for the success of the project.
Edelman is on the right. Julian Behal / PA.
Sun Sport gave this precis of the man in 2008 when Edelman appeared to have been forced out of Arsenal.
Edelman took up his £750,000-a-year post in 2000 and has been instrumental in boosting the Gunners' revenues.

He oversaw the redesign of the club's crest in a controversial rebranding initiative and negotiated a £130million 10-year sponsorship deal with sportswear giants Nike.

Along with fellow directors Danny Fiszman and Ken Friar, he was instrumental in the club's move to their £430m new home two years ago.

Edelman also persuaded airline Emirates to cough up £100m to sponsor the 60,000-seater stadium and the club's kit.

He is believed to hold only a nominal amount of shares but his exit could spark fears of a fresh takeover bid at the North London giants.
I know, of course, that a few blinded and ignorant fans might quickly latch on to the £750,000-a-year salary as an example of how board members enrich themselves, but that's nonsense. Top executives at other clubs and institutions earn a comparable amount. It is just the way things are.
As an aside but not unconnected to this, I have heard complaints from fans about Arsene Wenger's salary. The fact is, even George Graham earned more than the players, and top-notch managers everywhere are paid huge salaries.
It is the result of the overinflated salary structure in football. Compare, for example, that the Daily Mail reports Roberto is being offered £35 millioin by the Russian Football Federation to manage their national team.
To answer the question posed above, I should say that first of all, Keith Edelman's aggressive marketing strategy and campaign may have been the factor that suddenly pushed Arsenal into the rank of the top 10 richest clubs.
Plus, as the prices for the seat in the newly renovated Clock end rose, so did Arsenal's revenue. As the table above shows, Arsenal rose suddenly to sixth place in the rank of the richest clubs—a rise that coincided with peak of the sales of the newly renovated seats.
Danny Fiszman. Photo courtesy of Arsenal.com
In all and following from the above, Arsenal's rise in fortunes is connected directly to the move to the Emirates Stadium.
The Deloitte report makes that very clear.
It represented a huge reduction of the financial gap that had existed between the club and Manchester United, a club that had stayed at the top of the richest clubs for a long time, only dethroned by Real Madrid in 2004.
The implication of this statement is related directly to my opening paragraph. It irks me to no end when Arsenal get the wrong end of the stick in the face of players' discontent and the subsequent reaction by fans.
Somehow, it's all Arsenal's fault that Manchester City keeps unsettling her players, that she has no sufficient means to stop it.
It's disappointing that even writers one would consider more thoughtful than most go on autopilot and advance a narrative that lacks merit. Jonathan Wilson's latest article for The Guardian qualifies as such.
For him, the situation is very simple: Arsenal aren't spending; that's all.
But as Peter Hill-Wood so bluntly puts it (per The Guardian), "We don't have the same oil wealth that [City's owner] Sheikh Mansour has. He is prepared to pay astronomical figures for players; we cannot pay that sort of money, and we can't compete."
Arsenal are rich, but not that rich, and when next the phrase, "fifth-richest club" pops into your head, just remember that this is valued according to generated revenue, but generated revenue is only as strong—in term of additional purchases in the transfer market—as the balance that remains from expenditure which covers a gamut of things, of which salaries (such as that of Edelman above) is just one.
Moreover, it isn't true that (according Wilson, that is) although it is true that Arsenal can't compete they are in the same financial gap with Manchester United.
Fair enough (he says), they do not have the financial clout to compete directly with Manchester City or Chelsea but neither do Manchester United and they have not gone anything like seven years without a trophy.
This assertion is baseless.
Manchester United have always been financially superior to any other club in the Premier League. In fact, despite Manchester City's recent spending spree, Manchester United still are among highest spenders in the Premier League, certainly higher than Arsenal. Refer to the following table, the source of which you'll find here.

They have a bigger stadium (meaning more money), they tend to earn more television revenue and they are about £80 million ahead of Arsenal in brand revenue. That's a huge advantage, and it's not surprising that they pay players more.
The rise of Chelsea and City has, of course, mitigated their advantage. But they are still way superior to Arsenal in terms of spending power.
Instead of being lambasted the way Wilson does here, Arsenal should be commended for managing to better themselves in a very prudent manner, without driving themselves into the ground as a result.
In fact, Arsenal success in the past decade is only short of the miraculous. Refer to this table, which I have used before.

Of the top clubs, only Arsenal have remained solvent in terms of earnings and spending, all while servicing the debt of a modern ground.
Chelsea, Liverpool and Spurs all want to do same. While Roman Abramovich might underwrite Chelsea's expenditure (presumably), it isn't clear how the other two clubs will manage.
As the reader can see, it always boils down to money. The more of it you have, the better you are relative to your competitors. It's why Manchester City have become a thorn in Arsenal's flesh.
The question is, why do they keep gunning for Arsenal's players? Isn't there a lesson, a parable, and in fact, an answer to this entire saga in this very fact?
+++
I shall touch upon this question in the next installment in the series. My goal was to end here, but as the reader can see, I only was able to address the issue of value, which I said I would in the last part.
I had also said I'd address the boardroom upheaval here. This, obviously hasn't been possible, but the thread is already here in Danny Fiszman.
I hope the next part will be the final part in the series. I thank the readers for their patience and readership. The meaningful comments are an evidence of that.
Here are the links for the other parts in the series:
Why RVP Saga Is All About Money, Part 1
The Robin Van Persie Saga: Why It's All About Money, Part 2
The Robin Van Persie Saga: Why It's All About Money, Part 3
Meanwhile follow me on Twitter at: Gol Iath@gol_iath .
This article is
What is the duplicate article?
Why is this article offensive?
Where is this article plagiarized from?
Why is this article poorly edited?

Arsenal: Like this team?