Notre Dame Football: What You Need to Know About Brian Kelly's Top Assistants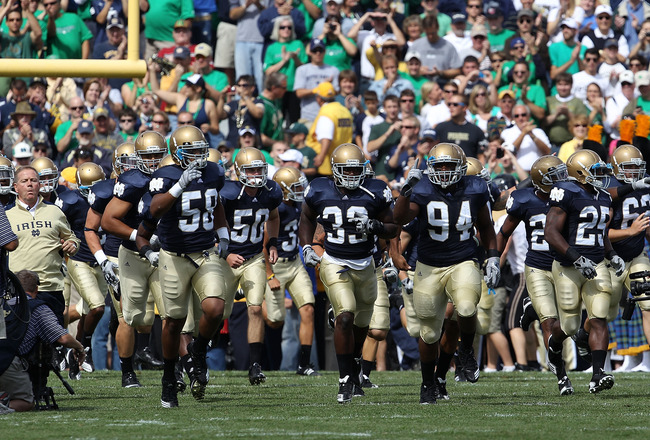 Jonathan Daniel/Getty Images
No football team could become a well-oiled machine without the sacrifice and dedication of quality assistant coaches.
Such is the case with the staff that Brian Kelly has assembled for the 2012 season.
The staff will feature three new faces during the upcoming season, but each arrived on campus with a sterling resume in hand, adding to the confidence that the 2012 Fighting Irish will be a well-coached group.
Let's take a more in-depth look at those top assistant coaches.
Bob Diaco (Assistant Head Coach/Defensive Coordinator/Linebackers Coach)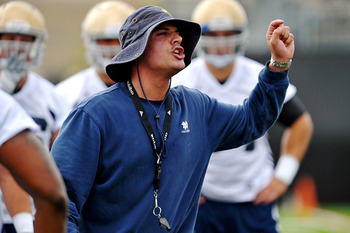 http://espn.go.com/photo/2011/0831/ncf_u_bobdiaco_cmg_600.jpg
Bob Diaco, better known as Brian Kelly's right-hand man, was promoted to assistant head coach during the offseason after spending the previous two seasons as defensive coordinator and linebackers coach.
Diaco, who followed Kelly to Notre Dame from Cincinnati, came under a serious amount of scrutiny in his first season as defensive coordinator when Navy racked up 35 points on the Fighting Irish defense.
Following that game, Diaco explained that there was no "Plan B" against the tricky triple-option attack run by the Midshipmen.
He more than made up for that mishap following that embarrassing loss and into the 2011 season, when the Irish front seven became a formidable unit.
Diaco has also proved himself as a dynamic recruiter who has the people skills and persistence to land big-time prospects. For example, Diaco showed up to the home of current Notre Dame outside linebacker Ishaq Williams at 4:30 a.m. on a cold January morning in 2011 as the Williams family was preparing to leave for a visit to Penn State.
Ishaq Williams never took that visit and committed to Notre Dame soon after.
That is one of many examples of why Bob Diaco will be a popular head coaching candidate following the 2012 season.
Chuck Martin (Offensive Coordinator/Quarterbacks Coach)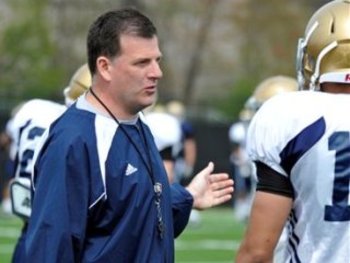 Herald-Review.com
When Brian Kelly accepted the head coaching gig at Notre Dame, one of his first coaching hires was his colleague Chuck Martin.
The two coached together at Grand Valley State University in the '90s, with Martin taking over as head coach when Kelly accepted the head coaching job at Central Michigan University.
Martin has come a long way since then, having been given the title of offensive coordinator and quarterbacks coach following two seasons as the Irish safeties coach.
Martin's role will be a crucial one this season, with the quarterback situation in the midst of another heated controversy, and the offense at a proverbial turning point. Martin, along with Kelly, will be responsible for overseeing this delicate situation.
Whether or not Martin's head coaching experience will prove valuable remains to be seen. The way in which the quarterback situation plays out will be a telling sign.
Scott Booker (Special Teams Coordinator/Tight Ends Coach)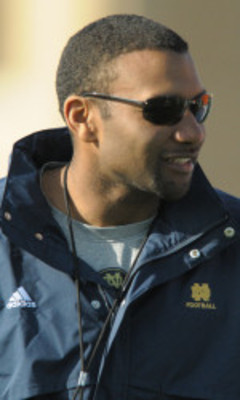 und.com
Scott Booker is a new name on the Irish coaching staff this season after spending the previous two seasons as an intern under Brian Kelly.
The most important tool that Booker brings to the table is his recruiting ability, which has been on display for the nation to see since the Kent State University graduate was hired.
Booker has become a household recruiting name in the southern region of the United States. His most significant commit to date is 4-Star defensive end Isaac Rochell out of McDonough, Georgia, deep in SEC country.
The first-year assistant also reeled in 3-Star defensive back Devin Butler, a Washington, D.C. native. Butler took part in "The Opening" camp over the weekend, considered to be one of the nation's elite camps.
Aside from recruiting, Booker will also be responsible for repairing a special teams unit that was abysmal in 2011. He won't be the lone solider on that front, as each member of the coaching staff will have a role. Booker will be the overseer of the operation.
Tony Alford (Running Backs Coach/Slot Receivers Coach/Recruiting Coordinator)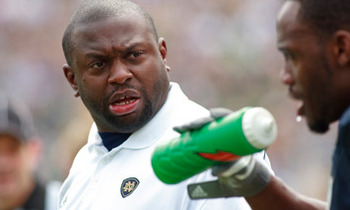 uhnd.com
The lone holdover from the Charlie Weis era, Tony Alford was responsible for holding together the 2010 recruiting class following Weis' firing on November 30, 2009.
Alford was able to do just that, while also landing 4-Star defensive tackle Louis Nix. Nix is currently starting at the position for the Irish.
His prowess as a recruiter, specifically in the state of Florida, as well as his excellent ability to mentor the running backs is what convinced Brian Kelly to retain Alford.
Alford has a special place for Notre Dame in his heart, as he turned down a coaching opportunity with the NFL's Green Bay Packers during the offseason.
His decision to remain at Notre Dame was a significant boost to the coaching staff.
Harry Hiestand (Offensive Line Coach/Run Game Coordinator)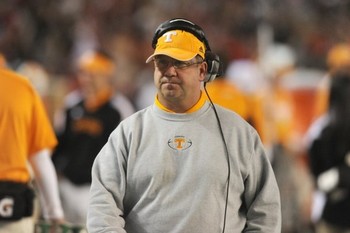 subwaydomer.com
Yet another new face on the Fighting Irish coaching staff, Harry Hiestand brings with him a vast amount of experience coaching offensive lines, both in the NFL and at the collegiate level.
Most recently, Hiestand spent one season as offensive line coach at Tennessee. Prior to that, he served as offensive line coach with the Chicago Bears for six seasons.
Hiestand's professional experience is already paying dividends for the Fighting Irish, as he has reeled in five offensive linemen in the 2013 class.
That group of commitments gives Notre Dame what is, perhaps, the best front line in the 2013 class.
Keep Reading

Notre Dame Football: Like this team?