6 WWE Superstars Who Should Join AW and All World Promotions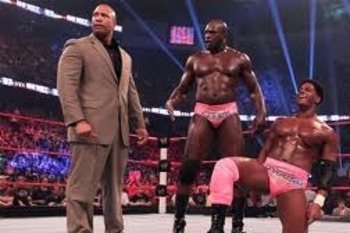 Via: ringsidenews.com
After returning to television, Abraham Washington, now known as AW, has been making a splash in the midcard of the WWE, forming a stable known as All World Promotions.
After originally teaming up with Primo and Epico, AW turned his back on the team in a Fatal 4-Way tag team match at No Way Out, where he helped Darren Young and Titus O'Neil become the No. 1 contenders for the tag team championship.
Mason Ryan has also been seen with AW, indicating that he could be a member of the stable in the future.
WWE has been inconsistent with the AW storyline and hasn't quite given it enough time to develop yet. However, if AW signed some of the following superstars, it would help the credibility of All World Promotions, as well as provide a needed spark in these superstars' careers.
6. Mark Henry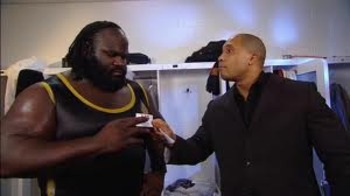 Via: wwe.com
When he first reappeared on Raw, AW was shown having a conversation with Mark Henry about coming on board with All World Promotions after Henry was unable to defeat CM Punk for the WWE championship.
Henry is currently injured, but when he returns, having him join in with AW would help take the stable to the next level.
Henry is a former world heavyweight champion, and would provide a main event threat for AW. While there are plenty of other worthy world title contenders, having Henry hold the belt and AW and the rest of All World run SmackDown would be an interesting storyline in the future.
5. Justin Gabriel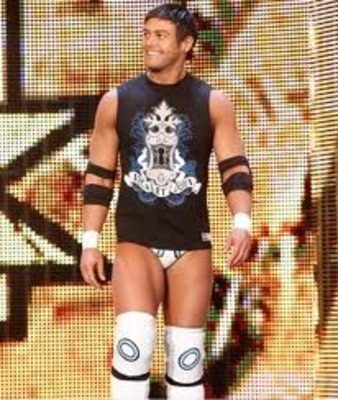 Via: allwrestlingsuperstars.com
Unfortunately, Justin Gabriel's career in the WWE seems to be going nowhere fast.
Gabriel is a great high-flyer and exciting in-ring performer, but he is rarely seen on TV anymore.
Gabriel showed up at No Way Out in the Fatal 4-Way tag match with his partner Tyson Kidd, but the team was unsuccessful. Then, recently on SmackDown, Gabriel lost a world heavyweight championship contract Money in the Bank qualifying match against Tensai.
That is a shame, because Gabriel would have, if nothing else, provided some great spots for the MITB match. Nevertheless, Gabriel needs something different to re-define his character.
Gabriel admittedly works better as a face than a heel, but he still would be an exciting addition to the All World Promotions team, one who could potentially challenge for the United States or intercontinental championships.
4. Ezekiel Jackson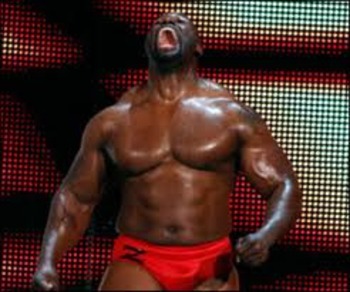 Via: bleacherreport
Big Zeke has fallen off the map in the WWE after dropping the intercontinental championship to Cody Rhodes last year.
Jackson isn't a great in-ring talent and hasn't really gotten over with the fans. However, if he was moved to All World Promotions and turned heel again, he could prolong his career with the company.
Imagine Jackson and Mason Ryan as the "enforcers" of the stable who come out to attack their enemies and ensure victory for their teammates, all the while competing in tag matches and on Superstars to improve their technical ability.
I think this would be a good use for Jackson since he doesn't have great in-ring talent. He would also provide another physical threat for AW.
3. Hunico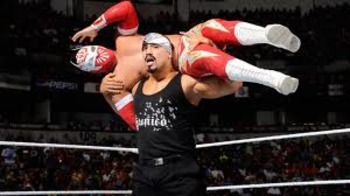 Via: wwe.com
Hunico is another wrestler with great in-ring ability who is being given the chance to do much in the WWE at this time.
Hunico's work has come primarily as a jobber, and his biggest match of note in his WWE career was being a member of Team Barrett at last year's Survivor Series.
Still, Hunico has talent, and while his gimmick has been done before in the WWE, he (and possibly his partner Camacho) would be excellent additions to All World Promotions.
Hunico's career is not going anywhere on its own, and he needs to catch on with some kind of manager or stable if he ever wants to move up.
That is where AW and company step in. Since Hunico's promo work leaves much to be desired, AW and All World Promotions could help him get heat with the fans and subsequently, move up on the card and in the eyes of the WWE executives.
2. Drew McIntyre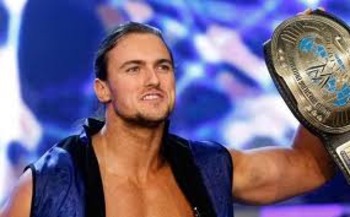 wrestlescoop.com
Drew McIntyre has a great look and decent in-ring talent. It is surprising he has been so de-pushed over the last few years in the WWE, but there is still time for him to turn his career around.
McIntyre teaming up with AW would be a great match. There is no reason why, with AW at his side, McIntyre could not become a serious challenger for the U.S. or intercontinental titles. After all, he is a former intercontinental champion already.
McIntyre may need to be part of a stable at this point to ever become successful again, since he has lost almost all of his momentum on his own.
However, having him join in with All World Promotions would make perfect sense for all parties involved.
1. Jack Swagger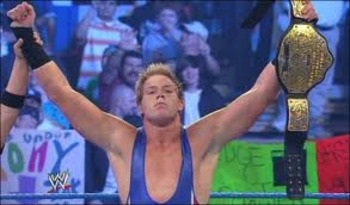 Via: thesun.co.uk
Although removing Jack Swagger from Vickie Guerrero and Dolph Ziggler was the right move by WWE, it doesn't mean it was not detrimental to Swagger's standing with the company.
At least with Vickie and Dolph, Swagger was getting consistent TV matches, even if he was jobbing in the majority of them.
Now, since he is no longer managed by Guerrero, Swagger can't even qualify for the WHC MITB match, having lost to Tyson Kidd on SmackDown despite being a former champion. Ouch.
Still, if he joined on with AW and All World Promotions, Swagger could see his status move back up.
All World Promotions needs a big name like Swagger, who is a former world heavyweight and United States champion, to join them in order to be taken more seriously among WWE fans. Joining All World, as potentially their most decorated member, would put Swagger near the top of the pecking order.
Keep Reading