Detroit Tigers: Recapping the Best and Worst Moments of the Season's First Half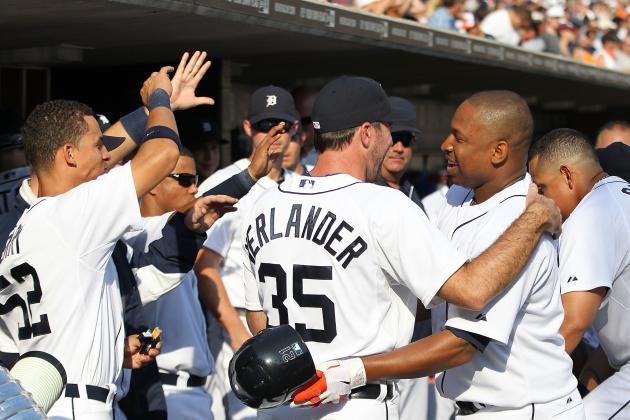 Leon Halip/Getty Images

The Detroit Tigers begin the unofficial second half of the season tonight, traveling to Baltimore to open a three-game series against the Orioles.
The Tigers went into the 2012 campaign with higher expectations than ever before, with a team, albeit on paper, that looked unstoppable, especially in a bad American League Central division.
Detroit started hot out of the gate, winning its first four games of the year, and looked to have proved everyone right. After starting 4-0, it appeared like it was only a matter of time before the Tigers would be crowned back-to-back division champs.
But inconsistency became the Tigers achilles heel, and slowly but surely, the Tigers production, and winning percentage began to dwindle. The team struggled through most of April, all of May and for the better portion of June.
After 51 games the Tigers were six games under .500 and in third place in the division, six games back of the first place Chicago White Sox.
After several lineup tweaks, including a shot of energy from unexpected rookie sensation Quintin Berry, the Tigers began to put things together at the end of June. Things started bouncing Detroit's way, and the Tigers were finally able to mount some sustainable momentum.
The Tigers went into the All-Star break as hot as any team in baseball, on a five-game winning streak, looking to break out of third place in the division, reclaim first and ride first place all the way to October.
Only time will tell how the rest of the season turns out, but in the meantime, here's a look back at the best and worst moments of the the Tigers first half of the season:
Begin Slideshow

»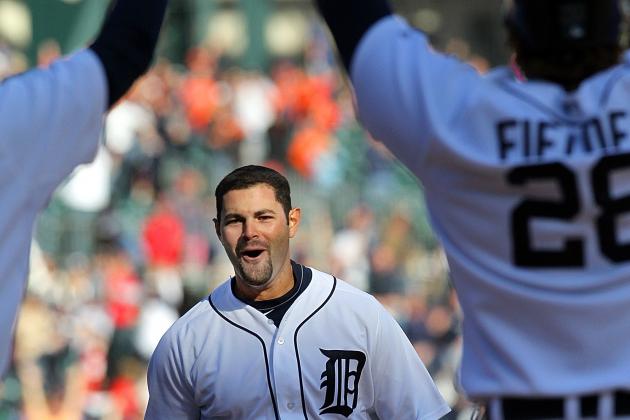 Dave Reginek/Getty Images

The Tigers opened this season as everyone thought they would, with a hot start. Detroit swept the Boston Red Sox in the season-opening three-game series at Comerica Park, and won its series-opening game against the Tampa Bay Rays to improve to 4-0.
The Tigers were clicking on all cylinders to begin the year, averaging 7.75 runs per game, while giving up just two runs or less in three of the season's first four games.
Relief pitcher, second-year player Duane Below was a huge surprise to begin the season, earning two wins in the first three games, including helping to preserve a shutout against Boston in Game 2.
After four games, four Tigers were hitting .400 or above, and Detroit's offense was among the league leaders in every major offensive statistical category.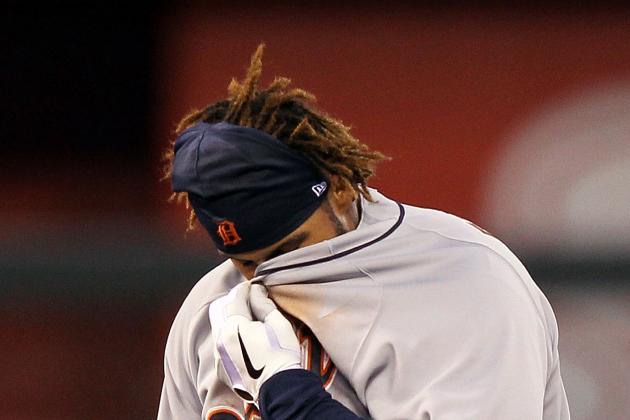 Jamie Squire/Getty Images

The Tigers' two best hitters, and two of the most dangerous hitters in baseball, each suffered through five-game hitless streaks in April and May.
Cabrera's slump went from April 12 through 16, when he went 0-for-19 with three strikeouts. The Tigers forged through the third baseman's hitting woes, managing a 3-2 record during the streak.
Fielder, then, went through a rough stretch of his own, going 0-for-21 over five games from May 9 through 13. During the slump, Fielder struck out six times, and didn't earn a walk, which led to a 2-3 team record over that span.
John Gress/Getty Images

In mid-June, the Tigers went into the friendly confines of Wrigley Field and won two of three games against the Chicago Cubs.
Tigers fans infiltrated Chicago and made their presence felt in the series, gaining the attention of the media, Cubs fans and Tigers players.
The Tigers' series-clinching win on Wednesday, June 14 was in front of a season-high crowd of 42,292 that brought the series attendance to 124,782, setting a Wrigley Field record for a midweek three-game set. The Tigers contingent definitely helped that record-breaking number, and the team took notice.
"It's a lot more fun when you hear all the fans chanting 'Let's go Tigers' on the road," Austin Jackson said in an ESPN.com article.
Even Jim Leyland was a little giddy at the amount of fan support on the road.
"You could tell," he said to MLive.com after the series. "All you had to do was look because there was so much orange around the ballpark. It was really a neat atmosphere."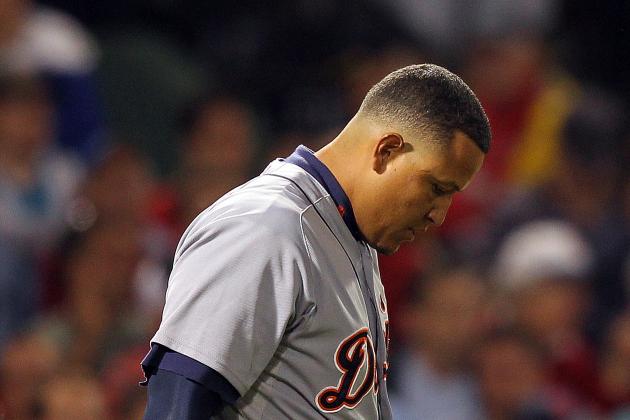 Jim Rogash/Getty Images

On June 6, the Tigers were playing the worst baseball of the season, having lost 7-of-9 games, and fell six games behind .500 and were six games out of first place in the AL Central.
The buttons Leyland pushed weren't working, fans had lost patience. No one could figure out why such a dangerous team was performing so mediocre and people were calling for Leyland's dismissal.
At that point the Tigers ranked in the middle, or bottom third of the AL in every major offensive category, and with the way things were going, signs of optimism were few and far between.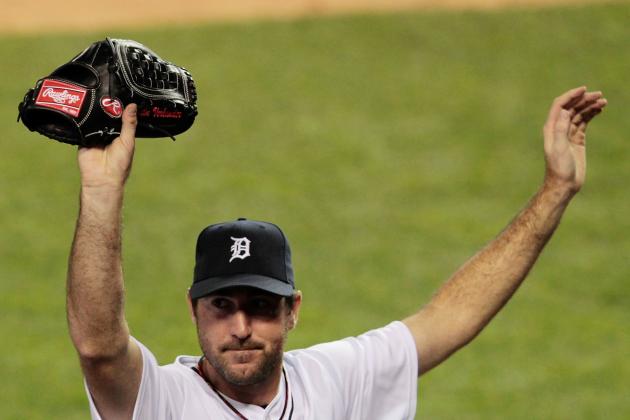 Leon Halip/Getty Images

On May 18, Justin Verlander came within two outs of throwing his third career no-hitter.
Verlander threw one of the best games of his life, pitching a complete game, one-hit shutout with 12 strikeouts and two walks against the Pittsburgh Pirates.
Verlander was un-hittable for 8.1 innings, making several Pirate hitters look silly trying to catch up to his 100 mph fastball, or make contact with 12-to-6 curveball.
Comerica Park was electric that Friday night in May, and despite a 6-0 Tigers win, fans went home heartbroken after Pittsburgh's Josh Harrison flung his bat through the strike zone, and somehow earned a base hit, breaking up the no-no.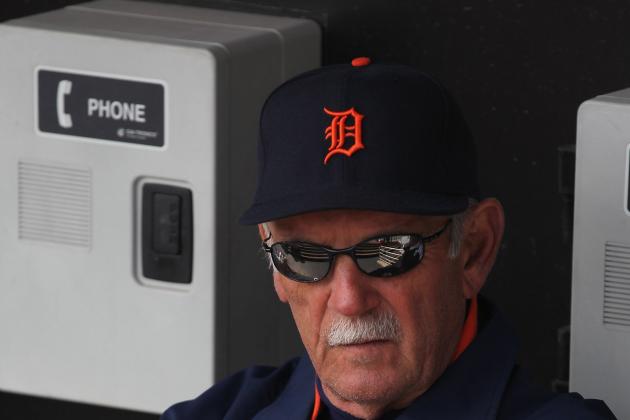 Jonathan Daniel/Getty Images

The Tigers were 10-5 going into a series finale against the Texas Rangers on April 22. Detroit lost a 3-2 heartbreaker in 11 innings and lost their groove.
The Tigers proceeded to get swept at home by the hapless Seattle Mariners by a combined three-game score of 21-9, and lost the series opener against the New York Yankees, bringing their losing streak to five games.
During the streak, Detroit gave up 31 runs, and batted 40-for-179 (.223) as a team.
The Tigers began their free-fall from there. The team didn't go more than one game over .500 from that point until their final game before the All-Star break.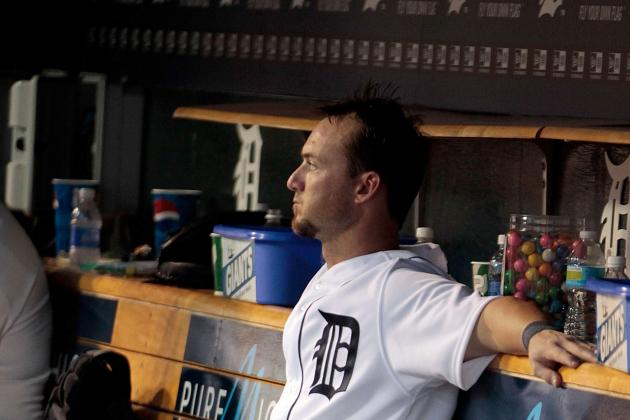 Leon Halip/Getty Images

Tigers manager Jim Leyland is one of the only people on the planet that thinks Ryan Raburn deserves to be on a major league roster.
Raburn has been atrocious at the plate this season, hitting .171 with one home run and 10 RBI in 54 games, and is somehow just as bad in the field. He has three errors in 220 chances at second base this season, but the scorekeepers have been very kind to him. He has zero range, and doesn't make any plays out of the ordinary.
Leyland finally came to his senses on May 29 when he sent Raburn down to Triple-A Toledo after Raburn began the season hitting .146.
"There's never been anything I've been more sure of than that he needs to go down," Leyland said to Yahoo.com. "He needs to go try to find it."
Apparently, Leyland thought Raburn found it in Toledo, because Raburn was promptly called back up to the Tigers, rejoining the team on June 14.
He started well in his return, earning four hits in his first three games back with Detroit, but then he realized he's Ryan Raburn, and has gone 8-for-41 (.195) with zero home runs and two RBI since.
There's no reason Raburn should be anywhere near a major league team, much less getting legitimate playing time for a team in a pennant race.
Hopefully Leyland's soft spot for Raburn fades away down the stretch. He needs to go away.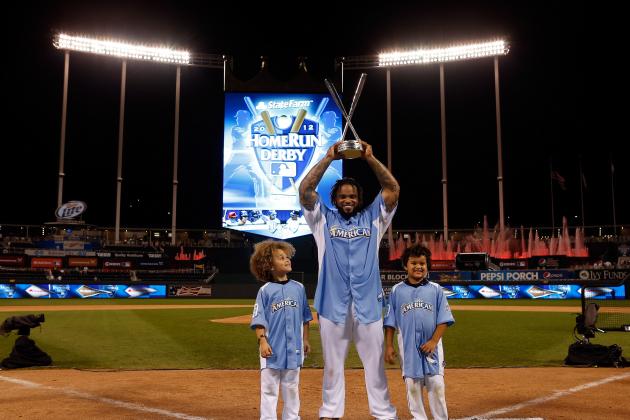 Jamie Squire/Getty Images

On Monday, Prince Fielder won the 2012 Home Run Derby with 28 total home runs, defeating Jose Bautista in the finals, becoming the second ever two-time winner.
Joining Ken Griffey Jr., Fielder won the annual slugfest for the second time, after being crowned champion in 2009, winning the 2012 competition in fairytale form.
Fielder was the sixth competitor to take his swings on Monday, and didn't face immense pressure to move past the first round. But after slugging only five long balls in the first round, and with two competitors to go, only one of whom needed to hit more homers to knock him out, things looked grim.
But the Los Angeles Dodgers center fielder Matt Kemp choked with just one home run, and if Kemp choked, than defending champ Robinson Cano died, joining Brandon Inge in the derby hall of shame with zero homers.
Fielder proceeded to hit 11 home runs in the second round, all but guaranteeing himself a shot in the finals, and it became a head-to-head competition. Fielder didn't disappoint with 12 more long balls, earning the derby victory.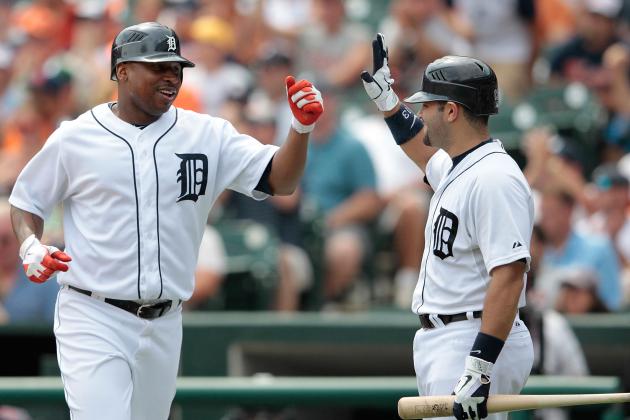 Leon Halip/Getty Images

The Tigers' bats finally woke up in the last five games, leading to a season-long five-game winning streak.
Detroit, which has been inconsistent offensively all season, finally started to click collectively in the last five games.
In the month of July, the Tigers have hit .302 as a team, which ranks second in the AL, with a league-leading 12 home runs and have scored 46 runs, also good for second in the AL.
During the streak, Detroit has scored 31 runs, compared to just 14 runs by their opponents, the Minnesota Twins and the Kansas City Royals.
Delmon Young ended the first half as hot as anyone in baseball, hitting a home run in his last four consecutive games, and riding a stretch where he's earned at least one hit in 11 of his last 12 games.
The designated hitter has hit .300 in July, and has his average at the highest it's been all season at .298.
The Tigers are slowly but surely getting it done in the batters box, and the wins finally have started to come.