Iowa Football: Why the Hawkeyes Will Surprise in 2012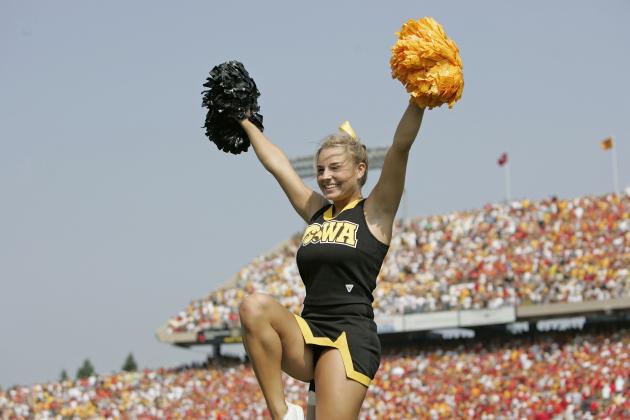 G. N. Lowrance/Getty Images

If the Iowa Hawkeyes were a stock, all the analysts would be crying sell! They barely made the post season last year, sell! They only have 11 returning starters, both the offensive and defensive coordinators are new this year, the running back corps is thin, sell, sell, sell!
The beauty of college football is that just like the stock market, no one really knows for sure. Just when things seem to be pointed down a new star is born. Or more often, a team comes together and makes what appears a singular weakness into a team strength.
Don't get me wrong, talent is certainly nice to have. It's also a tough thing to evaluate. On SportsCenter they are all experts. Those highlight clips they narrate clearly show the talent. The problem is the show is built on what has already happened, not what is going to.
Lucky for us, that leaves lots of opportunities to speculate on where our favorite team is headed in 2012. The following are the top five reasons I believe your Iowa stock is safe.
In fact, read on and you will see five reasons I am raising Iowa Hawkeye Stock to a solid buy this year!
Begin Slideshow

»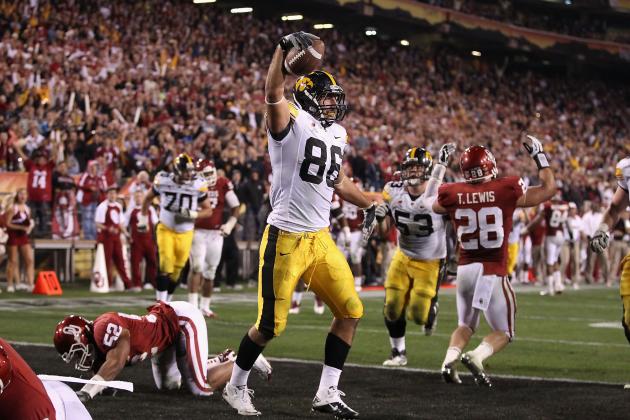 Christian Petersen/Getty Images

The first five games on the schedule set up nicely for a chance to start the season 5-0. Though Northern Illinois is not a bad team (11-3 MAC) last year. They are a MAC team and Iowa is 7-0 all-time against them.
Iowa also gets in-state rival Iowa State at home which never hurts. Northern Iowa and Central Michigan should both fall in Iowa City as well. Back to back losses in 2010 and 2011 to home coming foe Minnesota should help with extra incentive there.
If Iowa does get off to a 5-0 start, look for huge excitement for the Michigan State game. An extra week to prepare, along with a confident young team will do a good bit to help even the odds at East Lansing.
I see the final six games as a three-three split. It could go 4-2 or 2-4, though.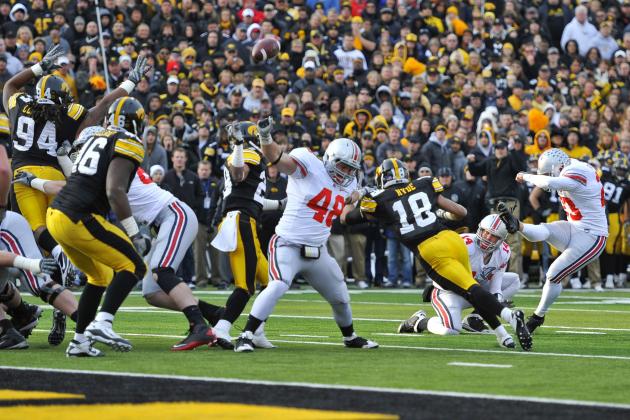 David Purdy/Getty Images

Phil Steele's Preseason College Football Preview ranks special teams performance for all FBS teams. I use his rankings when grading special team performances as he accurately ranks all aspects to put together an overall picture.
According to Steele's 2012 addition (page 82) Iowa ranked No. 57 in overall special teams play last year. This in spite of the fact that their field-goal kicker, Mike Meyer (yeah baby! Couldn't help myself...), was a semifinalist for the Groza Award.
Meyer hit 14-of-17 attempts early but cooled to just 2-of-6 late, with two key misses versus Minnesota. Meyer returns as a junior this year and the kicking should be good.
Ferentz special teams average rank is No. 33 in his 13 years at Iowa. However, he really believes they are the great equalizer and has had teams that ranked No. 3, No. 5, No. 18 and No. 20 in the past.
Look for overall improvement in this very important area for Iowa this year.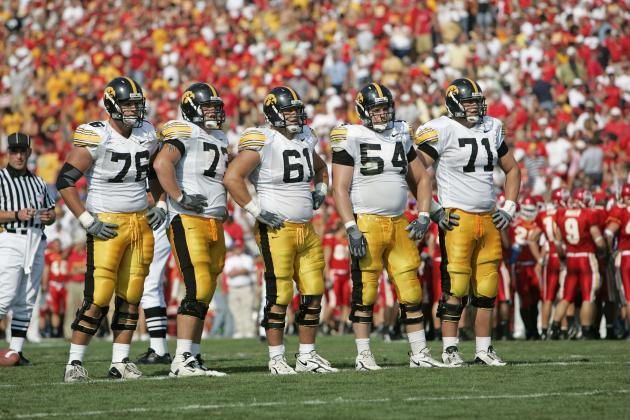 G. N. Lowrance/Getty Images

Coach Ferentz was an NFL offensive line coach, thus this is always a priority for him. On the surface, Iowa looks to be much weaker on the offensive line this year.
They lose starting LT Riley Rieff (three-year starter, four-time All-American, first-round draft choice), their starting RT, their starting RG and an important backup who played in nine games.
Their new starters have 45 total career starts—not as much starting experience as you would normally hope. But, except for the center (6'2", 284) the line averages about 6'6", 295.
They could use about another 15-20 pounds average of muscle to be as big as the largest in the Big Ten but my guess is they are busy taking care of that even now.
Even with the extra girth, in my opinion, the line underachieved a bit last year. Don't expect a repeat of that with the new offensive line coach, Brian Ferentz (Kirk's son).
This line will be improved, despite the losses to the NFL.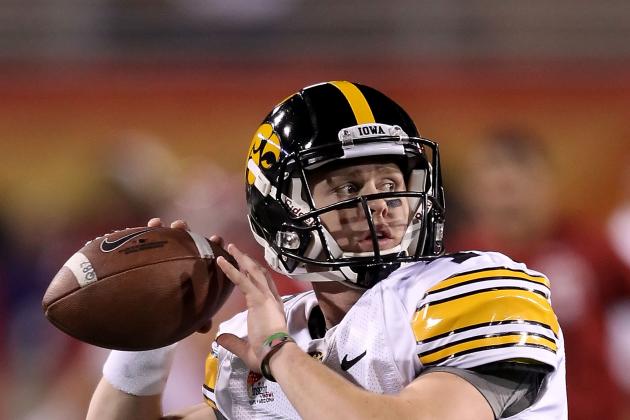 Christian Petersen/Getty Images

As the starter last year, Vandenberg was only the fourth Iowa quarterback to pass for over 3,000 yards (3,022, 25 touchdowns, seven interceptions). His 25 TD passes fell just two short of Chuck Long's school record of 27.
Two new guys, a red shirt freshmen, Jake Rudock and Cody Sokol a Juco transfer from Scottsdale CC are battling for the back up position. Expect one of these two to become the starter next year. Overall, the position is stronger than last year with the addition of the quality red shirts.
Iowa lost their top receiver to the NFL this year. But, they may have their next big time tight end in junior C.J. Fiedorowicz (6'7", 265). The No. 2 guy from last year Keenan Davis is back for his senior season. He will get his chance to become the No. 1 guy.
If they develop some more receiving help, Iowa can have a big-time passing game this year.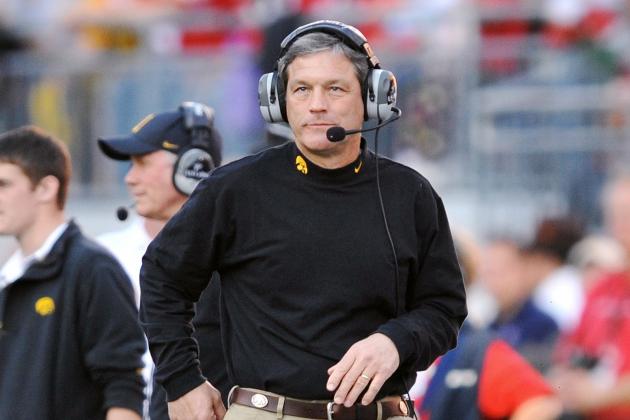 Jamie Sabau/Getty Images

When looking at a team and analyzing all the factors, you are attempting to figure out where they will wind up if everything goes as planned and your analysis is good. The first time it is windy, rainy or snowy on game day, throw it out. The first time an important player for your team or the other team is injured, sick, missing or whatever, throw it out.
People are forever telling fans that they know how the season will wind up. Truthfully, nobody knows. If they did, nobody would watch and the greatest game in the world would be no more.
Still, with a team like Iowa, coached by the same person for 13 years, there are some things you can pretty safely assume in the analysis. First, throw out the first three years. This is when the coach is setting up his systems and getting his players.
With Coach Ferentz, that leaves another 10 years. Looking strictly at the numbers based on Ferentz's last 10-year record, we can assume the following odds on winning games for the year:
Six wins or better = 100% Seven wins or better = 80% Eight wins or better = 60%
Nine wins or better = 50% Double digit wins = 40% Losing seasons = 10%
Based on my analysis the Hawkeyes will go 8-5 or 9-4 and finish a solid second place in the division. I would say they are a STRONG BUY if they were a stock.