UFC 148: Forrest Griffin Has Become a Caricature of Himself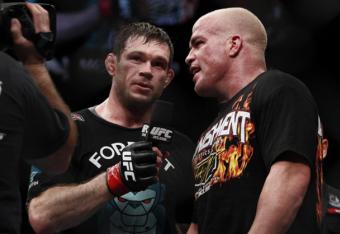 Photo credit: Esther Lin, MMA Fighting

That "Get Out of Jail Free" card in Forrest Griffin's wallet is looking pretty careworn these days. In the moments following his fight with Tito Ortiz at UFC 148, it took on another crease.
When Griffin loped onto the scene seven years ago, he was just what the sport needed: a charming, intelligent, slightly goofy foil to the square-headed MMA archetype. He was the mischievous scamp next door and the former police officer from America's heartland. Inside the cage, though, he was all business and all heart. Griffin never gave up. Cutting him open just made him fight better. He was like a basketball team that didn't have any blue-chippers but went 10 deep and ran a full-court press; eventually, in the final minutes, you were going to wear down. Griffin wasn't. That fortitude shone through in his first big moment in the limelight, a brawl with Stephan Bonnar to close the first season of The Ultimate Fighter. Many, many people still call it the best fight in UFC history.
"I can do anything for 25 minutes," Griffin once quipped in a TV interview. And it wasn't a boast, because everyone knew it was true.
During the apex of his fight career, boy, was it ever. In 2007, Griffin improbably choked out the fearsome Mauricio "Shogun" Rua with 15 seconds remaining in Shogun's UFC debut. Ten months later, Griffin brought his hard hat and lunch pail to a main event with Quinton "Rampage" Jackson, outworking and outlasting the light heavyweight belt holder over five long rounds. Afterward, as Griffin gave an almost apologetic shrug to the cameras, UFC President Dana White strapped the gold around his waist. Forrest Griffin was a UFC champion.
Throughout his career, Griffin had a bit of a, shall we say, excitable streak. He wept openly in the Octagon after losing to Keith Jardine. He bolted from the arena after a knockout loss to Anderson Silva at UFC 101. During his time coaching opposite Jackson on The Ultimate Fighter, he tore apart a dressing room in frustration, later jokingly blaming it on a "man period."
That "Get Out of Jail Free" card came in handy. Griffin was likable enough and meant enough to the sport that he was always able to talk his way out of trouble. No one could stay mad at Forrest Griffin. Hey, The Ultimate Fighter 1! Former light heavyweight champ! One half of the greatest fight ever, and so on and so forth.
Griffin saddled that mountain of public affection and rode it to fame and fortune. He wrote a couple of best-selling books. He had his own smartphone app. He was every fight fan's favorite cousin, and every media member's favorite interview.
He was so charismatic that no one seemed to mind that he was losing fights. Never the most athletically gifted fighter, Griffin relied on guile and hard work, both in his preparation and inside the cage. Suddenly those qualities were no longer in evidence. Suddenly Forrest Griffin was A Big Deal. He wasn't sneaking up on anyone anymore. He wasn't bothering to evolve his game in a rapidly evolving sport. And worst of all, he seemed to rely on his persona to see him through, almost assuming that if he could just stay upright everything would work out.
Unfortunately, it didn't, at least not against the bigger dogs of the light heavyweight division. He failed to defend his belt, losing it to Rashad Evans. Silva made him look a fool at UFC 101. His worst showing came in Brazil at UFC 134, when a motivated "Shogun" Rua needed only two minutes to completely tear him apart in their rematch.
Griffin always had his share of haters, who felt his skill set was overrated and that he had benefited from a lucky decision over Jackson. Now, they were howling like a class five hurricane. They questioned his desire to continue competing—a notion that would have been laughable just a couple of years prior. In any event, his fans persisted in defending him.
After losing to Rua, it would be nearly a year before Griffin fought again. In the intervening months, Griffin's public appearances started to take a turn for the strange. Ever since the loss to Silva, Griffin's lopsided smile slowly morphed into a smirk, or even a sneer. He openly admitted the sport was no longer fun for him, and that he didn't think he would ever get any better. His interviews became more adversarial. The fans and media weren't in on the joke anymore; more often than not, they were the joke. He found himself on the defensive for difficult encounters with fans. Fame seemed to have melted some of Forrest Griffin's circuitry.
It all came to a head at UFC 148. Griffin and Tito Ortiz, who announced before the fight that it would be his last, completed their trilogy. The rivalry was memorable; the rubber match was anything but. Oh, it was a proper slugfest, all right, but both men moved like ghosts, a slow-motion playback of a long-decided battle between two titans who no longer existed.
After the full three rounds, before the announcer could proclaim Griffin the winner in a close decision, Griffin once again wandered off the reservation. There he was, ambling back to the locker room. I was in the building for his loss to Silva; this wasn't some emotional, knee-jerk escape as it had been at UFC 101. He was taking his time, giving out high fives. Dana White had to go get him and encourage him in that special way only White can to perhaps consider returning to the cage for the decision. Griffin returned. But it wasn't over.
Once his hand was raised, he snatched the microphone out of broadcaster Joe Rogan's hand and interviewed Ortiz himself, asking him, among other things, whether his induction into the MMA Hall of Fame that day had played a role in his loss.
"May I have your attention?" Griffin called to the crowd, which was most certainly paying attention. "...Tito, you had a big day today. Did that play any part in you getting tired, getting inducted into the Hall of Fame and what not?"
The banter was flip and mocking, and though Griffin seemed to mock the interview process itself more than a visibly irritated Ortiz, the damage still happened. Ortiz is no stranger to controversy, but the former champ's final moment in the Octagon didn't go as planned, and wasn't what he deserved. The exasperated crowd showered Griffin with boos.
Griffin later apologized, trotting out some song and dance about being upset with his performance. But at this point, we've got a recidivist on our hands. Griffin was never the most serious of characters, but now, he doesn't even take his job seriously, or the people who pay his salary. He has become a caricature of himself, interested in putting on the wrong kind of show.
I don't know Forrest Griffin from Adam. I'm just a fan boy sitting on a couch. I can only evaluate what Griffin puts forth in public. But what a person puts forth in public is not entirely unimportant. Nor is it necessarily inaccurate.
In reality, Forrest probably isn't so bad, just like he was probably never that great in his halcyon days. Can he dig out of this hole? I have no idea. You can't unfame yourself, after all. But I'm sure there are some things he could do or change, if he wanted to. We'll see. The only thing that's clear to me at the moment is that, with his recent performances both inside and outside the cage, that "Get Out of Jail Free" card he brandishes like a shield may have come with an expiration date.
Scott Harris is a featured columnist for Bleacher Report MMA. He also has a brand-new and, so far, mildly entertaining Twitter account. Follow him @ScottHarrisMMA.
This article is
What is the duplicate article?
Why is this article offensive?
Where is this article plagiarized from?
Why is this article poorly edited?