UFC 148 Fight Card: 3 Fights You Don't Want to Miss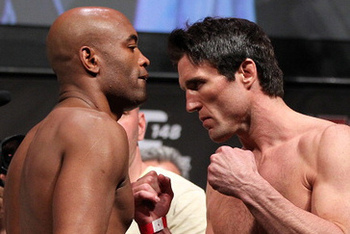 Photo by Josh Hedges/Zuffa LLC/Zuffa LLC via Getty Images
UFC 148 is finally here and it is one of the most stacked cards of the year.
Along with the high profiled rematch between middleweight champ Anderson Silva and Chael Sonnen, also featured on the card are former lightweight champs Forrest Griffin and Tito Ortiz, exciting striker Cung Le and many of the best rising stars in MMA today.
There are many great fights on this card to chose from.
But here are three that you cannot miss.
Cung Le vs. Patrick Cote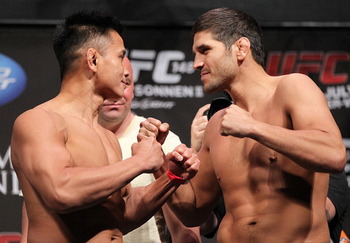 Photo by Josh Hedges/Zuffa LLC/Zuffa LLC via Getty Images
After four straight wins outside of the UFC, former middleweight title contender Patrick Cote returns to the UFC against tough striker Cung Le.
If this fight goes a full three rounds, it will be some of the most exciting action of the night.
Le never puts on a boring fight, and Cote wants to get back on the role he was on before the UFC sent him packing.
Both guys have some exciting knockouts, and we could be looking at the "Fight of the Night" or "Knockout of the Night" with this fight.
Forrest Griffin vs. Tito Ortiz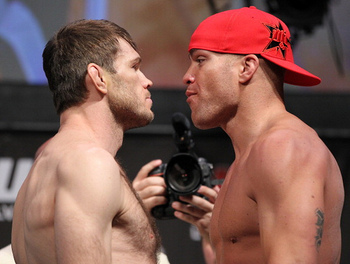 Photo by Josh Hedges/Zuffa LLC/Zuffa LLC via Getty Images
Rubber matches always bring excitement...well maybe not always.
But when it involves two of the sport's biggest names, one of whom will call it a career afterword, it's a must watch.
Tito Ortiz is a legend in the UFC.
Whether you loved him as he made his rise to the UFC title, hated him for his bad boy antics after achieving fame, or learned to love him again as a more humbled Ortiz appeared after going nearly five years without a win, you have to respect what Ortiz has done in the sport.
It would be hard not to want to see Ortiz go out on top, except he is facing one of the most beloved fighters in UFC history.
Forrest Griffin wants to make Ortiz' farewell a difficult one and very well could.
We know the history between Griffin and Ortiz, and they get to do it one last time.
Anderson Silva vs. Chael Sonnen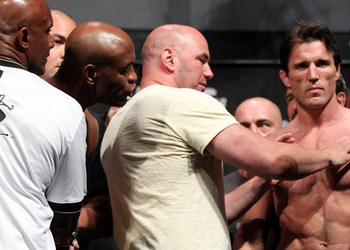 Photo by Josh Hedges/Zuffa LLC/Zuffa LLC via Getty Images
This could be one of the biggest fights in MMA history between two of the biggest rivals the sport has ever seen.
The first time these two met, everyone was surprised by how Sonnen dominated the fight. Despite being down on the scorecards, Silva never gave up and ended up winning the fight by submission.
While we expected Chael Sonnen to talk trash for the rematch, something different happened this time around.
Silva has been very open about what he plans to do to Sonnen.
After yesterday's weigh-ins Silva even shoulder checked Sonnen.
This fight has been building for two years, and if it's anything like the first one, this is a fight that you don't want to miss.
Keep Reading