UFC 148 Fight Card: Power Ranking the Main-Card Fights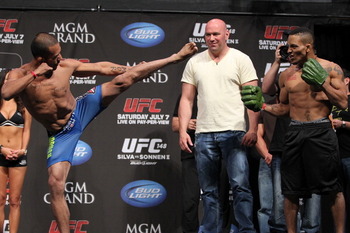 Photo by Josh Hedges/Zuffa LLC/Zuffa LLC via Getty Images
UFC 148 had potential to be the greatest pay-per view card of all time, but after several injuries, it'll simply be the best card of the year.
From an excellent bantamweight showdown between Ivan Menjivar and Mike Easton kicking off the PPV to Anderson Silva and Chael Sonnen settling their grudge match in the main event, this card is stacked from top to bottom.
Add in a trilogy fight between two legends in Forrest Griffin and Tito Ortiz and what should be a kickboxing match between Cung Le and Patrick Cote, and it's going to be rather difficult for this card to disappoint.
As far as 2012 goes, this card is the UFC's Super Bowl.
But of all of the tremendous matchups, which fight will steal the show? Is it possible for one fight to top the main event?
6. Dong Hyun Kim vs. Demian Maia
It's rather difficult to get excited for Dong Hyun Kim and Demian Maia.
Sure, their styles contrast interestingly enough, but both fighters have become strong grapplers turned mediocre strikers.
Because Maia's Brazilian jiu-jitsu is so highly decorated, Kim will most likely keep this fight standing, and his judo will allow him to dictate where this fight goes.
So expect this fight to stay on the feet, where both fighters will look to pick their shots conservatively. It could make for a stagnant fight, but hey, the rest of the fight card will make up for it.
5. Chad Mendes vs. Cody McKenzie
Cody McKenzie isn't in Chad Mendes' league.
So far in the UFC, McKenzie is 2-2, while Mendes is coming off of the first loss of his MMA career, to featherweight champion Jose Aldo.
More importantly McKenzie is a one-trick pony. He's won 10 of his 15 fights by his famous guillotine, but how will he submit a man with no neck?
Though McKenzie is an exciting fighter and will push the pace on Mendes, Mendes will dominate this fight and get a decisive win.
4. Forrest Griffin vs. Tito Ortiz III
It's hard to imagine that Tito Ortiz and Forrest Griffin could be the fourth-best fight on the main card, but that's a testament to this lineup.
Though the fight has a lot of history behind it, there's not a lot at stake in the light-heavyweight division in this bout.
But fans can rest assured that Griffin and Ortiz will have another classic.
The first two fights were outstanding, and Ortiz was able to take the fight to the ground and batter Griffin with some ground-and-pound. But once the fight got back to the feet, Griffin was able to win the striking exchanges.
Which fighter will impose his will? Will Ortiz get the takedown, or will Griffin's movement and kicks be too much for Ortiz?
With their splitting the first two bouts, who will take the rubber match?
3. Cung Le vs. Patrick Cote
Cung Le is incapable of having a boring fight.
Because of Le's Sanshou background and exciting fights in MMA, fans have grown accustomed to seeing Le's arsenal of kicks.
Putting Le against a fighter like Patrick Cote makes this fight a legitimate threat for fight of the night. With both fighters being strikers, they should meet in the center of the cage and put on a kickboxing clinic.
With Le's aggressive nature and Cote's lethal counter-striking game, blinking just isn't an option in this fight.
2. Ivan Menjivar vs. Mike Easton
UFC matchmaker Joe Silva had to be cheesing from cheek to cheek when he made this fight.
Not only is this fight important in the bantamweight division, but it's an exciting matchup between two of the scrappiest bantamweights in the world.
Ivan Menjivar is on a three-fight win streak, with thrilling stoppages against John Albert and Charlie Valencia, while Easton is 2-0 in the UFC, with both of his fights being wildly entertaining.
Fans are purchasing UFC 148 while talking about Silva vs. Sonnen, but given each fighter's willingness to mix it up with his opponent, they could be talking about Menjivar vs. Easton after the event draws to a close.
1. Anderson Silva vs. Chael Sonnen
It doesn't get bigger than this fight.
This is the climax of the greatest fighter in MMA history's career. Silva is fighting the Joker to his Batman, his arch-nemesis, his rival and the greatest challenge he's ever had.
Silva has to win to defend his country and his family, while Sonnen has to win to make good on a vow he made to his father on his death bed. Sonnen's talked the talk, and he backed it up with his near victory against Silva at UFC 117.
Their first fight was an instant classic, and with the second fight hours away, it's safe to say all MMA fans are giddy like school girls.
Keep Reading