Predicting 6 Big Training Camp Surprises for the Detroit Lions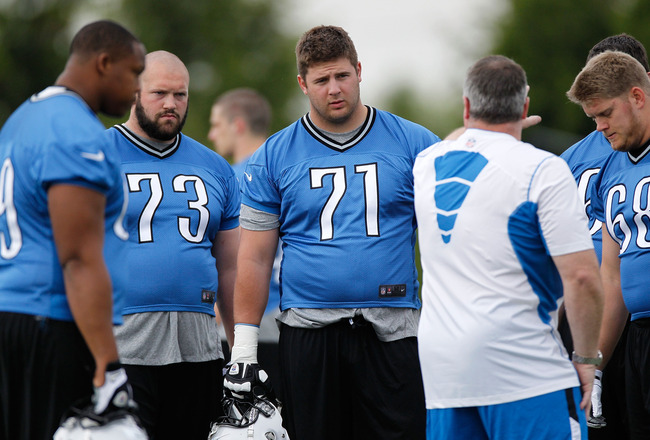 Gregory Shamus/Getty Images
It has been over six months since the last time the Detroit Lions played a football game.
It's safe to say everyone is ready for football activities to resume.
The good news is, training camp starts at the end of July, and the Hall of Fame Game kicks off between the Arizona Cardinals and New Orleans Saints on Aug. 5. Both events are less than a month away, so it's best to start getting hyped now.
Training camp is the first time all season that we get to see all the Lions players in one place on a regular basis. Reports flow in daily about individual performances. Players work out in pads, not shorts, and we get a real taste of some of the rookie's (and developing second- and third-year players) capabilities.
It's an exciting time, especially after a long spring and summer of sporadic news and even less action. It's also full of surprises and "where did that guy come from?" moments as players fight to make the final roster.
After three years with this same coaching setup, I'm starting to see some trends emerge in what those surprises are. Keep an eye out for these six things to happen by the end of training camp.
Travis Lewis Makes the Team...and the Defensive Rotation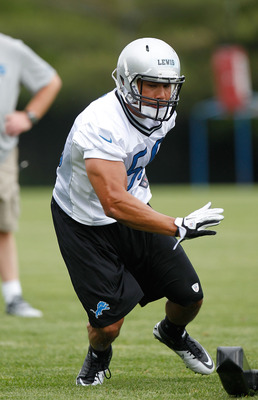 Gregory Shamus/Getty Images
It's hardly unprecedented for a seventh-round pick to make the team for the Lions, but it has yet to happen straight out of training camp under current management.
Zack Follett ended up getting pulled off the practice squad in 2009, and Willie Young had to develop for a year before getting his shot. In terms of impact players, that's all the Lions have gotten out of the seventh round in the last three years.
Travis Lewis should be different. Not only was he a major steal in the seventh round, but he is already showing his value with his ability to play all three linebacker positions as well as special teams. That versatility is something the Lions value highly at all positions.
Add that to the Lions' extremely thin depth situation at linebacker, and Lewis has a very good chance to be the first Schwartz/Mayhew seventh-round pick to make the roster as a rookie out of training camp.
Jonte Green Makes Neither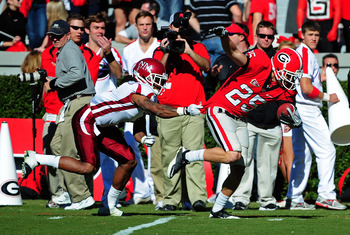 Scott Cunningham/Getty Images
This is among the more premature predictions I'll make here, because we haven't really gotten much usable information on any of the Lions' rookie corners.
But the Lions created an interesting situation when they drafted three cornerbacks between the third and sixth rounds. Even without Eric Wright, the Lions are now looking at an overload of players at the position, and most of them are absolute question marks this season.
Arguably, only Chris Houston is relatively stable at cornerback, and even he had a dramatic spike in production last season. Is he stepping up to a new level of play, or did he just have a great season as an aberration?
Similar questions surround the rest of the corners, to the point where somebody is likely to be surprised no matter how the depth chart shakes out. But nowhere are there more questions than in the three rookies.
Bill Bentley is talented, but undersized. Chris Greenwood has all the measurables, but hails from miniscule Albion College.
Jonte Green is from a bigger school (New Mexico State) than Greenwood, but isn't as big or fast. He's bigger than Bentley, but doesn't have the ball skills or agility.
In other words, he sort of falls between Bentley the ball player and Greenwood the raw physical monster. He could prove me wrong in training camp, but it looks like Green might be the odd man out right now.
Alphonso Smith is a guy rumored to be on his way out the door, and if the Lions really want to keep Green, Smith might be the guy he replaces. But it's a risky proposition to field three rookies among six total cornerbacks.
Jason Fox Doesn't Make It to the End of Training Camp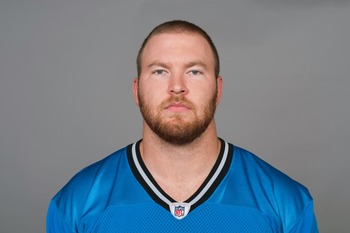 Handout/Getty Images
Back in January, Martin Mayhew announced this was "a critical year" for forgotten 2010 fourth-round pick Jason Fox.
In May, Fox said he "felt great."
A month later, he missed the Lions' mandatory minicamp with lingering knee soreness, the very thing that dropped his draft status in 2010.
That's not good, considering he hasn't actually had to play at all since late 2010. The Lions have been patient through his lingering knee injury in 2010 and his subsequent foot injury in 2011.
Now it's time for that patience to pay dividends, especially now that the Lions are investing in the long-term future of the offensive line. Fox was supposed to be part of that future, but his body is not cooperating.
Eventually that's a deal-breaker, and if Fox doesn't get well in time for training camp and stay healthy through it, it may be time to finally cut ties with him and give up. There is too much talent waiting behind him now to keep waiting on a ship that keeps sinking before it leaves harbor.
An Unknown UDFA Performs Fantastically in Preseason Games, Gets Cut Anyway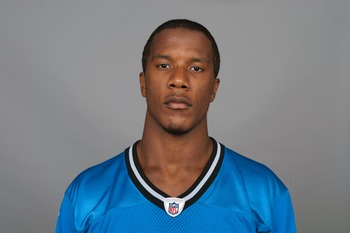 Handout/Getty Images
This is becoming an annual thing.
In 2010, Randy Phillips was a stud in training camp and preseason, and actually made the final roster. He was cut after four games and never made it back on the team.
In 2011, Ricardo Silva looked like Phillips. He seemed to be everywhere, making stops and turnovers and generally being in the neighborhood of every play. He was cut after training camp and added to the practice squad. He was eventually called up and also played in four games last season.
In a similar instance, Maurice Stovall (though not a UDFA) also had an impressive preseason in 2011 as a receiver, and while he spent the entire season on the team as a special teamer, he compiled only a single eight-yard reception in the regular season.
So it seems only logical that somebody will blow us away in training camp and preseason play, and ultimately be passed over when roster cuts are announced. In fact, it's even more likely this year, considering the Lions' roster is more stable than it has been in several years.
Who will it be?
I can't predict that just yet. Phillips and Silva are both safeties, so it might have been Sam Proctor, but he was cut when the Lions signed Sean Jones. It could actually be Silva again, as the safety position appears even more solidified than last year.
Just look for the guy who stands out in the third and forth quarter of preseason games. That's the guy who will become a preseason fan favorite who winds up making approximately zero regular season impact.
Riley Reiff Doesn't Earn a Starting Job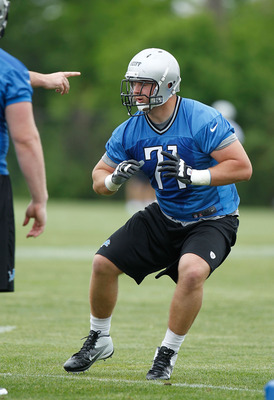 Gregory Shamus/Getty Images
We've seen this before. When Gosder Cherilus was drafted in the first round in 2008, he sat for a long while behind a player as atrocious at George "False Start" Foster.
Granted, that was under a different regime, but Cherilus is better than Foster ever thought about being.
The current Lions regime also set the precedent to draft a player not expected to start immediately last season when they took Nick Fairley in the first round. Even if healthy, Fairley was expected to take reps behind Ndamukong Suh and Corey Williams in 2011.
The point is, rookie offensive linemen are not always day one starters, unless the position is in shambles. The Lions' offensive line has issues, but it's nowhere close to complete disarray.
The major battle in camp is going to be between Cherilus and Riley Reiff for the right tackle position, despite the fact that Reiff was drafted to be the left tackle of the future. No matter how good Reiff is, it's unlikely that he just uproots Backus at the position he's been planted in for the last 11 years.
Yet.
There has been a great deal of talk about Reiff being able to play (and perhaps even better suited to) guard at the NFL level, but offensive coordinator Scott Linehan doesn't see it that way. So it looks like it's tackle or bust for him.
Reiff may have the raw skill advantage on Cherilus, but Cherilus is more developed and more familiar with the offensive scheme. He's frustratingly inconsistent, but when he's good, he's very good. The Lions have preached consistency far too much to move Reiff into the starting lineup unless he soundly outplays someone in camp.
Reiff will get there eventually, possibly by the middle of the 2012 season. But I don't see him beating Backus or Cherilus out of their spot, or at least not enough to convince the coaches. The coaches will have to be extra sure, because once they move Reiff in to start, he won't come out.
Erik Coleman Gets Cut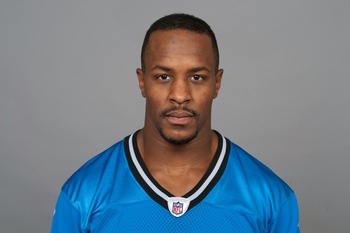 Handout/Getty Images
In many ways, the Lions' signing of Sean Jones was a shot over the bow for Amari Spievey, who has played inconsistently in his first two years at the safety position.
But it might be an even stronger referendum of veteran Erik Coleman. Coleman was signed in 2011 to serve as competition for Spievey and as a steady veteran backup, but he played sporadically even before getting injured and missing the last 12 games of the season.
Coleman was re-signed to another one-year contract, presumably as a second chance to prove himself, but now he has Jones, a career starting-quality player, to deal with.
The Lions carried four safeties into the regular season last year. Louis Delmas is obviously going to earn a spot, and John Wendling gets one by default on account of being one of the best special teamers in the game today. That likely leaves Spievey, Coleman, and Jones fighting for two roster spots.
Spievey is unlikely to be cut, considering it has only been two years since he was drafted as a cornerback in the third round. If the Lions don't give him time to fully acclimate to his new position, what was even the point of drafting him in the first place?
That leaves it between Jones and Coleman. Both are 30 years old, and both have been starters for most of their careers. Both are on one-year contracts, which means there is little harm in cutting either of them.
But I give the edge to Jones here. If the Lions were happy with Coleman, why would they have made the move to sign Jones in the first place?
Keep Reading

Detroit Lions: Like this team?