Bryce Harper: 4 Reasons Why the Nationals Must Keep Him for His Entire Career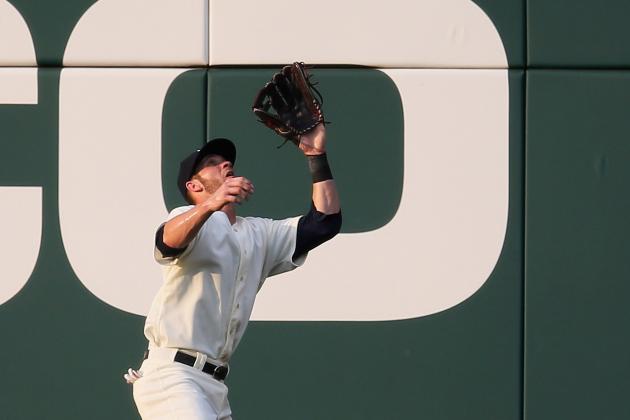 Rob Carr/Getty Images

Recently, Bryce Harper said that he wants to be a National for his entire career.
I'm here to tell you why the Nationals must fulfill his request.
Harper was called up to the major leagues this year, and he has proven that he deserves to stay. Although he is only 19, Harper is very mature and has proven again and again that he is a great player.
Here are four reasons why the Nationals must keep Harper for his entire career.
Begin Slideshow

»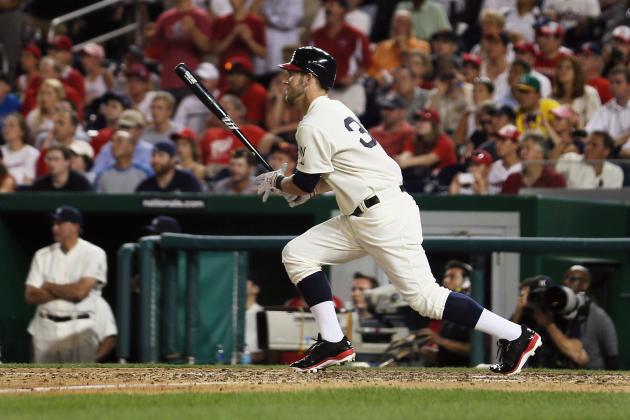 Rob Carr/Getty Images

For those of you who haven't followed Harper and the Nationals closely, you should know this: Harper can get on base.
Harper leads the team with a .283 batting average, and his ability to hit any pitch has really helped the team. He is a threat on the basepaths, as he is 8-for-11 when stealing bases.
Harper is fast and can really connect when he hits the ball. The teenager has eight home runs and 25 RBI, including one walk-off single against the Mets.
Just yesterday, Harper helped the Nationals rally to beat the Giants.
The Nationals trailed 5-4 and had runners on first and third in the bottom of the ninth. Harper came to bat against San Francisco Giants pitcher Santiago Casilla. Casilla threw an outside fastball, and Harper got good wood on the ball. He tied the game with an RBI single.
Later in the inning, Harper scored the game-winning run.
Sometimes he doesn't get hits. However, he almost always hits the ball well, and if not, he draws a walk. Harper leads the team with a .355 on-base percentage, and his 26 walks are good for third-best on the team (even though he played the first three weeks of the season in the minors).
And the scary thing is, this kid will only get better.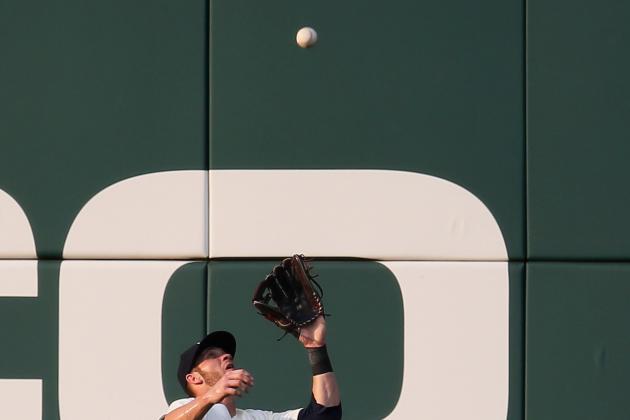 Rob Carr/Getty Images

Again and again, Harper shows us how good he is in the field.
Whether it's a leaping catch or a great throw, Harper always amazes us. He is fearless when chasing down a ball and knows how to dive or jump to catch the ball. His great arm always helps when a runner is trying to tag up.
Since Harper is fast, he can get to the ball quickly and make catches other center fielders wouldn't make. As you can see in this picture, Harper has incredible hops, and he uses his hops to make great catches.
Washington's other two outfielders, Steve Lombardozzi and Michael Morse, don't have strong arms, so Harper's ability to throw a guy out at any base from anywhere really helps.
When Jayson Werth comes back, the outfield will be better, since Werth also has a strong arm.
For the next 15-20 years, Harper will be a great center fielder. Washington doesn't want to see Harper making great catches somewhere else, so they need to keep him.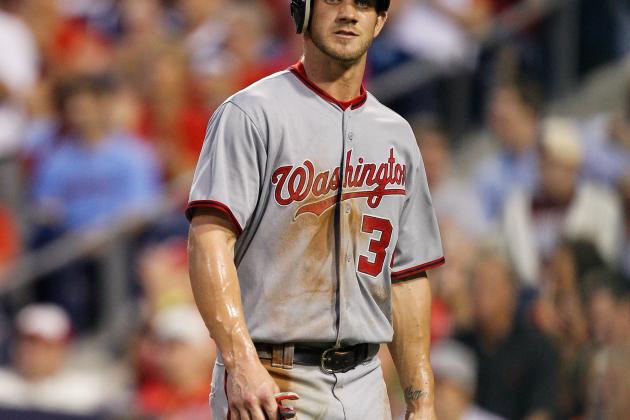 Brian Garfinkel/Getty Images

Just a short time ago, the words "Bryce Harper" and "mature" did not go together at all.
Remember when Harper blew a kiss to a pitcher after hitting a home run in the minors? Probably. However, Harper has forgotten.
He is a lot more mature, and it shows.
He isn't afraid to do anything. He will go all out to try to make a catch. He will step to the plate with a chance to win the game in the bottom of the ninth inning and he will come through. If you don't know who he is and you watched him play, there's no way you would guess that he's a teenager.
Oh, and the stuff he did in the minors? There's no more of that.
Harper is a Major League Baseball player now, and he is playing like one. How often do you see a teenager with a .283 batting average and a .355 on-base percentage in the major leagues? Not often.
And that's why Harper is special. But of course, you already knew that.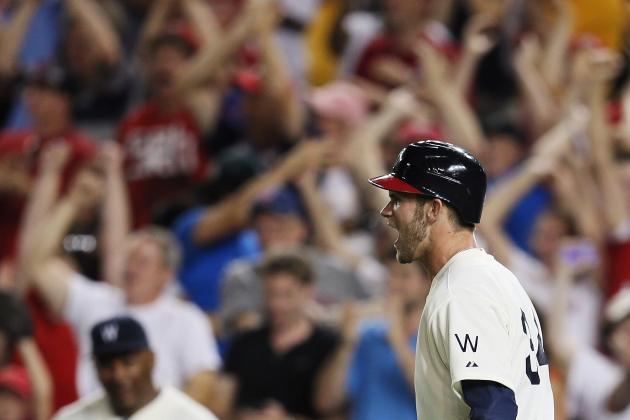 Rob Carr/Getty Images

If you aren't a Nationals fan, this is a scary, scary thought.
Like I said in the last slide, it is very unusual for a teenager to get hits consistently in the MLB. It's even more unlikely for a teenager to be one of the stars of a first-place team in a tough division.
Harper is doing all of that.
He's hitting homers, making great catches, getting on base, getting clutch hits and much more. Harper will get a lot better, and he will be one of the young stars who shapes MLB's future.
On that journey, expect him to stop for some MVP awards and World Series trophies. If Harper stays on the Nationals, they will be very dangerous for years and years.