NBA Free-Agency Rumors: How Much Is Too Much Money for Ray Allen?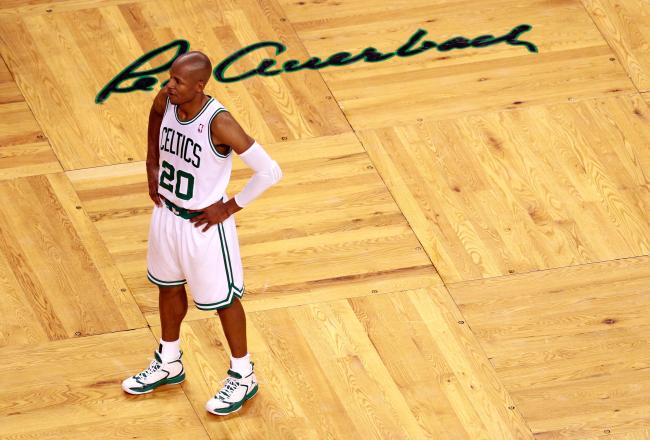 Jared Wickerham/Getty Images
How much is an almost 37-year-old shooting guard coming off arthroscopic ankle surgery and his worst professional season worth?
What about the best pure shooter in NBA history and lead actor in one of the greatest basketball films of all time? That's which vexed teams as they tried to gauge the value of free agent shooting guard Ray Allen this offseason.
And as Allen made his wish to contend for a championship, the number of teams that could even theoretically overpay Mr. Shuttlesworth was significantly sliced.
But factors like age and desire to contend didn't stop Steve Nash from getting a three-year, $25 million deal from the Lakers this offseason.
So who is in the running, and what is Allen truly worth at this point in his career?
Well, after the Los Angeles Clippers decided they were better off re-signing Chauncey Billups and giving Jamal Crawford a four-year, $25 million deal than even meeting with Allen, we're basically down to two three contenders: the Memphis Grizzlies, Miami Heat and Boston Celtics.
With the "which teams" question out of the way, we can easily discern what type of contract will get on the open market. Both Miami and Memphis are over the salary cap and can only offer their $3 million and $5 million exemptions, respectively.
But Allen's former team, the Celtics, have a much more fluid salary situation and seem willing to offer the most money.
Is $6 million per season overpaying Ray Allen?

Sources said the Celtics, who Allen has spent the past five seasons with, are prepared to double the yearly salary the Heat can offer Allen, while the Grizzlies have offered Allen their full mid-level exception, worth $5 million, for two years.

Miami can only offer Allen its mini-mid-level exception worth $3 million. The Celtics, who have cap space, Allen's Bird rights, and who have made re-signing Allen their top priority now that Kevin Garnett is back in the fold, are ready to give Allen a two-year, $12 million contract, according to sources.
In addition to their extra monetary commitment, the Celtics also seem willing to assure Allen he won't have to sit through another tumultuous trade deadline after nearly being dealt to Memphis during this past season.
Via the Boston Herald:
Allen told the Herald months ago that he didn't want to have to sweat out another trade deadline after nearly being moved in the past, and word is the Celts are ready to comply with either a no-trade clause or a trade kicker that would get him a good sized raise in salary if he does get moved.
But what teams are offering doesn't answer the question of what Allen is actually worth.
So using sports economist David Berri's Wins Produced metric and Forbes' data which says each win produced is worth $1.7 million to his team, it's calculated that Allen was actually worth $9.8 million to the 2011-12 Celtics.
If you consider Allen's struggles and battles with injury this past season a fluke, then the shooting guard will be one of the biggest steals of free agency. But if you want to argue that ankle injuries don't exactly go away on 37-year-old players and Allen's limited (at best) effectiveness is a precursor of things to come, then we may have our next pre-finals Shane Battier on our hands.
As with everything, the answer is probably somewhere in the middle. At this point in his career, Allen is a 25-minute per night player who comes in, drains threes, provides veteran leadership and bolsters your crunch-time offense.
So how much money is too much for Ray Allen? One dime more than the $12 million he has sitting on the table from Boston. And considering the way this offseason has gone so far, I'm surprised he won't be getting it.
This article is
What is the duplicate article?
Why is this article offensive?
Where is this article plagiarized from?
Why is this article poorly edited?

Boston Celtics: Like this team?