Euro 2012: 7 Greats That May Have Played Their Last Games at a Major Tournament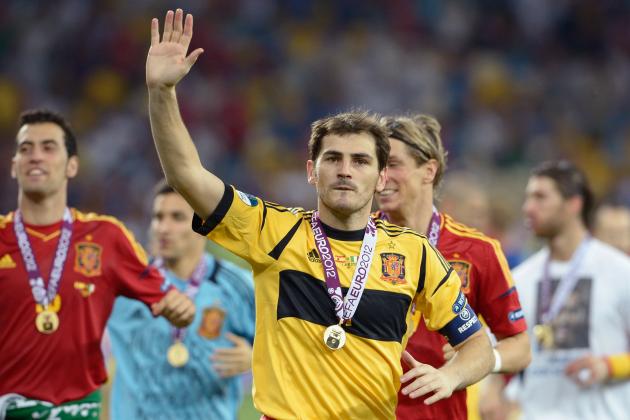 Claudio Villa/Getty Images

With the end of every major tournament comes the end of a few careers.
There were many players at Euro 2012 who would have been hoping for one last shot at glory on the international stage.
Don't worry—Iker Casillas is not one of those players, despite being pictured here. I believe that Casillas still has another three or four years left in the tank after Euro 2012. He was simply sensational and led from the front while captaining this illustrious Spanish side.
Bidding adieu to superstars and greats who have entertained us so much over the years is never easy. They will continue to live as people, but may no longer be involved in that which they became known for on the world stage.
Let's take a look at a few of the greats who might have represented their nations for the last time on the international stage.
Begin Slideshow

»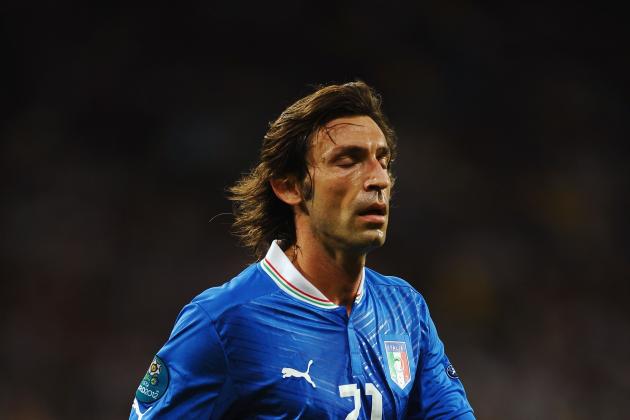 Laurence Griffiths/Getty Images

Name: Andrea Pirlo
Age: 33
Nationality: Italy
Position: Midfield
Caps: 89
Pirlo has almost been reborn. After achieving so much with AC Milan, the Italian moved to Juventus and orchestrated a season in which Juventus went unbeaten in Serie A on their way to a 28th Scudetto.
This helped him to retain his place in the Italian national squad, which was a blessing for the Azzurri. Unfortunately, Pirlo might not be around two years from now for us to see him at the next FIFA World Cup. His trademark free-kicks will surely be missed if that is the case.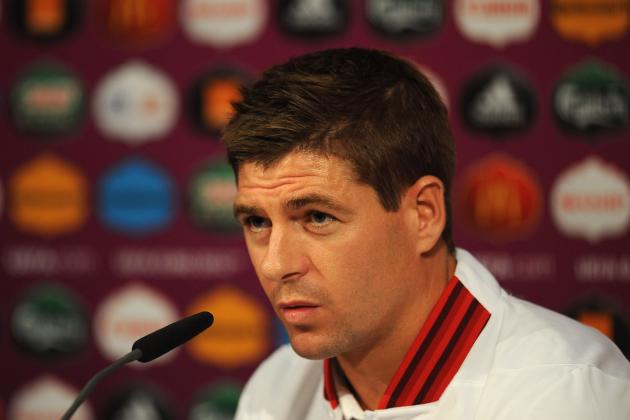 Handout/Getty Images

Name: Steven Gerrard
Age: 32
Nationality: England
Position: Midfield
Caps: 96
Gerrard gave his all for an average English side at the Euros. He was their player of the tournament and rightfully found his name in the 23-man Euro 2012 team of the tournament as well.
As a Liverpool fan, it saddens me that our captain might never get to taste success on the international stage. The 2014 World Cup might only be two years away, but that is a long time in footballing context. We as fans don't realize it because players like Gerrard have been entertaining us all around the year.
Gerrard has been injured for much of the last two seasons. When fit, the quality is there for all to see, but I do not expect him to travel to Brazil. The defeat and tears against Italy might be his last on the international stage.
The world will see few captains like Gerrard. I hope captaining the Liverpool side will bring him more rewards in the near future than captaining the English national side.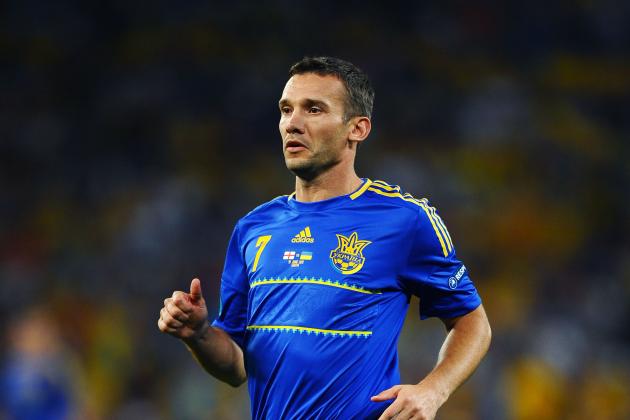 Laurence Griffiths/Getty Images

Name: Andriy Shevchenko
Age: 35
Nationality: Ukraine
Position: Forward
Caps: 111
As captain of the national side, Andriy Shevchenko has been a great role model for the youth of Ukraine. Scoring 48 goals in 111 appearances for his country, Shevchenko has given his nation reason to cheer again and again.
The latest of his heroics came against Sweden at Euro 2012, when he turned a one-goal deficit into a victory. Sadly, at 35, that might have been the last opportunity that Sheva will ever have to showcase his talent at the highest level.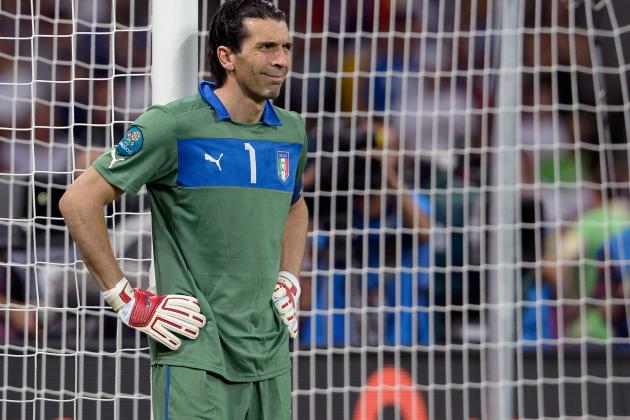 Claudio Villa/Getty Images

Name: Gianluigi Buffon
Age: 34
Nationality: Italy
Position: Goalkeeper
Caps: 120
I know I said that I expect Casillas to perform for a few years more—you might ask, therefore, why not Buffon?
Buffon is a little longer in the tooth compared to Casillas. The Italian is three years older.
As captain of the Italian team in the Euro 2012 finals, Buffon has shown that he is a great leader. It might be that this legend has seen his last ever game at a major tournament, but we will have to wait and see.
If Italy do not produce someone as good or better, Buffon may well be seen for at least a few more years to come.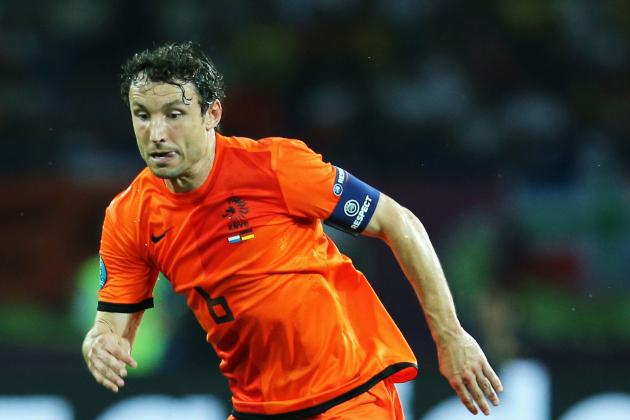 Joern Pollex/Getty Images

Name: Mark van Bommel
Age: 35
Nationality: Netherlands
Position: Midfield
Caps: 79
Mark van Bommel does not need pace to aid his game and that is why he is still playing on the international stage. He is somewhat similar to Pirlo in that sense, because he uses the pace of the mind to compensate for his physical inability to run fast.
With a plethora of talent bursting at the seams for the Dutch, Van Bommel will likely make way for others from now on. Like Patrick Kluivert and Dennis Bergkamp before him, Van Bommel is another Oranje legend. Sadly, we might not see him at the World Cup in Brazil.
Michael Steele/Getty Images

Name: Giorgos Karagounis
Age: 35
Nationality: Greece
Position: Midfield
Caps: 120
Karagounis has been a great servant for the Greek national side. As one of the most experienced outfield players at this year's Euros, he helped Greece make the quarterfinals after scoring the winner against Russia.
It was not the first time that Russia were knocked out of a group shared by Greece in a European Championship. The other instance was when Karagounis' side went all the way to win the trophy in 2004.
The neutral fan will surely miss Karagounis if he was not to turn up to play on a football field on the international stage ever again.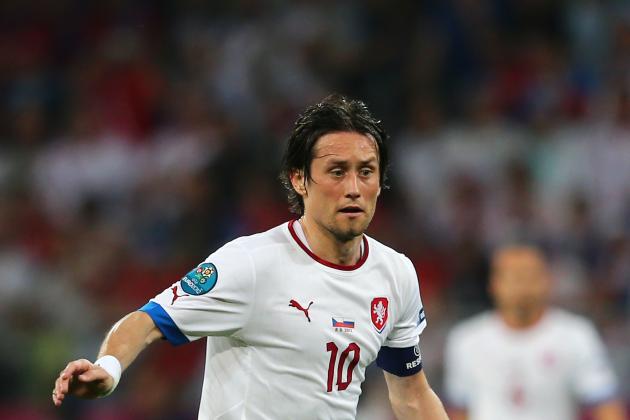 Clive Mason/Getty Images

Name: Tomas Rosicky
Age: 31
Nationality: Czech Republic
Position: Midfield
Caps: 87
As captain of the Czech Republic, Tomas Rosicky has been a revelation for his national side. Still only 31, Rosicky may feature in another tournament. The problem facing him is qualification.
The Czech Republic did not qualify for the last World Cup. If they fail to do it again in 2014, it is more than likely that the game against Portugal will be the last Rosicky played for his national side at a major tournament.
Watching Rosicky, I am reminded of another player with flair in Pavel Nedved. Rosicky's skills and long-range shots are and will always be welcome on the field.
To conclude, for a football fan, it becomes very personal indeed when players such as these are at the twilight of their career. Their emotional goodbyes shall be remembered fondly.
Three cheers for such players who have illuminated our lives time and time again with moments of magic—I heartily wish them all a great life.