Chicago Cubs Rumors: Updates on North Side's Latest Trade Deadline News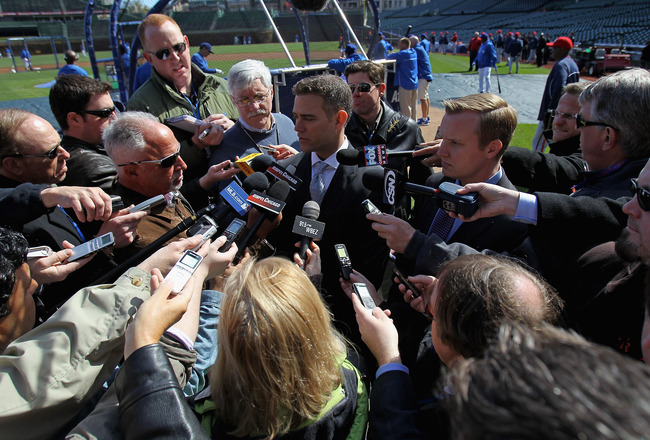 Jonathan Daniel/Getty Images
Several weeks have passed, and not much seems to have changed for the Cubs. They still find themselves staring up at the rest of the NL Central, and with the exception of a few call-ups, haven't made any significant roster changes.
While operations may appear static, we may just be seeing the calm before the storm in the North Side; despite not having made any major moves yet, their position as a "seller" hasn't changed, making them one of the most interesting teams to watch going into the All-Star break.
Amid all the trade speculation, several story lines have emerged, specifically centered around Bryan LaHair and Ryan Dempster. Here is a quick status update on those subplots and others that have swirled around this season in Chicago.
Darwin Barney Is Catching Buyers' Eyes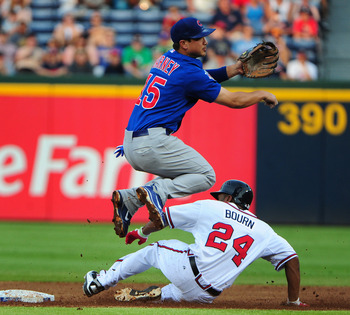 Scott Cunningham/Getty Images
During the early ramblings of the Cubs' fire-sale season, Barney's name wasn't mentioned often. This was likely in part because at 26, Barney is a young piece that could be a part of the turnaround in Chicago.
Only in his second full season in the pro ranks, Barney has solidified himself as a legitimate major league second basemen. Interested teams may have been waiting to see if Barney's success from last year would continue into this season (he just played in his 250th career game this week) before committing prospects for him.
Recently, Ken Rosenthal of Fox Sports mentioned he wouldn't be surprised if the Cubs moved Barney.
"Don't rule out the possibility of the Cubs trading second baseman Darwin Barney. Rival clubs frequently ask about Barney, but none has offered value that the Cubs consider sufficient for a regular second baseman."
For the time being, Barney remains a Cub. The ideal time for the club to deal the second basemen would have been during his red-hot month of May, when he hit .284/.344/.489. He's cooled off a bit in June and July, but not enough to dissuade potential suitors from making a move for him.
Bryan LaHair Might Remain a Cub
Brian Kersey/Getty Images
Bryan LaHair's breakout season has been the best story of the year for the Cubs.
In his first true full major league season at 29 years old, LaHair is batting .293 with 14 home runs and a .536 slugging percentage. Those numbers are good enough to earn the career journeyman a spot as NL All-Star in this season's summer classic.
Conventional wisdom would suggest that the Cubs would be wise to sell LaHair high on the market, especially with the recent call-up of top prospect and fellow first basemen Anthony Rizzo.
That said, LaHair is only making $482,500 for the 2012 season, isn't eligible for free agency until 2018 and isn't arbitration-eligible until 2015. While the Cubs may be aware they can receive the most value on the open market for him now, they covet his inexpensive production.
FoxSports Jon Morosi tweeted:
"#cubs will listen on Bryan LaHair, but price remains high at the moment. They don't have to trade him."
Ryan Dempster's Early Return from the DL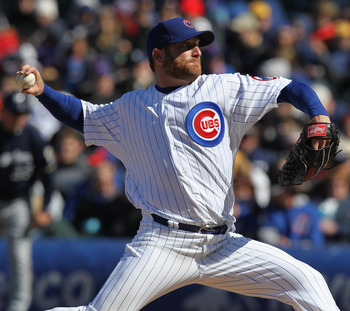 Jonathan Daniel/Getty Images
Ryan Dempster's sore right latissimus dorsi muscle could not have come at a worse time for the Cubs.
The 35-year-old right-hander's stat line currently places him second in the MLB in ERA (2.11) and ninth in the league in WHIP (1.02).
A rebuilding team could not ask more from a veteran pitcher.
With his muscle injury and the DL stint that followed, it seemed that Dempster might not see the mound again for the Cubs until after the All-Star break, putting any possible trades involving him on hold for the time being.
The Chicago Sun-Times indicates Dempster's return is ahead of schedule, so much so that the righty is lobbying to start Sunday night against the Mets. Even if he does not get a start before the All-Star break, the accelerated return will allow trade talks involving Dempster to resume.
Keep Reading

Chicago Cubs: Like this team?