Miami Football: What You Need to Know About Hurricanes' Defensive Backs in 2012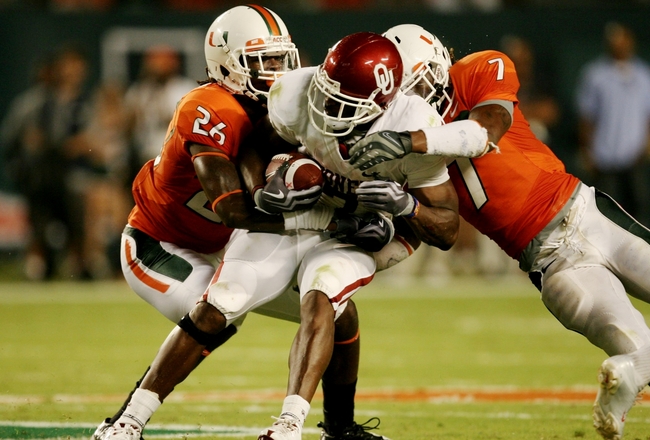 Doug Benc/Getty Images
Although there have been a handful of solid defensive backs over the last decade that played at Miami, this may be the first season where they could potentially be solid at both the cornerback and safety positions.
The roster is filled with very young, athletic defensive backs that were highly recruited coming out of high school. Mix that in with good, veteran players, and Miami could have a very good backfield.
Here is what you need to know about the current defensive backfield at Miami.
Spring Season Brought Surprises
I was lucky enough to catch the spring game, and the defensive backs surprised the heck out of me, especially Ladarius Gunter. The junior community college transfer was all over the field during the spring season, and impressed coach Al Golden so much that he named Gunter the starting cornerback.
Gunter is a huge cornerback standing 6'2 and weighing in at 196 pounds, a size very rare at the position. He is solid in coverage and an absolute stud against the run. He recorded seven tackles and forced a fumble in the spring game.
Gunter wasn't the only player that surprised me this spring. Andrew Swasey and Kacy Rodgers also proved they deserve more playing time.
I had to check the roster list more than once to see who the heck No. 22 and No. 28 were. They seemed to be all over the field, all the time.
Thomas Finnie was also a surprise. He was making plays he wouldn't have made as a freshman. He seemed to be the most-improved after being a highly touted recruit out of high school.
Two Solid Veteran Safeties, Maybe
As long as Ray Ray Armstrong can stay out of trouble, the Miami Hurricanes could have the best safety combination in the ACC. Vaughn Telemaque has been a solid contributor beside Armstrong for the last three years.
This season, both players are seniors, and if they play to their ability could be the surprise leaders of the defensive backfield. They both hit like trucks, but tend to play a little soft in coverage.
Telemaque was fourth on the team in tackles last season with 59 and started all 12 games. Armstrong on the other hand had only one start after being suspended for four games to start the season, and another one later in the year for breaking team rules.
Even with only one start Armstrong played in seven games and finished the season with 34 tackles and an interception.
Plethora of Freshmen Talent
If there is one exciting aspect of the defensive backfield it's the true freshmen that should see some playing time this fall. Tracy Howard and Deon Bush are the ones that most people can not wait to see on the field.
Howard, a five-star recruit cornerback, is a local product that has amazing speed and coverage ability that could compete for a starting job after the fall practice. He finished his senior high school season with 50 tackles and 10 interceptions.
Bush, a four-star safety, was voted onto the Under Armour All-American team, and finished his senior season with 40 tackles and seven interceptions.
Those aren't the only two defensive backs that have made waves already. Larry Hope had a terrific spring session and was listed as a backup to Ladarius Gunter at the cornerback position.
Athletic and Talented but Raw
When I think of athletic players on the Hurricanes' roster I think of defensive back Andrew Swasey. The senior saw action in all 12 games last year (primarily on special teams) and was honored as the team's 2011 Special Teams Player of the Year.
Swasey has tremendous athletic ability and a non-stop motor, but is a little raw. His only playing time at defensive back came at Coffeyville Junior College.
Alongside Swasey is one-time quarterback A.J.Highsmith. He played in 11 games last year with 12 tackles, but needs more work on the fundamentals at safety.
Kacy Rogers and Davon Johnson are also gifted players with athletic ability that saw limited action in the defensive backfield last season.
Great Depth
The Hurricanes have 19 players on their roster that are listed as defensive backs. Now keep in mind that some of them will be limited to special teams and practice squads, but that is still a lot of players to choose from.
The starting safeties will be Vaughn Telemaque and Ray Ray Armstrong, followed by A.J Highsmith, Andrew Swasey, and Kacy Rodgers, giving the Hurricanes' safety position great depth.
To add to the safety position will be true freshman Deon Bush who could easily compete for a spot on the depth chart.
As cornerbacks are concerned, the Hurricanes have some very talented ones, two or three deep. Senior Brandon McGee and community college transfer Ladarius Gunter had impressive spring sessions and are currently listed as starting cornerbacks.
Sophomore Thomas Finnie is listed as a backup alongside true freshman Larry Hope. Keep in mind this is the depth chart after the spring season. One name missing off that list is freshman Tracy Howard who did not start school at Miami until the summer.
With Howard participating this fall that depth chart could change and I believe it will. I wouldn't be surprised at all if Howard ends up being the starting cornerback by the first game of the season.
Keep Reading

Miami Hurricanes Football: Like this team?