2012 NBA Free Agency: Reflecting Upon Steve Nash Leaving Suns for Lakers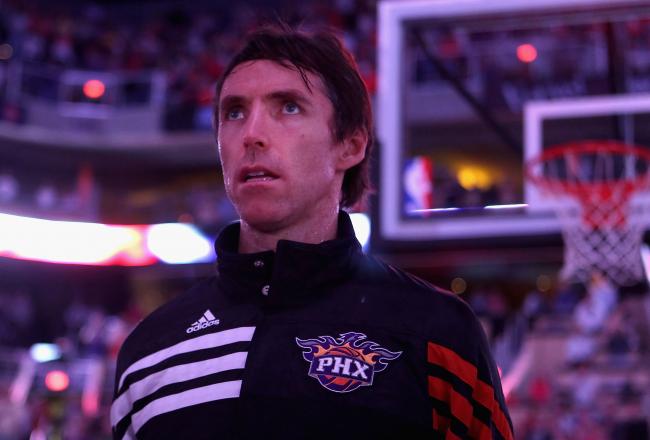 Christian Petersen/Getty Images
Why?
That's the question that has dominated the thought process of Phoenix Suns fans the world over. Why would Steve Nash, the face of the franchise who won two MVP awards while a member of the run-and-gun Suns, leave for the team's biggest rival (and a team in the same division), the Los Angeles Lakers?
When I first heard this news, I was in shock. I got that sick feeling in the pit of my stomach. Why would the Suns floor general leave Phoenix for the hated Lakers? That's exactly why I wanted to give at least a 24-hour window to let the news sink in.
Nearly every Suns fan had accepted the undeniable fact that Nash would leave to join a contender this offseason. Although the real thing would hit fans like a punch to the stomach, we were somewhat prepared for the aftermath.
Then the news broke that Nash's destination was Los Angeles, with the hated, rival Lakers.
Why, Steve?
Well, Nash chose this destination because he wants to be close to his three children. Suns owner Robert Sarver, to his credit, was hesitant to trade Nash to the team's rival, thus bolstering their roster and hurting Phoenix's chances of winning in the near future. However, Nash requested that Sarver trade him to L.A. so he could play for a contender while still being close to his family (not a possibility in New York or Toronto), according to Suns' beat writer Paul Coro.
Even if the decision makes sense for the family man side of Nash, the rivalry between these two teams is obvious.
How do you feel about Steve Nash going to the Los Angeles Lakers?
Kobe Bryant once said of the Phoenix Suns, "I don't like them. Plain and simple I do not like them," via ESPN's J.A. Adande.
Bryant's hatred of the Suns is well documented, yet that doesn't seem to bother Nash in the slightest. This is not surprising given that Nash is a class act who wouldn't create petty ire for a team simply to motivate himself, but it's still odd to see the move looking back on past quotes.
In addition to Bryant's evident dislike of the division rival, one Nash quote has me scratching my head over his final free agent decision.
In an interview with ESPN radio on June 25 documented by Andrew Sweat of Yahoo! Sports, Nash said, "Truth is, I'm a bit old school. For me, it would be hard to put on a Lakers jersey. That's just the way it is."
Well, apparently Nash isn't as "old school" as he says. From a fan's perspective, I can say with confidence that it will be much more difficult for fans to watch Nash wear that ugly yellow jersey than it will be for the 38-year-old point guard to put it on.
Nash made what he considers the best decision for himself, which may very well have tarnished his Suns legacy. He was beloved in Phoenix after winning two MVP's and adding countless courtesies to the community, but it may be difficult for fans to overlook this rivalry swap.
As a Boston Red Sox fan, this reminds me too much of Johnny Damon. Damon was beloved by Red Sox Nation, but severed that relationship by joining the team's biggest rival, the New York Yankees.
Will Steve Nash win a championship?
Nash might have done the same.
Can a core of Nash, Bryant, Pau Gasol and Andrew Bynum get past either the San Antonio Spurs or Oklahoma City Thunder?
Only time will tell.
Some Suns fans will cheer for Nash to get his elusive championship ring; others will still vehemently root against the Lakers, regardless of who their point guard is now.
I believe that every Suns fan wanted to see Nash leave and win a title. Now, I'm not so sure they still want that image.
Nash meant everything to the Suns organization and their fan base, so he'll still have a good deal of supporters. However, the move to the Lakers likely destroyed a chunk of his following.
As gut-wrenching and flat-out strange as the move seems from the outside, Nash is happy with his decision and there's still the actual sign-and-trade to evaluate.
Phoenix Suns Negatives:
On the negative side for the Suns, not only do they lose the face of the franchise, but they lose him to the team Suns fans hate the most in the Lakers. In the eyes of some, Nash has stained his reputation and will now be known as the traitor, instead of the hero.
Phoenix Suns Positives:
The Suns landed two first-round draft picks, two second-round draft picks and $3 million in cash for the Canadian point guard. This is a healthy amount of value to get in return for a guy who was:
A. Going to leave town anyway, and...
B. Is 38 years old at the tail end of his career.
Los Angeles Lakers Positives:
The Lakers finally got their elusive point guard. Now they have one of the top-seven point guards in the game who can lead the charge with his unselfish play.
Even if Nash doesn't get to handle the ball as much as Bryant, he's still a fantastic spot-up shooter who will do eons better than Ramon Sessions' 16 percent shooting from three-point range in the playoffs last year.
Los Angeles Lakers Negatives:
The Lakers are in full blown "win now" mode. Not only did they trade a first-round pick for Sessions and a first-round pick for Jordan Hill last year, but now they give up two more first-rounders for Nash (as well as two second-rounders).
The Lakers are one of the oldest teams in the league, so if they fail to win immediately with the addition of Nash, they'll be in big trouble moving forward.
Nash, Bryant and Gasol are all near the end of their careers. If the Lakers don't win in the next three years, they'll have a really tough time rebuilding without any of their draft picks.
I won't boo Nash when he comes back to play in Phoenix, but I'd be lying if I said it wouldn't be difficult to resist that urge.
I respect your decision Steve, but I wish you didn't join the Suns' arch rivals. Best of luck in the pursuit of your ring, even though I'd hate to see you lift the trophy with Kobe Bryant at your side.
You can follow me on Twitter: @benlebo
This article is
What is the duplicate article?
Why is this article offensive?
Where is this article plagiarized from?
Why is this article poorly edited?

Phoenix Suns: Like this team?