Seantrel Henderson and 5 Miami Hurricanes Likely to Dominate NFL Rosters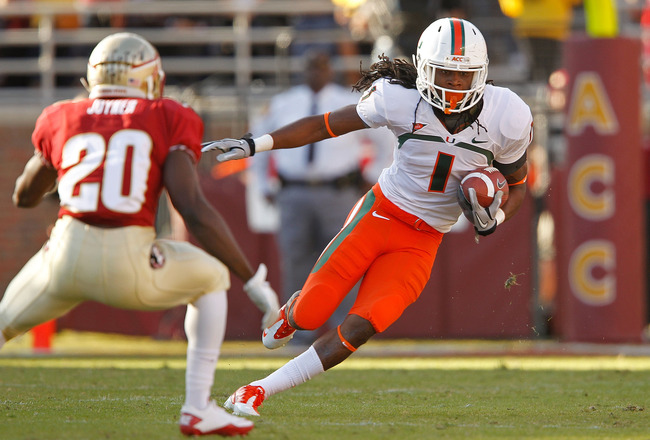 Mike Ehrmann/Getty Images
Anyone who follows college football knows what kind of players come out of Miami. During a stretch from 1994 to 2008, the Hurricanes had at least one player selected in the first round every year—an NFL record.
It's not just the number of Hurricane players that get drafted; it's also how they perform. And no other college in the last 15 years has contributed the quality that Miami has. Over that timeline Miami alumni have won Super Bowls, won NFL Defensive Player of the Year awards, won NFL Offensive and Defensive Rookie of the Year awards, and been selected to multiple All-Pro teams and Pro Bowls.
Even though the Hurricanes have struggled recently, they still produce NFL players, as six ex-Hurricanes were drafted in the 2010 NFL draft, tying them for the most with LSU.
The Hurricanes are still not among the elite programs as of late, but that doesn't mean they don't have NFL-caliber players.
Here are five on the current roster that could excel in the NFL.
Note: I did not include any true freshmen on my list. Until I see them play at the college level, it's hard to predict what happens. I will give honorable mention to Tracy Howard and Duke Johnson because, if they live up to the hype, they too will be on NFL rosters one day.
Allen Hurns, WR
Allen Hurns may not be as good as previous wide receivers that came out of Miami, but he has NFL size, standing 6'3" and weighing 190 pounds.
As a sophomore playing his first year at receiver, Hurns caught 31 passes for 415 yards and four touchdowns, which was third on the team in all categories.
This season I expect more great things from Hurns as he will be the quarterback's primary possession receiver.
Although he dropped a few passes toward the latter part of the 2011 season, it doesn't mean that he doesn't have good hands. He proved in his very first game, against Maryland, that he has terrific hands and now, having a full season under his belt, he should have an even better campaign this year.
With his combination of size and quickness, I believe Hurns will stay all four years at Miami and be a solid NFL receiver.
Seantrel Henderson, OL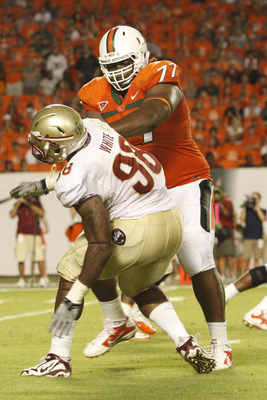 Seantrel Henderson has had a less-than-spectacular beginning after arriving at Miami two years ago. He has been hampered with injuries and suspensions, leading many to believe that he is overrated.
That is not the case. Granted, he has had some issues, but that doesn't mean for one second he isn't an NFL-caliber football player.
The kid can flat-out play.
He is quick with his feet, has good hand placement and is very strong. He also possesses good size (6'8", 344 pounds), which will make him a commodity in the NFL draft.
I honestly believe that Henderson will be a first- or second-round draft pick and, barring injury, will have a very successful NFL career.
Denzel Perryman, LB
What Denzel Perryman did as a true freshman last season was simply amazing.
He was second on the team in tackles, with 69 (in only five starts), and was a beast on the kickoff team, destroying the returners at will. His play earned him a spot on a few freshman All-American teams.
Although he is a bit small (6'0", 225 pounds), it does not hinder his performance, as he plays bigger than he actually is. He is a combination of Jonathan Vilma and Sean Spence, with the hitting power of Ray Lewis.
I believe he leaves Miami as the best linebacker since Lewis.
Yes, Hurricanes fans, you are witnessing one of the best linebackers in the country, and he is only a sophomore.
I believe he leaves after his junior year with All-American status and gets drafted in the first round of the 2014 NFL draft.
Anthony Chickillo, DE
Anthony Chickillo has already made his mark with Hurricanes fans and alumni.
Although he isn't the most physically gifted defensive end that has ever played at Miami, he may be the most prolific one once his career is finished at Miami. As a freshman he tied for the team lead in sacks with five, finished third in the ACC Defensive Freshman of the Year Award voting and made the freshman All-American team.
Chickillo has a non-stop motor and is willing to do anything in his power to get past every offensive lineman that stands in front of him. He plays with such passion—something that a lot of current Hurricanes on the roster could learn a thing or two about.
Chickillo has already proven to me that there is no doubt he will be playing on Sundays.
I see him going in the first or second round in the NFL draft after his junior year.
Ray Ray Armstrong, S
I know what you are saying, "Ray Ray Armstrong is so overrated."
But that doesn't mean he won't have a successful career at the next level.
Armstrong has the size (6'4", 220 pounds) and speed (4.5 40-yard dash) that NFL scouts drool over for a safety. He is a little raw and tends to miss too many tackles, but the kid is a future NFL star.
After his first season, many people believed that Armstrong was the second coming of Sean Taylor, but he has yet to fulfill those expectations. Armstrong has trouble following team rules and, when he is on the field, he doesn't utilize the physical gifts that were given to him.
Fortunately for him, this is his senior year, and he has one more chance to prove why he was a highly recruited safety coming out of high school.
If Armstrong can finally live up to the expectations, don't be surprised if he ends up with his name being called on the first day of the 2013 NFL draft.
Keep Reading

Miami Hurricanes Football: Like this team?