Texas A&M Football: How Much Pressure Does New DC Mark Snyder Face in 2012?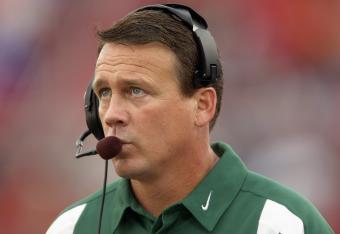 Stephen Dunn/Getty Images
Since Kevin Sumlin was introduced as the new head coach of Texas A&M back in mid-December of 2011, most everyone ranging from fans to national analysts have been questioning how the up-and-coming offensive mastermind will be able to match up against the powerhouse SEC defenses.
Even with Sumlin's Houston offenses producing 589 total yards per game last season—second best in college football—the masses question how any offensively-based squad such as A&M could hope to challenge SEC defenses on a consistent basis?
In 2011, the Aggies racked up 490 yards per game, allowing them placement as the eighth best offense in the nation. A&M will be returning seven starters including most of the offensive line, receivers Ryan Swope and Uzoma Nwachukwu, and Maxwell Award watch list running back Christine Michael. Overall, Sumlin has a ton of talent to work with.
When gazing upon the total defense rankings, however, five of the top seven are fellow conference members including first and second place SEC West foes Alabama and LSU, leaving an imprint upon Aggies' minds that next season might not go exactly as planned on the offensive side of the ball.
Defense wins championships, though. While Sumlin's overall scheme may be to outscore opposing squads with his high-powered offense, defense will play a major role in holding off comeback advances.
Last year in the Big 12, A&M allowed 378 yards per game, earning them a ranking as 53rd best in the country. New defensive coordinator Mark Snyder, fortunately, won't be facing off against any offensive giants in the SEC like he would have in the Big 12.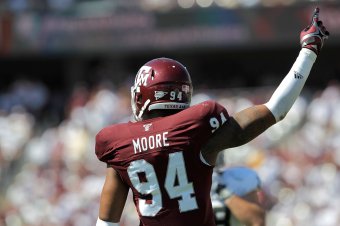 Sarah Glenn/Getty Images
The Aggies will actually take on only three Top 30 offenses with only one Big 12 moving partner, No. 19 Missouri, placing inside the Top 20. If A&M were still in the Big 12, Snyder would face six Top 20 offenses including Oklahoma, Texas Tech and Oklahoma State.
However, Snyder will only have six returning starters at his disposal including stud defensive end Damontre Moore as well as Bednarik Award watch list linebacker Sean Porter. Having revamped the entire secondary over the summer as well as switching defensive schemes from current Fresno State head coach Tim Deruyter's 3-4 to Snyder's very own multiple 4-3; the new DC will be under some serious pressure to perform.
Put simply, the Aggies are attempting to throw a top-notch offense against the best defenses in the country while using a decent, if that, defense to stave off mediocre, if that, offenses. It certainly will be an interesting inaugural season in the SEC to say the least.
Over the course of A&M's eight conference games, there will be times when the Aggie offensive attack will be virtually unstoppable. At those moments, it wouldn't matter whether it was the Wrecking Crew or the little sisters of the poor on the gridiron, A&M will own the day.
Pressure on Snyder: little to none.
However, when the Aggies are facing off against, say, Alabama or LSU, Snyder and his defense will be forced to shut down the opposing offenses. During these types of matchups, the Tide and Tigers' defenses will "win" a majority of the series against A&M, meaning that for the Aggies to remain in contention for a victory, their defense will have to quell any kind of scoring opportunities.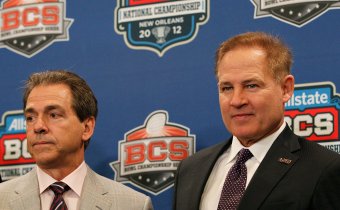 Kevin C. Cox/Getty Images
Pressure on Snyder: massive to excessively dangerous amounts.
When it comes down to it, Sumlin and his brand new staff are attempting to use a formula that no other program has ever envisioned working in the SEC. Creating this system based off the type of talent they owned heading into A&M, Sumlin will be shying away from trying to beat the SEC at their own game: defensive superiority.
Instead, he wants to challenge their nationally recognized defenses with his top-notch offense while his defense "holds off" their mediocre offenses from scoring. However, if the Aggie defense breaks like it did during the 2011 season, the whole plan goes up in flames.
Even though Sumlin has devised a scheme that doesn't reside heavily on the defense specifically, this team's success still depends on that side of the ball producing when necessary, especially on key drives during big time games.
The former Houston head coach understands that he, an offensive mastermind, is never going to be able to beat Nick Saban and Les Miles at their own games, so he has turned the tables in hopes of ultimate victory. Considering A&M's situation on the field, it's brilliant if not genius.
Sumlin's defensive coordinator, Mark Snyder, will have much of the team's overall success riding on his shoulders. While the offense will continue to remain at the center of most everyone's attention, even during the games, Snyder's defense knows that without them and their playmaking abilities, victory couldn't even reside within the realm be possibility.
Defense does, in fact, win championships.
This article is
What is the duplicate article?
Why is this article offensive?
Where is this article plagiarized from?
Why is this article poorly edited?

Texas A&M Football: Like this team?