Why Matt Kemp Alone Isn't Enough to Turn Around Dodgers' Spiraling Season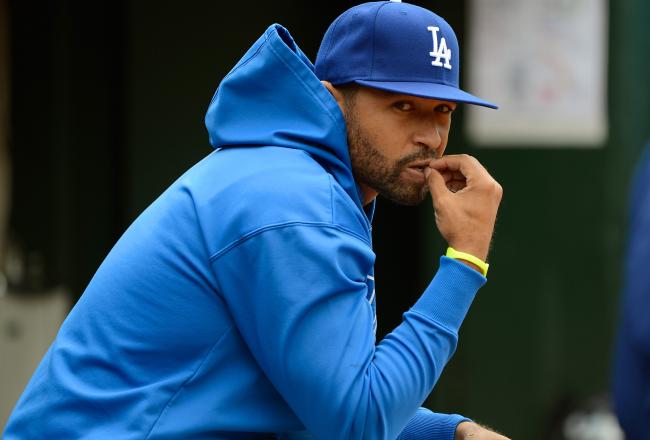 Getting Matt Kemp back will help, but his return won't clinch a postseason berth for the Dodgers.
Thearon W. Henderson/Getty Images
The Los Angeles Dodgers showed in the middle of May that they could win without Matt Kemp. He missed 14 games with a groin injury, and the Dodgers went 10-4 in those games, upping their record to 32-16 and their lead in the NL West to 6.5 games.
When Kemp returned to the lineup on May 29, one had to figure that there was no stopping the Dodgers. They showed they could win without him, so just imagine what they could do with him.
They lost both of Kemp's first two games back with the club, and he was put back on the disabled list on May 31.
Figures.
The Dodgers are 14-17 since then, and they spent a couple days looking up at the San Francisco Giants in the division before retaking first place on Thursday. But their once-big lead is now a slim half-game. Once on a pace to win 110 games, the Dodgers are now on pace to win just 90.
One thing is clear now that wasn't so clear back in the middle of May: This Dodgers team needs its star centerfielder.
Like, a lot.
Kemp is on the comeback trail. The word from MLB.com is that he was able to play center field for the first time since late May in a rehab game with Class A Rancho Cucamonga on Thursday. Dodgers manager Don Mattingly has outlined a plan for Kemp to play a few more games before returning.
So, barring any setbacks at next week's All-Star festivities, Kemp will return to action shortly after the break. For the Dodgers, that's not a moment too soon.
It goes without saying that a healthy Kemp will give the Dodgers a boost. They need him roaming center field, but more than anything, they need his bat in the lineup. The Dodgers couldn't buy a run in the month of June, and the entire team hit only six home runs. Kemp has twice that many in 36 games and 121 at-bats.
But even with a healthy Kemp, nothing will be guaranteed for the Dodgers in the second half of the season. To qualify for the postseason, they're going to need more.
The key problem areas aren't hard to spot. Here's a look at the most problematic ones.
1. Andre Ethier Needs to Get Healthy, Too
Given his track record, it was just a matter of time before Andre Ethier came down with an injury. Presently, he's dealing with an oblique strain that landed him on the 15-day DL, retroactive to June 28.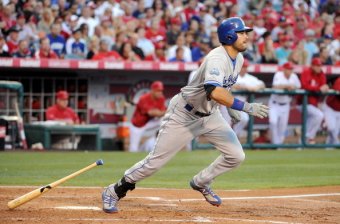 Lisa Blumenfeld/Getty Images
Ethier fell into a slump after Kemp landed on the DL for a second time back in late May. From May 31 through June 27, Ethier hit just .207/.291/.304 with one home run and 11 RBI, according to Baseball-Reference.com. He was not exempt from the clutches of the team-wide slump that affected the Dodgers in June.
Before he can worry about anything else, Ethier just needs to worry about getting healthy again. Fortunately for the Dodgers, it doesn't sound like that's going to require too much time. The Los Angeles Times has reported that the Dodgers are hoping Ethier can be activated immediately after the All-Star break.
That's step one. Step two is getting back to the way he was hitting earlier in the season, when he was the National League's top run producer. Ethier drove in 44 runs in his first 49 games.
Without Kemp in the lineup, Ethier's job was simply too hard. With Kemp back in the lineup, it should be much easier.
But "should be," of course, is not the same as "will be." The Dodgers should cross their fingers and hope that things can go back to the way they were.
2. Some Power Production from First Base Would Be Nice
Per FanGraphs, Dodgers first basemen have compiled a .640 OPS this season, third-worst among all major league clubs. They've put together a 0.088 ISO, worst in baseball.
We're looking in your general direction, James Loney.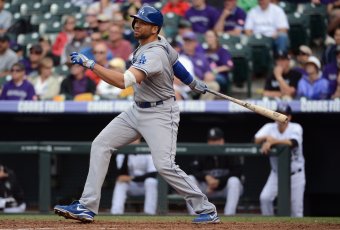 Doug Pensinger/Getty Images
Loney has never been a great power hitter, but he's outdoing himself this season. His slugging percentage is down to .330, and his ISO is all the way down to 0.086. Statistically, he's been one of the most inept first basemen in the league this season.
The Dodgers tried to get Carlos Lee from the Houston Astros so they could have some power at first base, but that didn't work out. As reported by ESPN's Buster Olney, Lee said no to the Dodgers.
The Dodgers can either stick with Loney for the rest of the season, or they can go out and try to acquire another power-hitting first baseman.
I recommend the latter.
3. Need Production from Shortstop and Third Base, Too
The Dodgers have gotten a .587 OPS out of their shortstops this season, according to FanGraphs. That ranks towards the bottom of the league.
This is mainly Dee Gordon's fault. Granted, he's not a power hitter, so he's never going to be one to post a high OPS. Even still, he can certainly post a higher OPS by upping his on-base percentage. It's been under .300 virtually the entire season.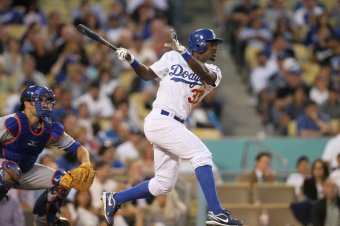 Victor Decolongon/Getty Images
As if getting Gordon squared away wasn't a big enough headache, the Dodgers have an even bigger headache on their hands (or, I suppose, in their heads) now that Gordon has a dislocated thumb that will likely require a stint on the DL, according to MLB.com. With him out, somebody else is going to have to step up and provide offense from the shortstop spot.
Third base is an issue, too. Juan Uribe hasn't provided much offense when he's been healthy this season, and he's been unhealthy more often than he's been healthy. He's a key reason why Dodgers third basemen have posted a .633 OPS this season, according to FanGraphs.
Thank goodness for Jerry Hairston, Jr., who has been a godsend this season for the Dodgers. The fact that the Dodgers need more from him, though, tells you how bad things are on the left side of their infield.
4. Ted Lilly Has Been Missed
Ted Lilly had an ERA under 2.00 through his first seven starts, posting a record of 6-1 in the process.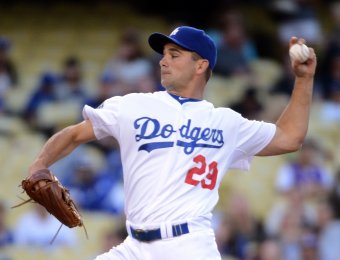 Harry How/Getty Images
In his eighth start, Lilly gave up eight earned runs and landed on the disabled list with left shoulder inflammation shortly thereafter. His absence hasn't killed the Dodgers pitching staff, but he has definitely been missed.
Lilly was clearly overachieving earlier in the season, but that doesn't mean he can't be a productive member of the rotation again once he gets healthy. Lilly is typically good for an ERA in the 3.00s, and he can provide six or seven quality innings on a nightly basis.
Nate Eovaldi has struggled to do that in Lilly's stead. He hasn't been a complete disaster, but he can't hope to provide the same kind of stability that Lilly does.
The Dodgers need that stability back. With Lilly now on the 60-day DL, though, the Dodgers won't be getting him back until late July at the earliest. They're going to have to tough it out without him for a few more weeks.
5. An Extra Reliever Couldn't Hurt
For all the problems the Dodgers have encountered this season, the bullpen has been a pleasant surprise. They have one of the top bullpens in the league, and its performance has remained steady throughout the season to this point.
However, the Dodgers have some quality bullpen arms on their disabled list. Javy Guerra hasn't pitched since early June with a knee injury. Matt Guerrier has been out of action since April with an elbow problem. Todd Coffey is done for the rest of the season with a torn ulnar collateral ligament, according to ESPNLosAngeles.com.
The Dodgers' fanbase is (rightfully) clamoring for Ned Colletti to make a big-splash trade at the deadline, but he can do his club a favor by making a smaller deal for a quality reliever. It's not a glaring need, but Colletti has every excuse to be safe rather than sorry.
So that's five, but don't make the mistake of thinking that these are the Dodgers' only problems. They could use some more production out of left field, more consistency from Chad Billingsley, more great work from Chris Capuano and it would also be quite nice if A.J. Ellis snapped out of his slump at the plate.
And indeed, the Dodgers should be buyers at the trade deadline. They don't have an abundance of assets to deal, but they have the funds to take on bad contracts other teams may be looking to unload. There are upgrades that they can make with the pieces they have to play with.
How will the 2012 season end for the Dodgers?
The good news for the Dodgers is that getting Kemp and Ethier back healthy and productive is something that's going to happen very soon, and there will be a big weight lifted off the team's mind when it does. They're without a doubt the two best players the Dodgers have on offense, and they are vitally important seeing as how the Dodgers don't have an excess of talent elsewhere on the diamond.
But asking the Dodgers to go back to playing the way they were in April and May is asking too much. They had a lot of things going right for them and bad luck cut up to them in June. They're set up for a dogfight with the Giants for first place in the NL West for the rest of the season, and the Arizona Diamondbacks also look poised to enter the fray.
Look on the bright side, Dodgers fans. The rest of the season is going to be a battle, but things can't get any worse for the Dodgers than they were in June. They went through Hell, and they're still in first place a few days before the All-Star break.
Could be worse.
If you want to talk baseball, hit me up on Twitter.
This article is
What is the duplicate article?
Why is this article offensive?
Where is this article plagiarized from?
Why is this article poorly edited?