MLB All-Star Game 2012: Why Chris Sale and R.A. Dickey Should Start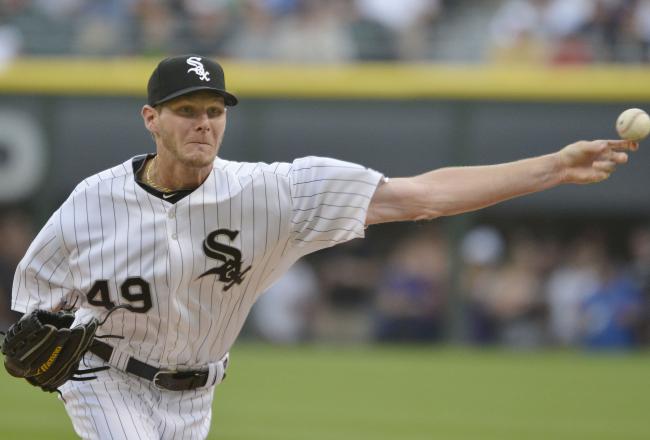 Brian Kersey/Getty Images
The All-Star Game is almost here, where both leagues will do battle once more for home-field advantage in the World Series.
Both leagues need their absolute best starting pitchers. Many big-league pitchers vie for this spot, but only two can start.
White Sox pitcher Chris Sale and Mets pitcher R.A. Dickey should start the Midsummer Classic.
Both pitchers have two feel-good stories of the first half of the season. It's not what they've done to earn All-Star spots—it's how they've done it.
Chris Sale
The 23-year-old Sale came out of nowhere. In 102 innings pitched, Sale is 10-2 with a 2.19 ERA. The southpaw has 98 strikeouts and a WHIP of 0.955.
Sale is an essential part of the White Sox becoming division leaders in the AL Central. He should be starting the All-Star Game for the American League because of his performance as a starting pitcher.
Sale dominates opponents with a four-seam and two-seam fastball, a changeup and a slider. The young lefty has earned his All-Star spot.
R.A. Dickey
What more can be said about R.A. Dickey?
The Mets' right-hander has found his pitch—the knuckleball. In 113 innings pitched, Dickey is 12-1 with a 2.15 ERA. He's already struck out 116 batters.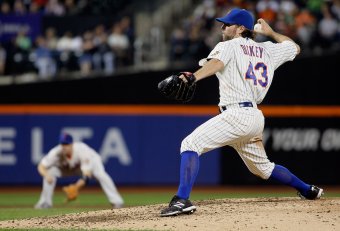 Mike Stobe/Getty Images
Dickey leads the majors with wins and a WHIP of 0.88. He truly is the Mets' ace.
The 37-year-old pitched two complete-game one-hitters this season, and they were against two good teams in the Tampa Bay Rays and the Baltimore Orioles. Both happened consecutively, a feat no one has accomplished since 1988.
Dickey did more than just earn his spot on the National League roster. In fact, he should be a shoo-in for the starting spot in the All-Star Game.
The Matchup
These two pitchers would provide an intriguing matchup, because they couldn't be any more different.
Sale dominates with a variety of pitches, while Dickey controls games with one pitch. It would be a battle of age, as the 23-year-old Sale would duel with the 37-year-old Dickey.
It would also be the lefty versus the righty, the young gun against the master of the knuckleball.
Even though both men won't pitch complete games, they are capable. Sale threw a complete game on June 3rd against the Seattle Mariners. Dickey has thrown three this year, two of them his one-hitters.
Both Sale and Dickey can log innings if needed, and both can carry their teams to victories.
They are essential to their teams. Both the White Sox and Mets might not be in contention if Sale and Dickey were not on their rosters.
Ron Washington and Tony La Russa, make Chris Sale and R.A. Dickey your starters. They deserve it.
*Stats are from baseball-reference.com
This article is
What is the duplicate article?
Why is this article offensive?
Where is this article plagiarized from?
Why is this article poorly edited?