NBA Free Agents: Raymond Felton Better Fit for New York Knicks Than Steve Nash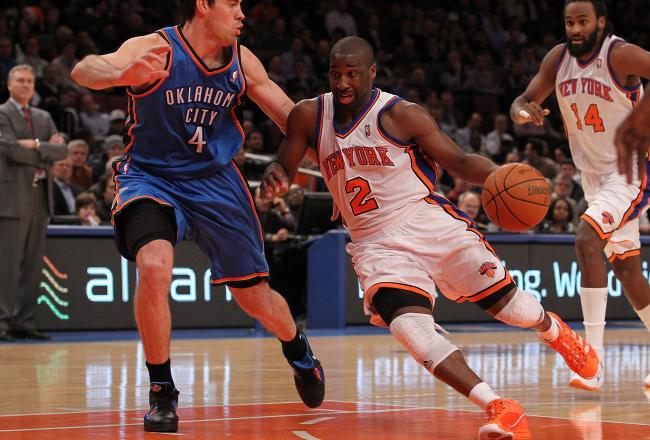 Al Bello/Getty Images
By now you know that Steve Nash was traded to the Los Angeles Lakers last night, a crushing blow to Knicks fans, after earlier reports had described talks between Nash and New York as "in the critical stages."
To compound that loss, current point guard and revenue-stimulating-specialist Jeremy Lin may have taken New York's pursuit of Nash as an affront, and is said to be mulling over a deal with his former team, the Houston Rockets.
Losing Nash—New York's primary target during their "win-now" 2012 offseason—is a crushing blow for Glen Grunwald and the Knicks' front-office, but in the end, it may actually be a blessing in disguise.
Frank Isola of the New York Daily News tweeted on Thursday morning that the Knicks have begun their contingency plan, and emerged as the favorites to land free agent Raymond Felton.
He won't fill as many seats as Steve Nash or Jeremy Lin, and he certainly won't sell as many jerseys, but on the court, Raymond Felton is the right choice to run the Knicks' offense in 2012-13 for a number of reasons.
History of Success in New York
Felton has been fairly consistent since being drafted in 2005, but his brief, 54-game stint with the Knicks was far-and-away the best of his career.
He would inevitably be part of the mega-package the Knicks gave up to acquire Carmelo Anthony, but up until that point he was averaging 17.1 points and 9.0 assists, and 1.8 steals-per-game.
Some of his statistical success was chalked up to Mike D'Antoni's point guard-friendly system, but it was actually a bigger product of his chemistry with Amar'e Stoudemire on the pick-and-roll.
Putting Felton back on the MSG court, next to the best pick-and-roll forward he's every played with (eat your heart out, Sean May) should rejuvenate Felton into the form he exhibited during his first New York stint.
Carmelo Could Still Dominate the Ball
In the wake of the Heat's success in 2012, high-profile teams have tried to copy the paradigm by which they built their team. That is, they've tried to bring together as many big-name superstars as possible, with utter disregard of how they fit together on the court.
Miami was able to get away with this flawed method of construction, because their superstar, LeBron James, is versatile enough to change his role possession-by-possession. But for other teams, it's a dangerous road to go down.
I say all this to preface a bold assertion: Steve Nash doesn't fit in with the Knicks or the Lakers.
Nash is at his best when he dominates the ball. He's proven, time and time again, that he can take a roster of untalented, mismatched pieces, and organize them into a well-orchestrated offensive machine. But playing off the ball, he is nowhere near as effective.
New York and Los Angeles, however, both have superstars who also need to dominate the ball to be effective. Relegating Kobe and Carmelo as spot-up shooters (the type of player who works best with Nash) is an easy way to neutralize their abilities, and minimize their advantage over opponents.
There will be strife in Los Angeles this year, with Nash and Kobe fighting over who gets to dominate late-game possessions.
But in New York, Felton will willingly defer to Carmelo, who's a proven commodity creating for himself in crunch-time.
They Get to Keep Iman Shumpert
The scuttlebutt coming out of Phoenix was that any sign-and-trade deal that sent Nash to New York would have had to include point guard Iman Shumpert.
And even though the Knicks were reticent to let go of their athletic combo guard, it was hard to imagine letting a shooting-deficient, knee-rehabbing sophomore get in the way of their bull-headed pursuit of Nash.
But in getting to keep Shumpert, the Knicks get to keep one of the league's most gifted perimeter defenders. Shumpert proved his worth in locking down the likes of Derrick Rose last season, and with a rapidly-improving offensive game as well, he was one of the highest-upside members of the 2011 Draft Class.
Even if Jeremy Lin walks, the Felton-Shumpert point guard combo (assuming Shumpert is healthy next year) would be one of the most dangerous and versatile in the NBA.
The Knicks weren't wrong to go after Steve Nash. He's a two-time MVP, a first-ballot Hall of Famer, and an anomalous talent who seems to get better with age.
But between having to part with Shumpert, and pairing him with Carmelo Anthony, his arrival in New York might have hurt the Knicks' future more than it helped.
Raymond Felton is the proper fit in the Knicks' backcourt, an explosive pick-and-roll point guard who can score when needed, but is willing to defer.
And playing with a chip on his shoulder after a down 2011-12 campaign, he could come back better than ever next season.
This article is
What is the duplicate article?
Why is this article offensive?
Where is this article plagiarized from?
Why is this article poorly edited?

New York Knicks: Like this team?