Matt Kenseth Wins Rain-Shortened Daytona 500
February 16, 2009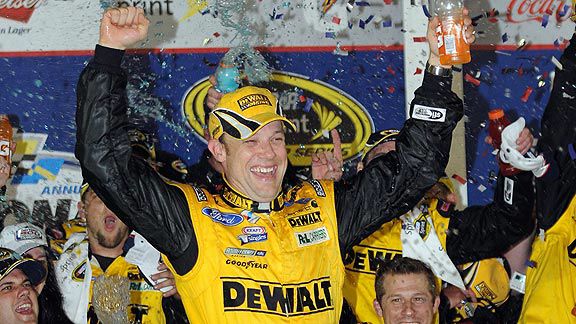 Congrats to Matt Kenseth, the DeWalt team, Jack Roush, and all of Roush-Fenway Racing for picking up your first Daytona 500 victory!

A few notes:

-Let me just say, as a quasi-Roush and Kenseth supporter (I really haven't had a favorite since RW retired, but if someone was pointing a gun at my head to name my favorite driver/team in Cup, I'd say any of the Roush-Fenway guys), I am really happy to see Matt Kenseth and Jack Roush take home their first 500 victory.

Those were tears of joy folks, and shows just what winning this race means in stock car racing. Who said Kenseth was an emotionless robot? Even robots cry I guess.

-I do not blame NASCAR for calling the race so quickly. The radar/Weather Channel report showed the rain continuing until at least 9. In that scenario, drying would have taken until at least 11. And remember, everyone has to be in Fontana on Thursday.

What I do blame them for is pushing back the start time of the Great American Race more and more each year. Sure, they want to finish the biggest race in the sport under the lights, but remember when a Sprint Cup race would roll off before one? Screw the west coast. Wake up early or don't watch.

-A.J. Allmendinger running well = hopefully more TV shots of Lynne Allmendinger.

-On the subject of AJ, a note to George Gillett, Ray Evernham, and Richard Petty: run him full-time!

-DW made a good point about the tire wear, especially on Jeff Gordon's right front: it appeared to be a camber issue. You can't fault Goodyear if teams want to push it too far, especially when many teams had no issues at all. But let's not exonorate them for their recent and frequent flubs, which I am sure we will be seeing more of in 2009.

-Congrats to Kyle Busch for a classy interview after the big wreck. In the past, he might have stormed off and denied an interview request, but he was cool, calm, and didn't make any overtures along the lines that he wanted to kill Junior and/or Vickers.

I can't say the same for Dale Jr. under the red flag, when he basically blamed everyone but himself for two really dumb pit mistakes that cost his team dearly. Makes me wonder how he passed his drug test. But back to my point, I really hate it for Rowdy and the 18 team, but they will be back with a vengenance at California next Sunday.

-As for the wreck, here is my perspective: Junior made a brazen move down low to pass Vickers, knowing that he had to get around him to be in position for the free pass, and with rain looming, there was no time to be patient.

Vickers came down to block, totally legal as long as it doesn't involve coming across into the other car, and as Junior was coming back above the yellow line, he tapped the 83's left rear corner panel. Intentional or not? A tough call.

But based on the day Junior was having, I think he was just pissed off at that point, and didn't feel like taking any crap. Totally intentional, and it makes race control look like they are playing favorites when they penalize Jason Leffler five laps for basically doing the same thing to Steve Wallace on Saturday, but do not penalize their golden child for it on Sunday.

But then again, when has the sanctioning body not played favorites in this sport's history?

-Note to Chris Myers: enough of the Dick Bergeren age jokes, and especially enough of ringing the Hollywood Hotel bell after making one.

-Digger cartoons? Digger gear? You've got to be kidding me. NASCAR on FOX must play NASCAR fans for dumb, and unless the racing fuel fumes are causing brain damage, that is not the case. But then again, most of the fan base does support an overrated, underperforming, clearly spaced out driver who is only considered an elite driver because of who is daddy was.

I'd love to see Digger take on the NFL on FOX Robot in a battle to the death, with hopefully both of them biting the dust. I've said it before, and will say it again, the Caddyshack gopher is a million times cooler than FOX's Digger impostor.