Pittsburgh Pirates: 10 Potential Kevin Correia Trades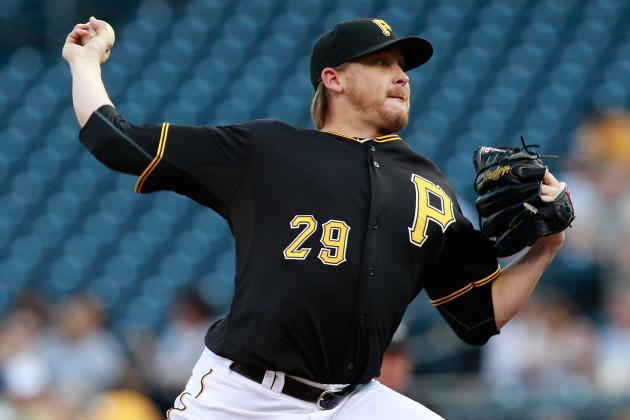 Jared Wickerham/Getty Images

In a season that has seen the Pittsburgh Pirates outperform all expectations, Kevin Correia remains one of the weaker links on the roster.
Though Correia has managed to keep his team in most games through a combination of consistency and luck, the production he has given the Pirates from the No. 5 slot in the rotation can be matched or exceeded by major league-ready Triple-A starters such as Jeff Locke, Rudy Owens, or Justin Wilson.
Simply put, it's time for the Pirates to cut ties with Correia. Yet there is no need to release him outright; there are many teams with a lesser rotation than Pittsburgh's for whom Correia could fill a hole at the back of the rotation.
Some of these teams are in contention and may be willing to give up a piece with some value for Correia, while others are rebuilding and may be willing to trade a veteran hitter for a pitcher who won't get shelled every five days.
Correia won't net much value in a trade, but given the inconsistency of this year's Pittsburgh offense a fringe starter at first base could be useful down the stretch, and that is exactly the type of commodity that is likely to be available on the trade market. And if the Bucs are willing to package Correia with one of their third- or fourth-tier prospects, they may be able to land a decent return.
Begin Slideshow

»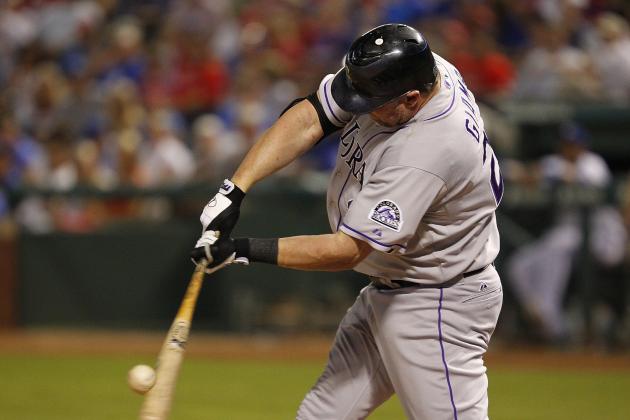 Rick Yeatts/Getty Images

This is indicative of the kind of player I think the Pirates can get for Correia straight up.
Giambi is certainly not the hitter he once was, and he likely cannot play first base every day at this stage in his career. Yet the former perennial All-Star can still get on base at a high rate, a skill the Pirates' offense is sorely lacking.
A Colorado team that has fallen out of contention may not have much interest in either Correia or Giambi. But for a young team, it may be more valuable over the second half of the season to add a pitcher who keeps his team in games and his players focused as a result.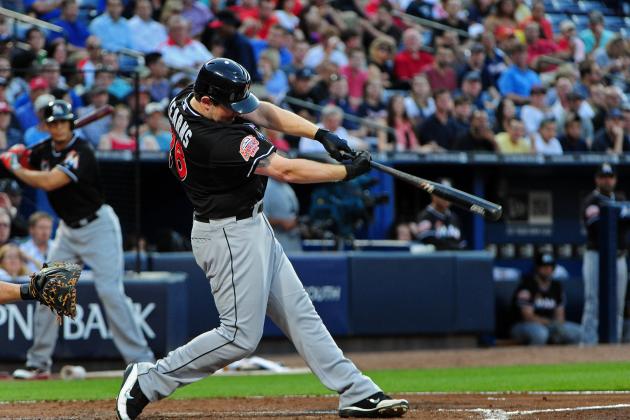 Scott Cunningham/Getty Images

Similar to Giambi, Austin Kearns seems to still have something left offensively despite failing to lock down an everyday role with his current team. While Kearns' success this year comes in only 77 plate appearances, he is only one year removed from posting a .351 OBP.
A similar league-average performance, or even a slight dip from this form, would make Kearns a great starting option until Starling Marte arrives. In any event, he would a be a useful fourth outfielder and/or utility bat, and if can play first base all the better.
Given that Kearns is blocked in Florida, he shouldn't cost much too acquire. The Marlins have struggled at the mound at times this year and are feeling pressure to win now, so they may view Correia as a more useful piece.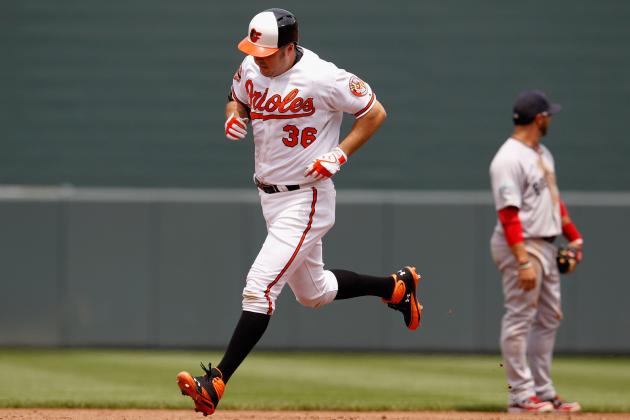 Rob Carr/Getty Images

Given Johnson's recent injury, this trade is likely no longer viable for the Pirates. Which is a shame as Johnson, like Giambi, is the prototypical veteran hitter that the Pirates are looking for.
The availability of players like Johnson and Giambi in the market shows that the Pirates should be able to make small moves to help their offense, or at least to hedge Casey McGehee's eventual return back to Earth.
In Johnson's specific case, if he does recover he will likely find himself blocked by Jim Thome. In that case, a Baltimore team that could use pitching depth may be looking to make a deal.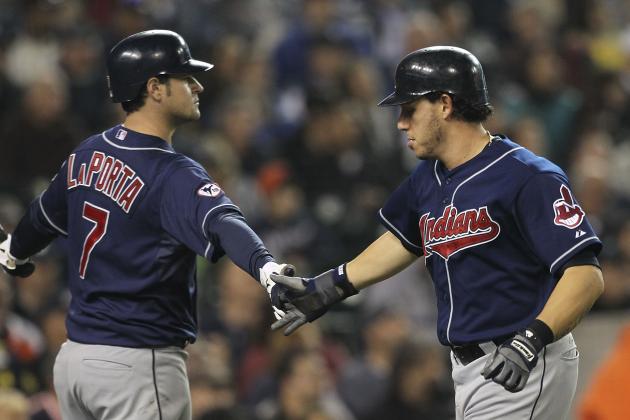 Leon Halip/Getty Images

This trade represents a less conventional way to move Correia, with a greater potential benefit to the Pirates. LaPorta, a former top prospect in Milwaukee and a key piece in the C.C. Sabathia trade, is now 27 years old and has not really gotten a chance with the Indians this year.
The first baseman has consistently dominated Triple-A, and at this point in his career he is a much more interesting version of the traditional Quadruple-A player. He's definitely worth taking a chance on, and he still has enough value that the Pirates can't simply get him for nothing.
But the Indians may be one of the most likely teams to take their chances with Correia, as they currently in contention despite the fact that the back of their rotation is an absolute mess. A team that is starting both Josh Tomlin and Jeanmar Gomez needs to at least take a look at Correia.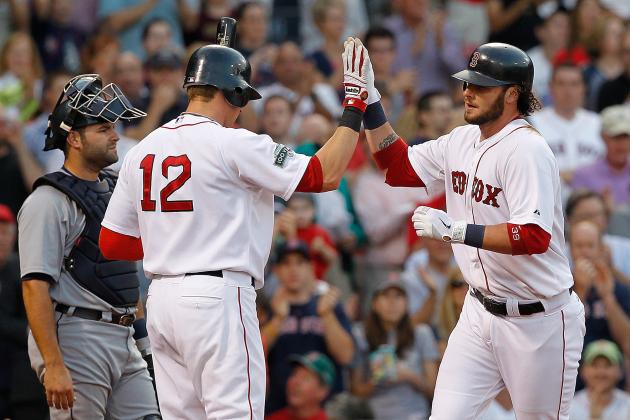 Jim Rogash/Getty Images

As parts get added to the package with Correia, the return to the Pirates gets marginally better. In this case the reward is Sweeney, or whichever other capable outfielder fails to crack the logjam in Boston.
The Red Sox have at least four or five outfielders capable of posting league average seasons, and the Pirates would be wise to try to poach one.
While a player like Sweeney won't come free, they likely will come cheap. The Red Sox are lacking in pitching depth, so Correia and an average left-handed reliever like Watson may do the trick.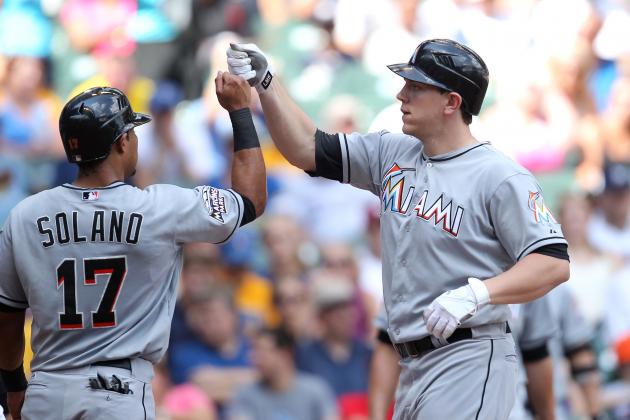 Mike McGinnis/Getty Images

The Pirates have a deep bullpen, and adding a young reliever to a trade with pitching-needy teams is a good way to increase their return without giving up too much.
In this case, the Pirates leverage Jared Hughes' hot start to upgrade from Kearns to Logan Morrison. Morrison, who at times has fallen out of favor with the Marlins for his behavior off the field, can hold down the everyday first base slot while providing the Pirates with a potential middle-of-the-order bat.
Hughes has performed well for the Pirates, and the Marlins could sorely use another reliable relief option. But it is unlikely that Hughes will remain one of the Bucs' three best relievers and Pittsburgh should be able to replace him with Bryan Morris without downgrading much.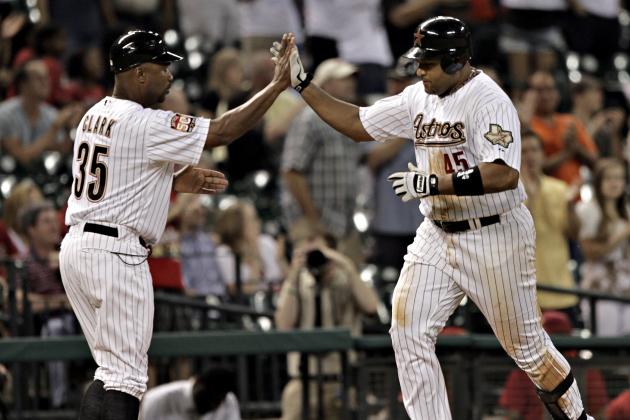 Bob Levey/Getty Images

Lee is an interesting case, as he recently vetoed a trade to the Dodgers due to his desire to stay in Houston. Yet Pittsburgh is not Los Angeles, and as the Pirates at least play several series in Houston it may be worth probing into Lee's desire to stay put a bit further.
In the event Lee were willing to become a Pirate, he would bring league-average hitting at the first-base position. Nothing to write home about, but nothing the Bucs have been able to take for granted this year either. Lee is more reliable than a player like Giambi at this stage in their respective careers.
Their would be a cost to acquiring Lee (in addition to the roughly $9 million he is owed for the remainder of 2012), but the Pirates are a good match for the Astros in that they have high-ceiling prospects in their third and fourth tiers. Pittsburgh can part with a player like Gregory Polanco without the overall quality of their farm system suffering, and the Astros get to take a chance on a player who better fits into their next contention window.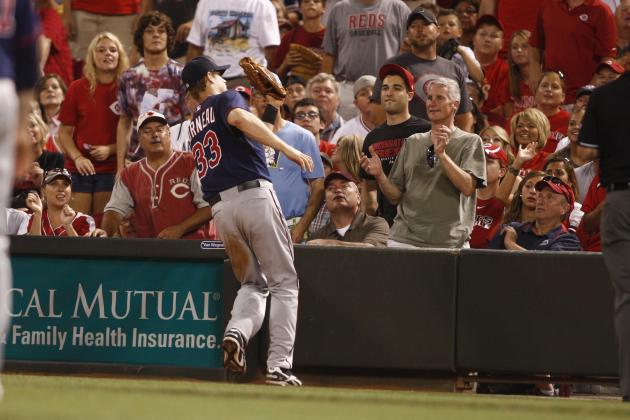 John Grieshop/Getty Images

There sure are a lot of veteran first basemen out there. Morneau has similar trade value to Lee, with the main exception being that his contract does not expire until after the 2013 season. The Pirates would be committing more than $20 million for a year and a half of Morneau, so they would likely ask the Twins to throw in some cash to help facilitate the trade.
Like the Astros, the Twins could use a starter like Correia to stabilize their rotation, if only for the benefit of young players playing in competitive games. The Twins would likely be looking for a more polished prospect, so Kyle McPherson is the choice here.
Given Morneau's contract, a prospect in the Jeff Locke mold would be an overpayment. The Pirates should not risk their pitching depth to make this trade, but the Bucs can provide the Twins with a player in McPherson who can help the Minnesota rotation by late 2013 without hurting their own near-term prospects.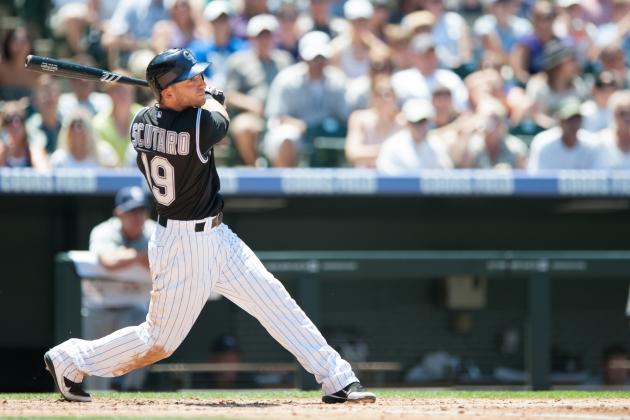 Dustin Bradford/Getty Images

While first basemen are more readily available in the current trade market, shortstop is by far the biggest hole in the Pirates' lineup. If a player like Scutaro can provide adequate defense at the position along with a .700 OPS or better, this will represent a massive upgrade over a player like Clint Barmes.
There will be demand for a player like Scutaro, though, and while adding Correia is a distinct positive for the Rockies they will need slightly more. Enter Wilson, a flame-throwing left-hander with No. 2 starter potential.
He is not in the Pirates' short-term plans and sits behind several other pitchers in their pecking order, but Wilson has the potential to really help a team within a year or two.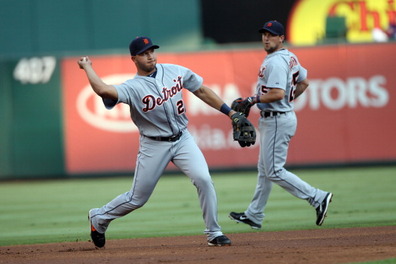 Layne Murdoch/Getty Images

This may be a stretch. Peralta is a solid starting shortstop and has an affordable $6 million option for the 2013 season. And he plays for a team that is currently in contention.
But the Tigers are in a precarious position. They have exactly five capable starting pitchers in their organization, and no Plan B if Max Scherzer, Rick Porcello, or Drew Smyly has a bad month. Not to mention the possibility of an injury to their pitching staff. There's a chance they would take this opportunity to procure necessary insurance and depth.
This trade would deplete the Pirates' pitching depth a bit, but with Jeff Locke available in Triple-A and Brad Lincoln in the bullpen the situation would not be too dire.
For a player like Peralta on an affordable contract, the trade would be worth it.