On the Prowl: Ranking Tiger Wood's Best Seasons on Tour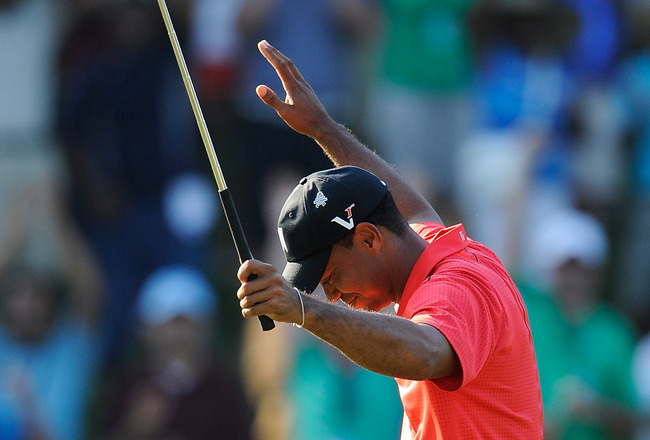 Tiger Woods raises hit putter in celebration of another win. Woods has won three events this year, the most of anyone on Tour.
Patrick McDermott/Getty Images
There was a time not too long ago when most people considered golf to be boring.
To many, the very word "golf" conjured up images of elderly people in plaid shorts and polo shirts driving around in golf carts on a Sunday afternoon. Not many considered it a sport, at least not in the same way that basketball, baseball, and football are sports.
Enter Tiger Woods.
Ever since the former Stanford standout took the golfing world by storm in 1996, golf has become an international phenomenon. Purses have gotten larger, ratings have skyrocketed, and young people are suddenly learning the game in hoards.
To date, the Tiger Woods Show is currently on its seventeenth season, and it has produced plenty of memorable episodes. Here's a look back at those seasons, ranked according to how successful each one was.
Since "success" can be a vaguely subjective term at times, I decided to make it objective by devising a mathematical formula: Tiger earns five points for each major win, two for each win on Tour that's not a major, and one for each top ten finish, excluding wins. I also gave him a five point bonus for each time he led the Tour in money and/ or scoring average.
Without further delay, here they are, starting with his worst season.
16. TIE- 2010 and 2011: 2 T-10 Finishes (2), 2 T-10 Finishes (2)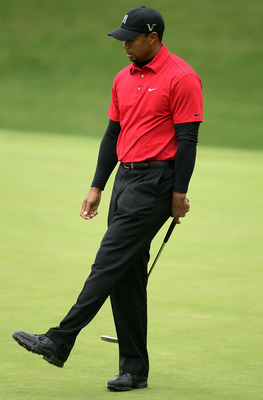 Tiger Woods reacts to a missed putt at the 2010 Chevron World Challenge. Woods would lose the event in a playoff despite having a four shot lead heading into the final round.
Stephen Dunn/Getty Images
The past two seasons were, without a doubt, the worst of Tiger's career. He only mustered four top ten finishes in these two seasons, with not a single win among them. (My system does not count the 2011 Chevron World Challenge, which is not an official PGA Tour event.)
Tiger's personal problems likely plagued him in 2010, while a large portion of 2011 was spent sitting out with an injury. Regardless, this was, without a doubt, the low point of Tiger's career.
15. 1996: 2 Wins, 3 T-10 Finishes (7)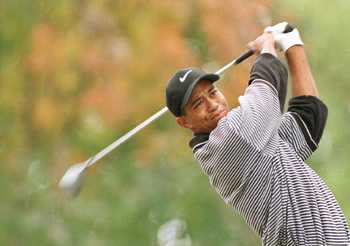 Tiger Woods watches his ball fly during the 1996 Tour Championship. He would finish in a tie for twenty first, twenty shots back of the leader.
Jamie Squire/Getty Images
Nobody has a perfect rookie campaign.
It takes awhile to get adjusted to playing at a higher level and to get used to the pressures of being a professional athlete. The same was true for Tiger Woods, who only won twice in his rookie season. That's still pretty impressive, though, considering that most golfers on Tour would be lucky to win twice in a lifetime.
14. 2008: 3 Wins, 1 Major, 2 T-10 Finishes (13)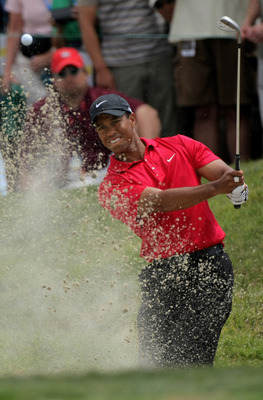 Tiger Woods hits his ball out of the sand during the 2008 US Open. Woods would win the event in a playoff on an injured leg, which would cause him to miss the rest of the season.
Doug Pensinger/Getty Images
Like 2011, Tiger would end up missing two majors in 2008 due to an injury, which is a major reason why this year is so low on the list. It's not hard to believe that Tiger could have capitalized on the year and won another major or two had his knee not required surgery, but alas, the formula must remember his 2008 season for what it was: the fourth worst of his career.
13. 1998: 1 Win, 12 T-10 Finishes (14)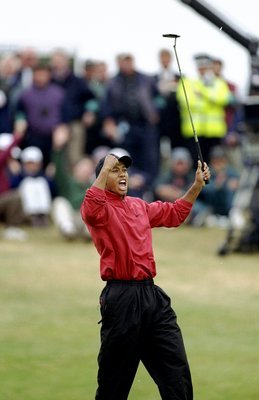 Tiger Woods reacts to making a birdie at the 1998 British Open. Woods would finish third in the event.
David Cannon/Getty Images
Despite winning only one event in 1998, Woods managed to finish inside the top ten twelve other times, including three of the majors that year. Woods was still adjusting his game at this point.
Despite a thrilling a win at Augusta the year before, it was unreasonable to expect much from Tiger this early in his career, which is why 1998 ranks thirteenth out of seventeen seasons on the list.
12. 2004: 1 Win, 13 T-10 Finishes (15)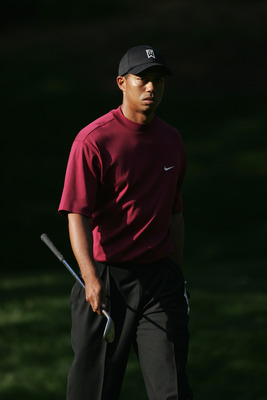 Tiger Woods at the 2004 Target World Challenge. Woods only won one official event on Tour this year.
Doug Benc/Getty Images
2004 was really the first inexcusably bad year of Tiger's career.
By now, Woods had already established himself as one of the world's top golfers, having won all four majors between 2000 and 2001 while also adding two more in 2002.
2004 was slightly more successful than his 1998 campaign, but with good reason: Woods had gained more experience in his game by then. Really, there aren't a lot of positives you can say about this year.
11. 2012: 3 Wins, 1 T-10 Finish, Leads Field in Money and Scoring (17)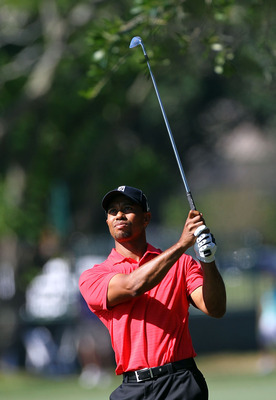 Tiger Woods drives the ball in the final round of the Arnold Palmer Invitational at Bay Hill. Woods would win the event by five strokes for his first official win since 2009.
Sam Greenwood/Getty Images
Yes, I know 2012 isn't over yet. But if the season ended today, it would be the eleventh best of Tiger's career.
Woods is currently leading the FedEx Cup standings, and it's not hard to believe that he can win one of the season's two remaining majors. If he does, expect this number to rise as he will also retain his leads in both money and scoring, resulting in an amazing comeback year.
10. 1997: 3 Wins, 1 Major, 5 T-10 Finishes, Led Field in Money (21)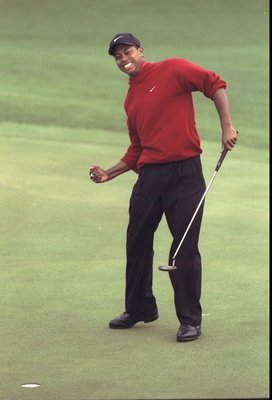 Tiger Woods sinks a putt at the 1997 Masters. Woods won the event in style, posting a new scoring record in the process.
David Cannon/Getty Images
1997 was a fairly good year for Woods. He won his first major and two other events, all while leading the field in earnings for the first of what would be many times.
The fact that it barely cracks his all time top ten shows two things: his career is long and storied, and that he was still mostly developing at this point despite brief flashes of brilliance.
9. 2003: 5 Wins, 7 T-10 Finishes, Led Field in Scoring (22)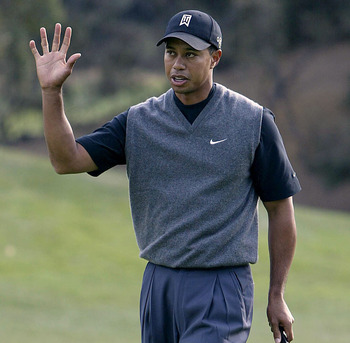 Tiger Woods acknowledges the gallery at the 2003 Target World Challenge. Woods led the field in scoring despite only five wins, none of them majors.
Jeff Gross/Getty Images
Tiger's awful 2004 was preceded by a decent 2003, which saw him win five times and lead the field in scoring despite not winning a single major for the first time since 1998. Almost any golfer on Tour would gladly take Tiger's 2003 and immediately retire, but for Woods, it is the median in a long list of successful seasons.
8. 2001: 4 Wins, 1 Major, 4 T-10 Finishes, Led Field in Money and Scoring (27)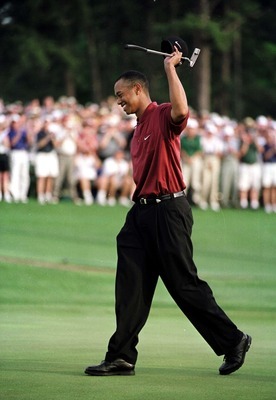 Tiger Woods celebrates after winning the 2001 Masters. With the win, Woods became the first player to hold all four current major championships at once.
Stephen Munday/Getty Images
Many consider the early 2000's to be the apex of Tiger's career.
However, 2001 ranks just eighth in his seasons with five total wins, including a major. Get used to the phrase "led field in money and scoring," because you will hear it seven more times by the end of this slideshow.
Tiger's 2001 was great, but the next seven seasons on the list were even better.
7. 2009: 6 Wins, 8 T-10 Finishes, Led Field in Money and Scoring (30)
Tiger Woods adjusts his cap at the 2009 Australian Masters, the last tournament he would play in before his personal life imploded.
Mark Dadswell/Getty Images
People like to talk about Tiger's dominance as if it were some distant memory. The truth is, while Tiger failed to win a major in 2009, Woods still won six times on Tour, good enough for Player of the Year honors.
If Tiger Woods can repeat 2009 in 2012, he should be a force to be reckoned with in 2013 and beyond.
6. 2007: 6 Wins, 1 Major, 5 T-10 Finishes, Led Field in Money and Scoring (32)
Tiger Woods watches a drive at the 2007 PGA Championship. Woods would win the event for his thirteenth major.
S.Greenwood/Getty Images
Coming off of two great seasons, 2007 was, in a sense, a bit disappointing. Woods won seven times in total and added five more finishes inside the top ten, all while earning Player of the Year honors once again.
It's scary to think of what most golfers would do for this kind of a season, a season that doesn't even crack Tiger's top five.
5. 2002: 3 Wins, 2 Majors, 8 T-10 Finishes, Led Field in Money and Scoring (34)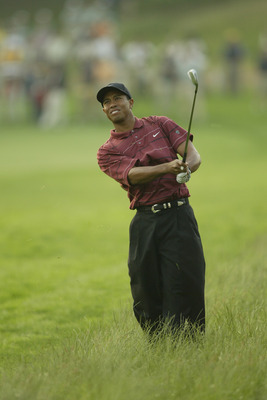 Tiger Woods watches his approach shot at the 2002 US Open, which he would win for his eighth total major in just seven seasons.
Andy Lyons/Getty Images
2002 was just the second of four seasons where Tiger Woods won multiple majors. Despite winning both the Masters and the US Open, Woods would only win three more times on Tour, resulting in a season that finishes fifth on his all time list.
3. TIE- 2005 and 2006: 4 Wins, 2 Majors, 7 T-10 Finishes, Led Field in Money and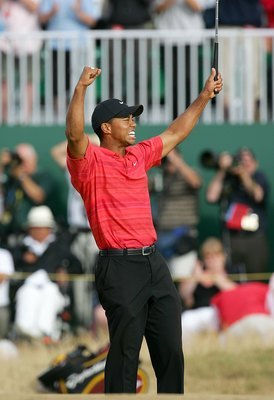 Tiger Woods reacts to a shot at the 2006 British Open. Woods, who also won the event in 2005, would win it that year as well for his eleventh major, tying Walter Hagen on the all time list behind Jack Nicklaus.
David Cannon/Getty Images
(continued from title) Scoring (35), 6 Wins, 2 Majors, 3 T-10 Finishes, Led Field in Money and Scoring (35)
It's really no surprise that both ties on this list occur in consecutive seasons. This means that Tiger Woods is quite a consistent golfer—his good years come in stretches, along with his bad ones.
2005 and 2006 were two very good years for Tiger as he won four total majors, the same number he won between 2000 and 2001. I'd take the wins over the top ten finishes, but the formula sees these two seasons as equal.
2. 1999: 7 Wins, 1 Major, 8 T-10 Finishes, Led Field in Money and Scoring (37)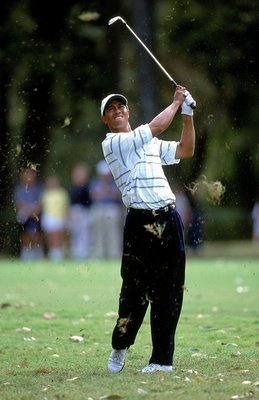 Tiger Woods chips a ball out of the rough during the 1999 Tour Championship. Woods finished inside the top ten a total of sixteen times in 1999, a total that included eight wins including one here.
Craig Jones/Getty Images
1999 was a year marked by consistency rather than brilliance as Woods won eight total events on Tour but just one major. Tiger's consistency earned him PGA Tour Player of the Year honors for just the second time in his career and placed him atop the world rankings, a spot which he would not cough up until 2004. However, it was not quite as great as the season that followed.
1. 2000: 6 Wins, 3 Majors, 8 T-10 Finishes, Led Field in Money and Scoring (45)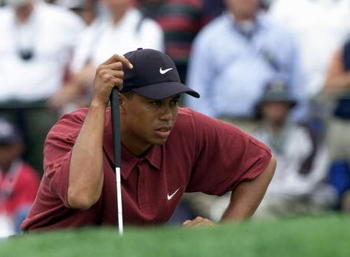 Tiger Woods eyes a putt at the 2000 US Open. In what was arguably his greatest major performance to date, Woods won the tournament by fifteen strokes, setting a new record for margin of victory in a major which has yet to be matched.
Jonathan Ferrey/Getty Images
Make no mistake about it, 2000 was the high mark of Tiger's career.
Woods won three of the four majors this year, including an epic victory at the US Open in which he was the only player to break par. He also finished inside the top ten a record seventeen times, showing consistency along with brilliance.
While Tiger Woods may never again dominate like he did in 2000, we must not forget how great his 2000 really was. Indeed, it may never be repeated by any golfer, let alone an aging Tiger Woods.
Keep Reading