The 2011-12 season was a trying one for New York Knicks forward Amar'e Stoudemire, who had a rocky year on and off the court. Both Stoudemire and the rest of the team must find a way to maximize his talents for the good of the franchise.
From his chemistry issues with Carmelo Anthony, to his self-inflicted hand laceration, to his derogatory tweet, Stoudemire experienced a slew of setbacks.
He fought through back issues, and his involvement in the Knicks offense was inconsistent. Consequentially, New York didn't have the power forward presence it needed to compete with the Eastern Conference's elite teams.
His numbers (17.5 points, 7.8 rebounds and a 17.7 PER) were his worst since his rookie campaign.
What can Mike Woodson do to get the six-time All-Star back on track? Besides giving him rest, rehabilitation and a legitimate preseason, there are a couple of key adjustments to make.
First, Stoudemire needs to develop his back-to-the-basket skills. Not only will that expand his scoring ability and help him adjust to his physical decline, but it will help him operate with his teammates.
Luckily, it looks like he'll be training with Hakeem Olajuwon later this summer (per ESPNNewYork.com). Olajuwon, the ultimate authority on post-man footwork and maneuvering, will likely push Amar'e in the right direction, similar to his other high-profile pupils.
If Stoudemire can become more comfortable with his back to the basket, he'll be a threat to score more often, draw more fouls and distribute the ball better.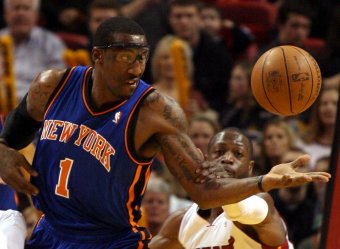 Marc Serota/Getty Images
When he's backing down opponents, it will be easier for him to survey the court, pass out of double-teams and dish the ball to cutters.
Amar'e has been labeled as a player who struggles without the ball in his hands, but that's not necessarily true, and it's something that the Knicks can work on.
He and Anthony certainly haven't figured out how to effectively collaborate, but if New York develops a stable lineup rotation, the two will find their groove.
Woodson would be wise to give Stoudemire a heavy dose of Jeremy Lin during the preseason. The two saw limited action together last year, and it's important for them to build a solid pick-and-roll connection while keeping 'Melo and Tyson Chandler involved.
The bottom line is that New York needs to give Amar'e a few more touches, and he needs to do the team a favor by taking it to the rim. His 5.2 free-throw attempts per game in 2011-12 were a career low, and that's a shame because he can shoot free throws well for a big guy.
Stoudemire had a bad season, and he knows it.
He didn't deserve the bloated salary he got. So it's crucial for the Knicks to surround him with positive energy, involve him in a regular lineup and build off his work with Olajuwon.