New Orleans Saints: 5 NFC South Players That Concern Saints Coaches the Most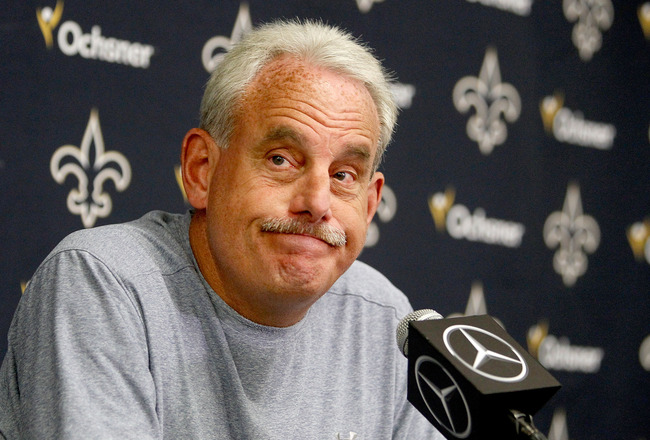 Sean Gardner/Getty Images
Looking around the NFC South, there aren't many players that really strike fear into Saints coaches. None of those players are on the defensive side of the ball, either.
Because, let's face it, when you have the best offense in the league, no one is going to give you fits at night—unless it's one of your own bonehead players, and New Orleans doesn't have any of those.
This list will focus solely on premiere offensive players in the Saints' division, or players who just have big games playing against New Orleans. Either way, these players will give defensive coordinator Steve Spagnuolo long nights come fall.
Cam Newton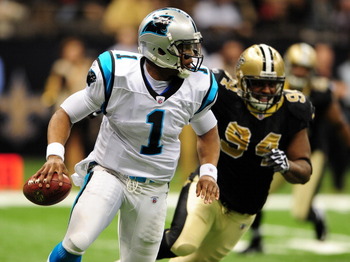 Scott Cunningham/Getty Images
We all know how ridiculous Cam Newton's rookie season was. Breaking numerous rookie records and taking the league by storm was Newton's M.O. in 2011.
In 2012, he will try to avoid the dreaded sophomore slump while trying to break the Saints' hold on the division (two division titles in three years).
His numbers against the Saints weren't "Cam-like" last season, but he did almost lead an upset against New Orleans early on in the year. He accounted for three touchdowns in that game, but lost in the end when Drew Brees pulled out a fourth-quarter comeback.
His scrambling and rushing abilities should give the Saints fits for years to come.
Carolina's Running Backs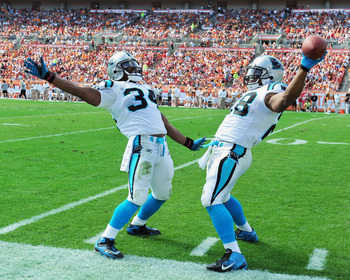 Al Messerschmidt/Getty Images
Carolina's duo of DeAngelo Williams and Jonathan Stewart have given the porous Saints run defense fits since 2008—Stewart's rookie year.
In those eight games, those backs have combined for over 1,000 yards rushing and 10 total touchdowns at nearly six yards a clip.
These players have taken full advantage of New Orleans' big hole in the middle of their defense, and have padded their stats every chance they get.
Williams is getting closer to that 30-year barrier for running backs, so look for Stewart to get the majority of carries this year.
Steve Smith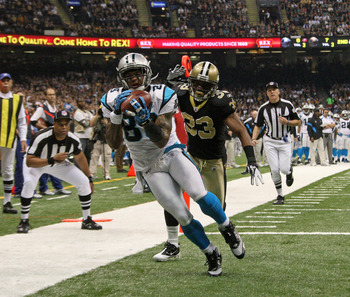 Scott Cunningham/Getty Images
In every year Steve Smith has had a legitimate quarterback throwing to him (2010 withstanding), he has proceeded to fill-up the stat sheet versus New Orleans.
As a Saints fan, I have come to the realization that Smith will get his stats regardless, but hold out the fact that New Orleans could contain everyone else and Smith wouldn't hurt them.
That's half right.
While the Saints have won the past five out of six games versus the Panthers, Smith has continued to get into the end zone and cause headaches for Saints coaches—especially the secondary.
Tampa Bay's Interior Line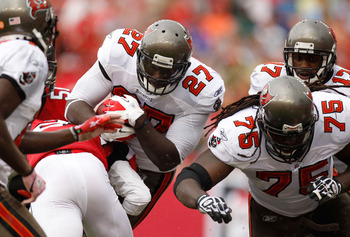 Mike Ehrmann/Getty Images
It's kind of sad when the only part of your team that might cause some headaches for Saints coaches would be your interior offensive line.
No "skill" players on this team—including quarterback Josh Freeman—should scare anyone in New Orleans. Yes, that means you also, newly-acquired Dallas Clark and Vincent Jackson.
The interior of this offensive line will be one of the best in the league with Davin Joseph at guard, Jeremy Zuttah at center and Saints-defector Carl Nicks at the other guard position.
Those players will make the running back tandem of LeGarrette Blount and Doug Martin better than they actually are, and put immediate pressure on the Saints' front seven.
Julio Jones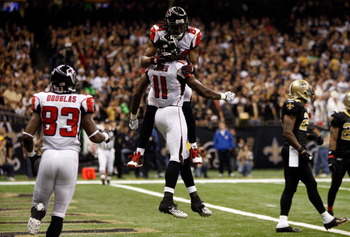 Chris Graythen/Getty Images
Again, we come to a team that will have one entry on this list—the Atlanta Falcons.
Michael Turner will show everyone what hitting the 30-year-old wall for running backs is like, and Roddy White has about as many drops as catches over the past few years. They're declining play will clear a path for Julio Jones to be a star (as much as it pains me to write that).
Jones will probably be a top-5 receiver by the end of this upcoming year, and will continue to make Matt Ryan look better than he actually is—just like Andre Johnson with Matt Schaub, etc.
Jones had a big game versus New Orleans toward the end of the year—going over 100 yards receiving and scoring a touchdown—and he could be the "heir-apparent" to Steve Smith in NFC South receivers who dominate the Saints for years to come, unfortunately.
Keep Reading

New Orleans Saints: Like this team?