Omer Asik: The Chicago Bulls Cannot Afford to Keep Him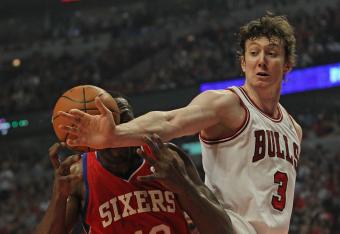 Jonathan Daniel/Getty Images
The Chicago Bulls were caught off guard when the news came out that the Houston Rockets had offered backup center Omer Asik a three-year, $25 million contract. Suddenly, a player that the team felt they could not afford to lose puts their future in jeopardy.
In less than a week, the Bulls will be on the clock, and a decision will have to be made. What they decide will determine how the team looks moving forward.
Match the offer and hamstrung the team's future, or let him go and find a suitable replacement.
Asik is one of coach Tom Thibodeau's favorite players. While he's thought of as a defensive force, Thibodeau cautioned not to overlook what he brings to the offense.
In Joe Cowley's column in the Chicago Sun-Times recently, Thibodeau said, "The thing that gets overlooked offensively with Omer is his ability to screen and get to the offensive boards. He's very important to our team."
While Asik has done a nice job for the past two seasons as a backup to Joakim Noah—that's what he is—just a backup.
What does he do: He defends the rim, and he rebounds.
In other words, during his 14.7 minutes on the court in 2012, he stood tall at the basket and grabbed some boards. Important—yes, game-changing—probably not.
On the offensive end, aside from the screens he sets that Thibodeau is so fond of, he offers nothing. He has terrible hands, and consistently brings the ball down low instead of keeping it away from defenders which results in turnovers.
Outside of a dunk, he can't score.
If the ball is in his hands late in games, he's a foul waiting to happen, because he knocks down free throws at a career .484 rate. That bit the Bulls in the behind against Philly in the playoffs.
To the Bulls, the sum of the parts seem to mean more than the whole.
The Bulls may consider Asik an important part of the team, but they must decide if keeping him gives them a reasonable chance to win a title.
With Rose out and not much cap room to improve the team, there is little hope they can win next year.
In the final season, when his contract jumps to nearly $15 million, the Bulls will have to amnesty Boozer if they haven't already. Deng's deal will also be up, so a decision needs to be made there too.
Will the Bulls be able to find a taker for Asik at that time with so much money owed? It is an expiring contract. That can be attractive at times, but what does it do for the Bulls winning the next three years?
Realistically, the only season you have a possibility of winning with him is in year two.
Hopefully, Rose will be at full-strength in 2013-14, but you're still looking at mainly the same core the Bulls had the past two seasons—with a likely weaker bench.
Taj Gibson is going to have to be re-signed. He's going to cost between $7 million-$9 million a year for three or four years.
Where is the money coming from to allow the Bulls to couple an elite player with Rose?
The Bulls will be in dangerous luxury tax territory. The possibility exists that they could be a multiple offender and face even stiffer penalties.
Chicago has to make the wise decision and say "Hasta la vista" to Asik. That's the only way they would have the flexibility to pick up a prime-time player. Keeping a bit part makes no sense.
Losing Asik will not make the Bulls better, but keeping him ensures they won't be better in the future.
This article is
What is the duplicate article?
Why is this article offensive?
Where is this article plagiarized from?
Why is this article poorly edited?

Chicago Bulls: Like this team?