Steve Nash Rumors: Of Teams in Pursuit, Whose System Suits Star Free Agent Best?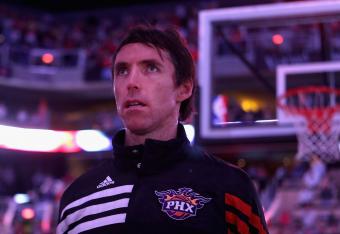 Christian Petersen/Getty Images
Besides Deron Williams, Steve Nash has become the most coveted free agent in the NBA at this point, although only four teams seem to be anywhere near in the running for the old, yet effective point guard.
What does a 38-year-old Nash bring to a team trying to win a title? Well, a lot.
Nash may not be able to defend anyone at this point, but his 10.7 assists were second-most in the NBA behind Rajon Rondo last season. He's like Mariano Rivera at this point. Every year it seems like it's going to be his downfall year, but every year he comes in and puts up huge numbers, yet again.
So, of the teams looking to bring Nash in and pay him into his 40s, which team does Nash fit into the best? That's the question we're looking to answer here.
Phoenix Suns
At this point the Suns are more or less telling Steve Nash that they're okay if he signs elsewhere which is not only great news for the people of Phoenix, who are ready to move on (although losing Nash will crush them), but it's great news for the basketball world.
Phoenix made an offer of just two years at $6 million per to Nash—something he's got no choice but to turn down, especially after Toronto's huge offer.
Either way, all Nash does for Phoenix is make them a halfway decent team with no way of making the playoffs, so it's probably for the best that they bottom out.
New York Knicks
The Knicks have been tinkering with the idea of pulling off a sign-and-trade for Nash which would create a media storm in New York City and probably a pretty good team as well.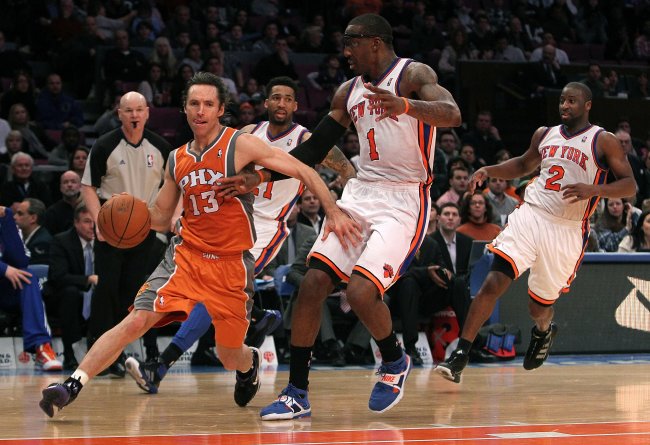 Nick Laham/Getty Images
We know that Steve Nash can play with Amar'e Stoudemire; we've seen that happen with great results. Plus, he would probably get along with Iman Shumpert, who is a good midrange shooter and decent at getting to the rim, and Steve Novak, who would be even more lights-out with Nash dishing the ball.
However, playing alongside Carmelo Anthony and Tyson Chandler would be a bit strange.
Nash has always played with a big man that he can get involved in the offense. While Stoudemire would fill that role, it's hard to say how Chandler fits into the offense, if he does at all.
Beyond that, Nash and Anthony wouldn't fit together very well, but they would make it work. It's just hard to see this being the team that maximizes what they get out of Nash, although he would still improve their team.
Brooklyn Nets
The Nets are an interesting team in that they've been putting all efforts into re-signing Deron Williams but have been kicking Steve Nash's tires as a fail-safe.
Nash on the Nets would reunite him with Joe Johnson, with whom Nash was able to get the Suns to the Western Conference Finals in 2005, dishing the ball to Johnson so often that he was able to shoot 48 percent for three.
Along with Johnson, Nash would be playing with a proven offensive big man in Brook Lopez and an up-and-coming guard in MarShon Brooks, who is capable of playing in the flow of an offense but is also able to create his own shot.
With which team should Steve Nash sign?
This team's offense-first mentality would make them look quite a bit like the Suns of old, although they might not be able to run-and-gun enough to make it to the Conference Finals.
Toronto Raptors
The Raptors are putting all of their eggs in the Steve Nash basket, which isn't something you could very well blame them for, now is it?
Luckily for the Raptors, Nash fits in well with the lineup that they have put together in what would be close to what they had when Shaq was with the team—if only Shaq had run the floor. They could call it the Seven Seconds With Valanciunas offense. Sure it doesn't sound as cool, but it would bring everyone to their feet.
Basically, you would have a floor-stretching big man with Bargnani, an efficient and athletic big man in Valanciunas, an athletic cutter in DeMar DeRozan and a guy who would suddenly find himself wide open on the three-point line on every possession in Terrence Ross.
While it seems like their lineup is quite green and unproven, there's no way to look at this lineup and not get excited. Nash wouldn't be the final piece to finish this puzzle; he would be the cover of the box so that you can see how the puzzle is supposed to look, while Jose Calderon was just the cardboard bottom half of the box.
Toronto with Steve Nash would be a mile-a-minute offense that would take the league by storm so long as everything goes right.
They are the best fit for Nash, as it looks right now.
This article is
What is the duplicate article?
Why is this article offensive?
Where is this article plagiarized from?
Why is this article poorly edited?