2012 Georgia Football: Putting "Special" Back into Special Teams
July 3, 2012
Al Messerschmidt/Getty Images
A funny thing happened to Georgia's special teams last season. They weren't—special, that is. The Bulldogs' performance was down significantly from 2010 in net punt distance, field goal percentage, punt return yardage and kickoff return yardage. This year the intent is to put "special" back into special teams.
In kick and punt coverage last season, the Bulldogs gave up their most yards per kick since the Mark Richt era began in 2001. They also allowed four kick returns for touchdowns in a season, another first in the Richt coaching era.
Phil Steele's 2012 College Football Magazine (page 50) quoted Mark Richt assessing the overall play of the Bulldogs' special teams as "mostly average to scary." The most surprising aspect is Georgia returned their punter, kicker and their top return men from a unit that Steele's rating system had as No. 1 overall in the nation going in to 2010.
The drop was across the board and it was a long way down. Georgia fell all the way down to No. 81 in the nation, using the same rating system in 2011.    
Two of the four returns for touchdowns given up in 2011 were on punts. Before last year, Richt's teams had only given up two punt returns for touchdowns in ten years at Georgia.
The low point in punt returns came in the SEC Championship Game. Tyrann Mathieu's 62-yard return for a touchdown cut Georgia's lead to 10-7 late in the second quarter. Then he returned another punt 47 yards to the Georgia 17, which eventually led to an LSU touchdown in the third quarter.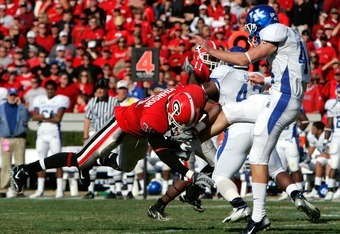 Kevin C. Cox/Getty Images
Kicker Blair Walsh, a two time Groza Award semifinalist, came into 2011 hitting on 55 of 68 attempted field goals for his career. Last year, he made only 21 of 35 attempts.
What to Expect in 2012
Good special teams play has always been a hallmark of Georgia Football. The Georgia coaching staff has no intention of allowing the poor performance that was experienced in 2011 to become the norm for Georgia Football.
Coach Richt scheduled more special teams live first unit-on-first unit practices throughout the spring. Additionally, he has indicated a re-dedication to the special teams' processes when camp resumes this fall.
According to ESPN's Dawg Nation, Georgia intends to have more live kicking reps in the fall than would normally be scheduled, and maybe more than they have ever scheduled. This could be especially important with freshman kicker signees, Marshal Morgan (kicker) and Collin Barber (punter).
The issues last year led to some Bulldog fans calling for Richt to hire or dedicate a coach specifically for special teams. However, Richt insists that going that far is not required and the staff has made the necessary practice adjustments to correct any issues.  
Richt's teams normally have good kicking and coverage units. Last year was a huge surprise considering the quality of the kickers and return people who were back. It would be a surprise indeed if the Bulldogs did not improve a great deal in these areas in 2012.