Nathan's Hot Dog Eating Contest 2012: Pegging Top Contenders on July 4th
July 3, 2012

Joey "Jaws" Chestnut has certainly lived up to his nickname the past few years ever since shocking Takeru Kobayashi in 2007. 
The five-time champion heads in to the 2012 Nathan's Hot Dog Eating Contest on July 4 as the clear favorite. 
Meanwhile, Kobayashi is nowhere to be found once again, and has started a rival competition called the Crif Dog Classic. 
Expect Chestnut to come way with his sixth straight title at Nathan's, but don't be surprised if some worthy competition makes him sweat.
3. Tim "Eater X" Janus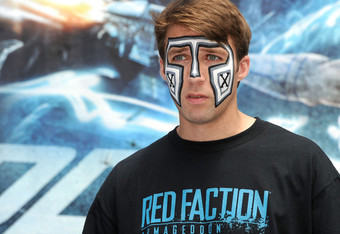 The No. 3 competitive eater in the world, according to the International Federation of Competitive Eating (IFOCE) and Major League Eating, Tim "Eater X" Janus has established himself as one of the prime contenders to unseat Joey Chestnut this summer. Janus, who finished third at Nathan's last year with 45 hot dogs eaten, first emerged onto the scene in 2004. Since earning the Rookie of the Year award, he's been breaking records ever since. In 2007, he reportedly gobbled up 71 tamales in 12 minutes. Oh yeah, and he wears a mask. 
2. Patrick "Deep Dish" Bertoletti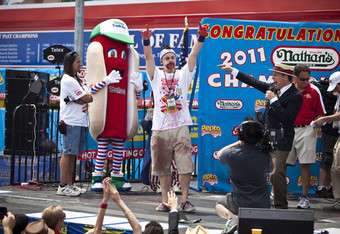 The No. 2 competitive eater in the world, Patrick Bertoletti has the best chance to shock Joey Chestnut this year. Last year, he took down 53 hot dogs at Nathan's, finishing second. Ever since 2006, Bertoletti has been a force in the world of competitive eating. He's also a hot head—literally. He reportedly finished off 275 jalapeño peppers in eight minutes at the La Costena "Feel the Heat" Jalapeno Eating Championships. He owns a massive amount of records and doesn't figure to cool down any time soon.   
1. Joey "Jaws" Chestnut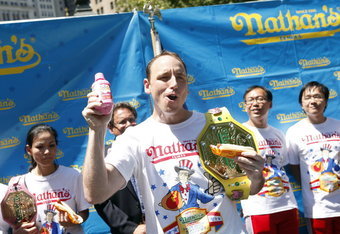 Joey Chestnut is going for his sixth straight title at Nathan's, which would tie the legendary Takeru Kobayashi. Last year, he gobbled down 62 hot dogs. A win in 2012 may see him surpass Kobayashi as the top competitive eater in the world in the eyes of many. The scary thing is, Chestnut feels he's been "lazy" the past few years at Nathan's. He's gunning for another world record this time around, and he may just do it. 
Follow me on Twitter. We can talk about competitive eating together.