The Biggest Media Misconceptions About the Chicago Bears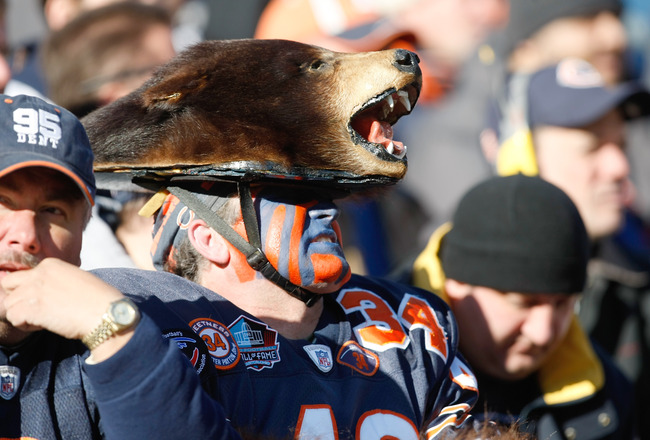 Scott Boehm/Getty Images
The media loves a good storyline, even if they have to make it up. Yes, I am part of the media, but even I know a myth when I see one. And some of the misconceptions about these Chicago Bears will be exposed in this article, my friend.
"DA Super-fans" notwithstanding, Chicagoans aren't just a bunch of sausage-eating, slobbery meatballs with a Neanderthal gene. No, that would be some of the players on the field. We fans are people who make an honest (and dishonest) living, and want to watch a good football game.
Yes, we love our Bears, but hell, show me a city that doesn't love their team and I'll show you a lousy sports town. And as much as we don't like it when we are stereotyped, we hate it when our Bears are miscast.
It is with much indignation that I present to you these media myths. While there may be some truth to all of them, I prefer to think of them as evidence of one thing: jealousy. DA BEARS. DA COACH.
They Come off the Bus Running the Ball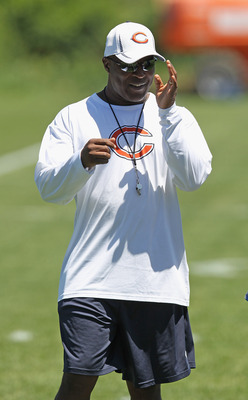 Jonathan Daniel/Getty Images
It is true that Lovie Smith still probably believes this, but new Bears GM Phil Emery is trying to pull the Bears out of the stone age. Under new offensive coordinator Mike Tice, and with weapons like Brandon Marshall in the fold, this team is expected to be more of a pass-first offense this season.
That's not to say the Bears won't have to rely on the run. They will, especially during the brutal winter months. But the days of Matt Forte representing a disproportionate percentage of the total offense are probably over.
Look, Cutler is going to have a lot of say in the play calling. They made that clear when they hired Jeremy Bates. And Cutler will want to use his best weapon, his right arm, whenever possible.
It's true that a balanced offense is important, but to say that the Bears are going to be a running team this season is, I believe, simply untrue.
Lovie, stick to what you know—and that is defense—and leave the offense to others.
They Throw Nickels Areound Like Manhole Covers
Mario Tama/Getty Images
That famous quote by Mike Ditka notwithstanding, the Bears definitely have a reputation for being cheap. But that impression is not totally fair, nor even entirely accurate. Yet the recent contract saga regarding Forte does nothing but perpetuate this myth.
The signing of Julius Peppers should have told us that the Bears will spend money when they feel they have to. Over the years, they haven't been the highest spending team, nor the lowest. I can honestly say that the Bears failure to win a Super Bowl since 1985 wasn't always about money, at least not recently.
Regardless of how much you spend, there is a salary cap, so you have to draft wisely. And that is one area in which former GM Jerry Angelo was lacking, especially in the early rounds.
It's the lack of draft success and injuries that have hurt the Bears more than just being cheap, in my opinion. Yet the Bears will probably never live that reputation down.
Jay Cutler Doesn't Care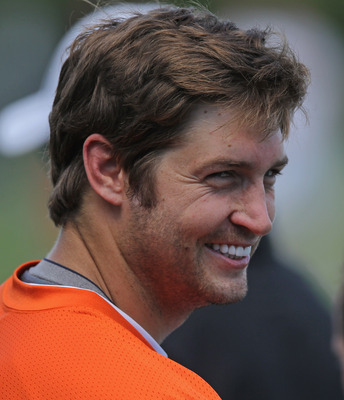 Jonathan Daniel/Getty Images
There are so many misconceptions about Jay Cutler that they require both hands and even your feet to count them all. Sure, some of them may be his own doing, and some may even be partly true (or "were" true).
But a lot of the criticism of Cutler has been patently unfair. They say he doesn't care because it looks like he sits and pouts when he's not playing due to injury or following an interception. But he can't help it if he wears his emotions on his sleeve.
That "bitter beer face" that Cutler often shows may make people believe he doesn't give a damn, but I don't believe that for a minute. He came into camp last season in the best shape of his life, and he also exhibited more leadership skills than ever before.
This year, he looks great once again, and is in there fighting for plays and for the Bears to fix the offensive line. In short, he's a leader, and while that may surprise many people, it looks to be true now.
The bottom line will be results, and until he gets that ring, the haters will always hate on Cutler. But he has an ego, and I believe he wants to do well. It's just common sense.
'Bear Weather'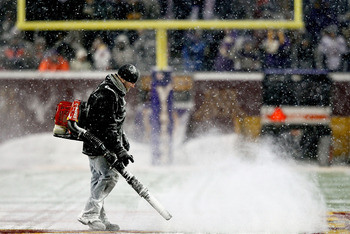 Matthew Stockman/Getty Images
This has been a myth for awhile now and it simply isn't true. Extremely cold weather, and slippery, icy surfaces don't favor the Bears. This was especially true when the defense was younger and guys like Urlacher were flying around the field.
Speaking of Urlacher, he even said as much at one time. But even if you don't believe him, the idea that when the temperatures drop and the snow falls in Soldier Field, that the Bears are unstoppable is simply silly.
They don't like playing in that crap any more than the other team. Besides, those Packers are even more used to so-called "Bear weather" than they are, so that pretty much debunks that myth right there.
Take a look at the Bear's winning percentage at home in December and January since 1985 and that will also serve as evidence that Bear weather is like the Tooth Fairy, Santa Claus and Eskimos (hat tip to Homer Simpson).
Especially this season, when the Bears are expected to become more of a passing team, bad weather won't help their offense.
Their Fans Are Sausage-Eating Louts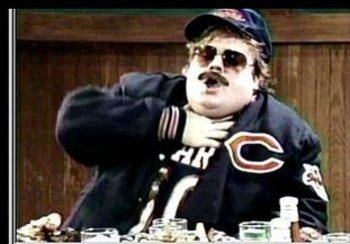 http://moviecultists.com
As I mentioned in the opening slide, that famous Saturday Night Live skit, which was so popular during the Bears' last Super Bowl victory in 1985, has made people think we're all a bunch of fat slobs who swill beer and eat sausage.
Um...well...that may be partly true, especially the part about the beer and sausage, but hey, we have brains. We can think for ourselves. And, unlike those ":Super-fans," we don't believe that the Bears are going to win every game 127 to minus-11, my friend.
No, those skits have stereotyped Chicago fans unfairly, and I, for one, strongly resent that implication.
Now hold on, I'm having a heart attack, my friend. DA BEARS!
Brian Urlacher Is Overrated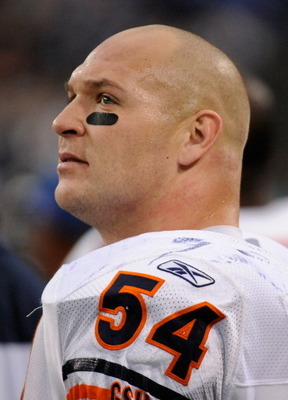 Hannah Foslien/Getty Images
The media publishes those lists every year of the most overrated NFL players and invariably Urlacher makes that list. While that is not entirely the media's misconception, it is just plain wrong regardless of whose fault it is.
Now, I'm not saying that Urlacher is as good now as he was in his prime, but to say he's been overrated during his career is just not fair. While you could debate all you want about whether Ray Lewis has been the better middle linebacker (he probably has been), Urlacher is right there as well.
He is a future, sure-fire Hall of Famer. Since he has been the face of the Bears, and, in part, of the entire league, many are jealous. But he has had a great career and only a ring is missing from his extensive resume.
Hopefully that ring comes this year.
Keep Reading

Chicago Bears: Like this team?