Chipper Jones Deserves His Own Cal Ripken Jr. Sendoff at the All-Star Game
July 3, 2012

Kevin C. Cox/Getty Images
Atlanta Braves third baseman Chipper Jones is playing in his 19th and final major league season, and it sounds like he's going to make an eighth and final All-Star appearance next week.
Earlier on Tuesday, Major League Baseball revealed that Jones is the leading vote-getter on the National League side of the fence in the "Final Vote" for this year's All-Star game. We don't know the exact totals, but Jones apparently leads St. Louis Cardinals third baseman David Freese by a "slim margin."
Well played, America. This is as good a sign as any that you are all aware of the situation and that you have respect for a player who very much deserves respect. Help yourself to a cookie for getting this one right...so far.
UPDATE: Tuesday, July 3 at 5:45 p.m. ET
Well, this is awkward. The Braves just tweeted this:
Braves 3B Chipper Jones has been named to the NL All-Star team!

— Atlanta Braves (@Braves) July 3, 2012
Jones has apparently been named as a replacement for injured Los Angeles Dodgers center fielder Matt Kemp, according to the Atlanta Journal-Constitution. How this changes the Final Vote is unclear.
The rest of the the original article continues below.
For those of you who remain unconvinced, it is indeed true that Jones isn't exactly lighting the world on fire this season. He's only played in 45 games, and he's hitting .291/.372/.456 with six home runs and 29 RBI. Those aren't bad numbers by any stretch of the imagination, but methinks he wouldn't be on the Final Vote ballot at all if his name wasn't Chipper Jones.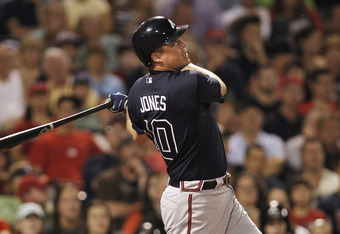 Winslow Townson/Getty Images
Typically, I preach voting for the guy with the best numbers instead of the biggest fan favorites. But in this case, voting for the fan favorite is just fine. Those who haven't voted yet should not be scared away by Jones' lack of eye-popping numbers. 
This tells me Jones has a chance. After all, Derek Jeter, Mike Napoli, Pablo Sandoval, and Dan Uggla all got voted in by the fans despite not having eye-popping numbers. Why should the same voters leave Jones out in the cold?
Besides, if Jones does end up winning the Final Vote over Freese, Bryce Harper and the others, nobody will be in a position to complain. This will be like Cal Ripken, Jr. making the All-Star team in 2001 despite the fact he was hitting just .240 with four home runs.
You know what would make this occasion even better?
If Jones' sendoff in the All-Star Game this season was exactly like Ripken's sendoff in the 2001 All-Star Game at Safeco Field.
You remember it well, no doubt. Ripken was voted in by the fans as the American League's starting third baseman, but Alex Rodriguez insisted in the first inning that Ripken move over to shortstop, the position that he had redefined throughout the early portion of his career. It was a touching moment.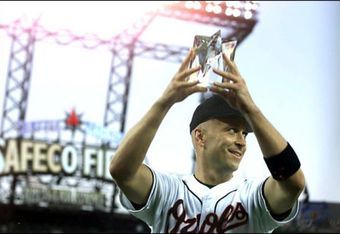 And then things got better. Ripken came to the plate in the third inning to a standing ovation from the crowd packed into Safeco Field, and then he promptly launched a home run on the first pitch he saw from Chan Ho Park.
The conspiracy theorists say that Park deliberately threw a hit-me pitch so Ripken could have his moment in the sun. The conspiracy theorists have a point.
But hey, who cares? It was a cool moment, and it's not like the All-Star Game mattered back then. Even if a conspiracy did take place, it's certainly not fodder for a Dan Brown novel.
Ripken, of course, would go on to take home All-Star Game MVP honors for the second time in his career. It was a day to remember for Ripken fans. And let's face it, we were all Ripken fans.
We should all be Jones fans too. Just like Ripken, he's been a really good player for a really long time, and he's always been a class act out on the field. You just can't hate the guy, even if you're a Mets fan. 
I mean, the dude named one of his children after Shea Stadium. For that, Mets fans have to at least give him a golf clap.
Granted, it won't be easy to make Jones' (potential) All-Star Game sendoff a mirror image of Ripken's All-Star Game sendoff. Jones still needs to be voted in, for one, and there will be hurdles to overcome even if he does end up in Kansas City for next week's game.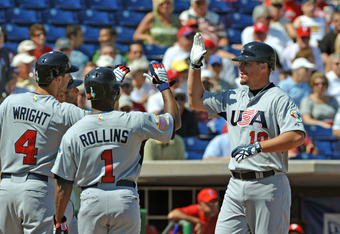 Al Messerschmidt/Getty Images
First, Jones isn't going to start the game over Sandoval at third base, though that's not such a bad thing. It was cool to see A-Rod honor Ripken by stepping aside in 2001, and it would be just as cool if David Wright were to step aside for Jones in this year's All-Star Game.
In a perfect world, Jones could come in as a defensive sub for Wright late in the game, and the effect would be largely the same as the A-Rod/Ripken exchange. It would be a passing of the torch moment between one great young player to a once-great older player.
That hurdle is not so hard to overcome. The other big one is hard to overcome.
Jones is going to need to hit a home run in order to duplicate the Ripken experience, and that's an issue. Good luck to anyone who tries to convince Ron Washington to order one of his pitchers to groove a hit-me fastball to Jones when he comes to the plate.
Remember, the game counts now. Washington is not about to give the National League a run when he knows that his Texas Rangers stand to earn home-field advantage in the World Series. He might do it if the AL has a big lead or a big deficit, but that's unlikely to happen given how close the past couple All-Star Games have been.
In all likelihood, whichever pitcher faces Jones in the All-Star Game would have to make a decision to groove one on his own, or just happen to throw a bad pitch. Jones is going to need luck on his side either way, and then he's going to need to put a good swing on the ball.
In all, the Ripken scenario is one that's totally out of Jones' hands. 'Tis in the hands of the voters, Tony La Russa, Ron Washington, American League pitchers and, above all, the baseball gods.
And if the baseball gods have made anything clear over the years, it's that they don't owe any player any favors (unless said player wears pinstripes).
Here's hoping the baseball gods have it in their hearts to throw Jones a bone. He's never done anything to upset them, and he's certainly never done anything to cause baseball fans to harbor a grudge against him.
This year is his going-away party, and he may not find himself on a bigger stage than the All-Star game. He deserves to go out in style.
If you want to talk baseball, hit me up on Twitter.