Chelsea Transfer News: Blues Must Retain Daniel Sturridge to Preserve Future
July 3, 2012

David Rogers/Getty Images
Although meningitis could prevent Chelsea striker Daniel Sturridge from participating in the Olympics, it shouldn't stop the Blues from trying to retain one of their best players.
New Tottenham manager Andre Villas-Boas has his sights set on the 22-year-old striker who has played for the Blues since 2009.
According to The Daily Mail, Villas-Boas is preparing to offer £10 million for the disgruntled striker.
Once a top prospect, Sturridge has seen his playing time dwindle recently, and it's reported that he wants assurances over his future before making any commitment to Chelsea.
The same report states that Chelsea boss Roberto Di Matteo, "is keen to hang onto the prospect, he will not accept players holding the club to ransom and would contemplate a £10 million bid."
If Di Matteo is having any reservation about whether to keep Sturridge in a Blues uniform, he better shake those off.
Without Sturridge in the lineup, the Blues will be missing one of their best goal scorers and a budding prospect.
According to Sturridge's profile on ESPN, the 6'2" forward's "Pace and skill on the ball mark him out from his peers and he also has a cool head in front of goal."
Dating back to his days with Manchester City, Sturridge has always found crafty ways to put the ball in the back of the net.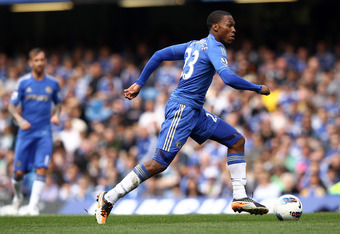 Ian Walton/Getty Images
In 13 starts from 2007-2009, he managed seven goals and five assists.
His penchant for scoring eventually led him to Chelsea, where he has continued to be a reliable offensive threat.
In 82 appearances with the club, No. 23 has scored 22 goals.
Though they aren't eye-popping numbers, they're nothing to scoff at for a player who's just 22 years old.
Based on his bloodlines, Sturridge still has plenty of room to grow as a player.
The Birmingham native happens to be the nephew of former strikers Simon Sturridge and Dean Sturridge.
As with most sports, bloodlines certainly play a part in the success of athletes (Chris Long, Clay Matthews III, Ken Griffey Jr.).
If Di Matteo allows Sturridge to depart, the Blues will be left without a key young player to build around on an aging squad.
The asking price certainly isn't cheap, but the price of potential never is.