Trading Cole Hamels Doesn't Spell the End of His Phillies' Career
July 3, 2012

Brian Garfinkel/Getty Images
It's been a topic of conversation that has polarized the Philadelphia Phillies' fan base for nearly a year now: Should the club explore signing Cole Hamels to one of the most lucrative pitching contracts in histry before he reaches free agency or cash in on a weak trade market?
The thing is, signing Hamels to a big contract extension and being backed into trading him at the end of July are not mutually exclusive options. So why don't you just back away from the edge of the Walt Whitman Bridge for a moment and ask yourself this:
What if the Phillies can trade Hamels at the deadline and sign him to a new, mammoth contract at the end of the season? What if they can do both?
It's something that seems far-fetched when you say it aloud for the first time, but keep repeating it to yourself. It's a scenario that makes a lot of sense.
Hamels, who will be a 28-year-old this winter and arguably the best free agent on the market, has made no bones about his desire to remain with the Phillies for the foreseeable future.
"I live in Philadelphia. I've been here for I guess 10 years now, so that's been something that's been kind of nice, kind of something I've been focused on. It's a great organization to play for and I'd love to be a part of it."
That was a statement that stood out to a passionate Phillies fan base. After years of having guys like Scott Rolen and Billy Wagner demand trades and leave as free agents, slandering the city on their way out of town, fans love hearing a guy like Hamels profess his desire to stay.
It's also the reason that this fan base is so passionate about wanting general manager Ruben Amaro Jr. to hammer out a contract extension with his prized left-handed starter quickly. Hamels, a former World Series MVP, has brought this city a ring and won more than 80 games for this club during his career.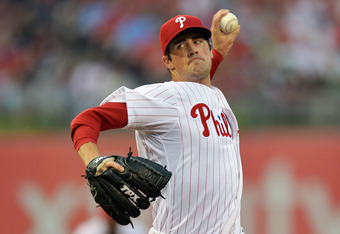 Drew Hallowell/Getty Images
Once he reaches free agency, there are no guarantees. The big game hunters will be out in full effect this year, and that extends beyond the usual suspects like the New York Yankees. You can count teams like the Los Angeles Dodgers and Chicago Cubs in too.
And while Hamels has gone on the record saying that playing on the West Coast won't be a deciding factor should he reach free agency, a team like the Dodgers, in a ball park that Hamels has historically pitched well in, could be tempting.
But the Phillies have to step back for a moment. They have to evaluate their future and make a decision on Hamels, who is putting them between a rock and a hard place with his talent level alone.
This is a club that has stripped the farm system barren over the last couple of seasons in mega-deals for All-Stars like Cliff Lee, Roy Halladay, Roy Oswalt, and Hunter Pence. Realistically, they can't afford to add to the MLB club this season through a trade even if they wanted to be buyers.
Guys that would help their putrid offense and bullpen are likely going to be too expensive in prospects for them to stomach.
Just take a look at the Phillies' current on-field product. You know that's what the front office is doing. The Phillies are 36-45—nine games below .500. They're 11 games out of first place and eight games out of a Wild Card spot. They'd have to leap frog every team in the National League East to earn that right.
And those are teams that are looking to add. The Atlanta Braves have been linked extensively to Milwaukee Brewers' ace Zack Greinke. The Washington Nationals have one of the best records in all of baseball. Even the New York Mets are making a run. The Miami Marlins have been one of the worst teams of the first half, but even they have a better record than the Phillies.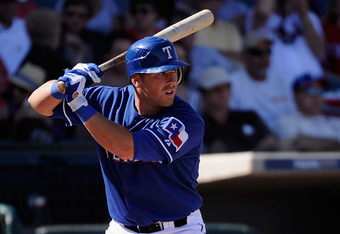 Kevork Djansezian/Getty Images
Couple their position in the standings with a barren farm system and you have the makings of a perfect seller come the trade deadline. With Placido Polanco and Shane Victorino on the precipice of their own free agency and no legitimate prospect waiting in the wings, how do the Phillies avoid selling?
Hamels could reverse their fortune. While there's no doubt that the Phillies could afford to re-sign their third ace right now, trading him at the deadline would make any would-be contender drool.
It would give the Phillies an opportunity to add a legitimate third baseman for the future, like Texas Rangers' prospect Mike Olt, or Nick Castellanos of the Detroit Tigers. Both teams could have serious interest in Hamels come the deadline.
There's no doubt that the addition of guys like Chase Utley, Ryan Howard, and Roy Halladay will help the Phillies in the second half, but at the end of the day, you have to ask yourself: Is this a team that can truly contend for a World Series in 2012?
The answer is no.
Trading Hamels lets them re-tool for the 2013 season. You can come back with one of the strongest rotations in baseball, headlined by Halladay, Cliff Lee, and Vance Worley. You have one of the game's best closers in Jonathan Papelbon. There's a great core of offensive players in a healthy Utley, Howard, Hunter Pence, Carlos Ruiz, and Jimmy Rollins.
Trading Hamels makes the team better in the future in a way that keeping him throughout the regular season and re-signing him at year's end cannot.
But again, trading Hamels and closing the book on his future with the Phillies are not mutually exclusive. The Phillies can trade Hamels at the deadline and attempt to re-sign him when the season is over.
If Hamels is truly intent on staying with the Phillies, he'll give the club an opportunity to match any offer in free agency, and we all know that the Phillies can afford to give him a contract that rivals the one the Yankees gave to CC Sabathia, especially with the luxury tax set to rise in 2013.
In fact, that may be the best plan of attack for the Phillies: admit that the 2012 season is a lost one. There's no shame in being dealt a bad hand.
If you move Hamels now, you can add the third baseman and outfielder of the future that this farm system so desperately craves. A few months later, you can add the game's best free agent.
Sure, there's a certain understanding that if the Phillies trade Hamels it appears as though they will have given up on him, but if the front office approached Hamels and laid out the situation for him, don't you think that he would at least consider it?
A few months of competitive baseball would be good for him. It'd give him a chance to add to his ring collection and secure his place among the game's elite pitchers, and there's no doubt that he's going to get a massive contract in free agency whether the Phillies trade him or not.
It makes sense for the club to ask Hamels to accept a move for a few months and come back strong and ready to win a World Series for the Phillies again starting in 2013.
That's the kind of situation he should be willing to accept if the goal is to truly spend the rest of his career with the Phillies. Just ask Cliff Lee how it worked out.
In the end, no one is going to remember a three month vacation in 2012 if he wins multiple World Series titles as a Phillie.