Arsenal: Should Wojciech Szczesny Be the Gunners' No. 1 Keeper in 2012-13?
July 3, 2012

Michael Regan/Getty Images
And to think, this summer had started so wonderfully for Wojciech Szczesny, holder of Arsenal's No. 1 keeper position since his sparkling senior team debut on a frigid night at Old Trafford in December 2010.
Few would begrudge a 20-year-old the challenge of being forced into the Red-Devil-tinted fire of Manchester United's cauldron of a stadium, but Szczesny showed next to no nerves that night—no hint of being undone by the magnitude of the occasion, no glimmer of self-doubt.
This young man brims with confidence, almost to a fault. And in a keeper, that's often a perfect quality to have.
What Szczesny did, and what he's continued to do since that December night, is display some of the finest reflexes seen from any shot-stopper in Europe, regardless of age.
While he has been far from perfect—a tall order for any keeper, never mind one barely removed from his teens—it was no coincidence that Szczesny earned the starting job for Poland ahead of this summer's European Championships.
So it was that he entered last month's competition—co-hosted by his country along with (historically unfriendly) neighbors Ukraine—on a massive high.
Here was his chance to perform for his country on the grandest of stages, with an enormous chunk of the world's population tuning in. For a 22-year-old, this was a stone's throw, or a penalty kick, from heaven.
And tune in viewers did, only to witness Szczesny endure a torrid time between the sticks in Poland's June 8 opener against Greece.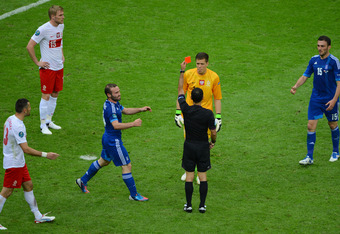 Shaun Botterill/Getty Images
In a far cry from his assured showing against United at Old Trafford some 18 months prior, as the young Pole looked cautious to the point of uncertainty in goal, clearing his lines with nervy, rather than confident, kicks.
This wasn't the register of performance expected from a young man who enjoys the No. 1 distinction at one of England's top clubs. This was stage fright at its stomach-churning worst.
And so, when Szczesny chopped down Greek substitute Dimitris Salpingidis and was sent off for the infraction, it appeared that a summer that had promised to bestow laurels upon his well-coiffed head had instead instantaneously crumbled into ash.
After receiving his marching orders and facing the fact that he would be suspended for Poland's next game against Russia, Szczesny was forced to witness backup keeper Przemslaw Tyton clean up the mess he'd created by pulling off a crucial save from Giorgious Karagounis's penalty.
Szczesny said all the right things after the Greece match, which had ended in a 1-1 draw thanks to Tyton's heroics, but underneath that magnanimity must have lain smoldering rage at his own ineptitude.
"I'm frustrated because no one wants to get sent off in a game like this, one of the biggest of my career so far," Szczesny told The Sun afterwards.
"But I'm relieved Tyton came on and made that save," Szczesny said. "If he hadn't, it would have been game over."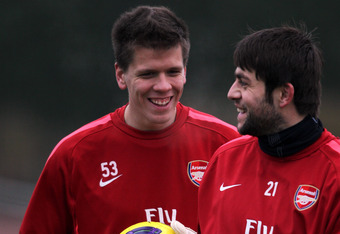 Dean Mouhtaropoulos/Getty Images
It had been Szczesny's uncertainty that had led to Greece leveling the score at 1-1 in the 51st minute, after all, and he had so nearly borne the brunt of responsibility for a loss, which would have irrevocably soured what was supposed to have been a magnificent occasion for the Poles.
Poland coach Franciszek Smuda preferred Tyton to Szczesny in the final group stage match against the Czech Republic, likely pointing to the fact that, with Tyton in goal while Szczesny served his suspension, Poland had fought to a 1-1 draw with Russia.
Leaving Poland's failure to qualify for the knockout stages of the competition aside, it was hardly a performance which will have inspired confidence in Arsenal fans, who are preparing for a title challenge in 2012-13.
While it is terribly unfair to subject Szczesny to a Hester Prynne-like branding because of one poor game between the sticks, it is a legitimate talking point to question whether Arsenal can successfully mount a trophy charge with a keeper of Szczesny's age and mistake-prone tendencies.
For all his wonderful saves, Szczesny was culpable of some terrible mistakes—several of which have cost Arsenal dearly.
To say that Szczesny should be removed from his No. 1 spot because of, say, his miscue that allowed Tottenham's Kyle Walker to score the long-distance winner in last October's north London derby, would be an unjust subjection.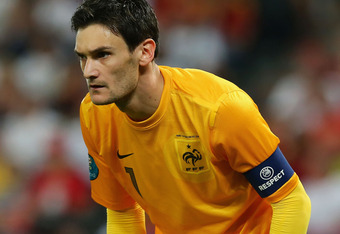 Martin Rose/Getty Images
What would not be unjust at this moment in time would be Szczesny facing some serious contention for his No. 1 spot from a top keeper in the Arsenal ranks.
Lukasz Fabianski, Manuel Almunia and Vito Mannone never gained the trust of Arsene Wenger last season, and with Almunia already gone from the club this summer, and Fabianski and Mannone antsy to join him out the door, Szczesny has no genuine threat to his reign as top man between the sticks.
Whether that lack of direct competition affects his play in a detrimental manner is a matter of conjecture, but it is quite revealing that Olympique Lyonnais and France No. 1 Hugo Lloris has been linked with a €15 million move to the Emirates this summer.
Still only 25, Lloris is considered one of Europe's finest keepers, without that telling "young" adjective lodged between "finest" and "keepers".
He is proven at the highest levels of competition, having saved France on numerous occasions during their nervy two-leg World Cup playoff with Ireland in November 2009, and having started every game for Les Bleus at the 2010 World Cup and just-wrapped European Championships.
So good was Lloris in the return leg of the playoffs against Ireland at the Stade de France that L'Equipe—the premier sports authority in France—called it one of the top five goalkeeping performances by a French international in the past 25 years.
Is Lloris an upgrade to Szczesny in goal? Perhaps. The Lyon keeper has his faults (poor distribution), but he is an older, more proven campaigner than the Pole. And in a season where anything less than silverware will be considered a horrible failure, proven sounds a lot better than nervy.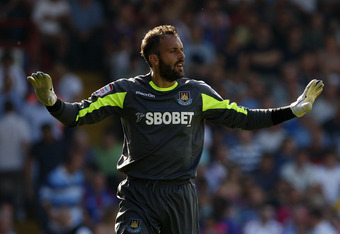 Dan Istitene/Getty Images
While it's difficult to envision Szczesny remaining at Arsenal should he become a backup to Lloris, having to deal with the competition provided by such a terrific keeper might just behoove his personal development.
Football can be a ruthless business, and no position has reflected that more aptly than keeper in these past few seasons at Arsenal.
Almunia, Mannone (well, perhaps less so) and Fabianski were all granted chances to earn the No. 1 spot, and none succeeded.
Now it appears that Wenger may look outside Arsenal for an upgrade, perhaps taking the advice of his famous rival, Sir Alex Ferguson, to heart.
Sir Alex has long maintained that success begins at the back—namely, keeper.
While it was hardly Szczesny's fault for some of the worst defensive performances last season (cough, cough, Old Trafford), Arsenal conceded far too many goals (49, or 20 more than Manchester City let in).
A new keeper might help shore up the lines, which were fluffed far too frequently.