What Are the Odds of New England Patriots Bettering 13-3 Record from 2011?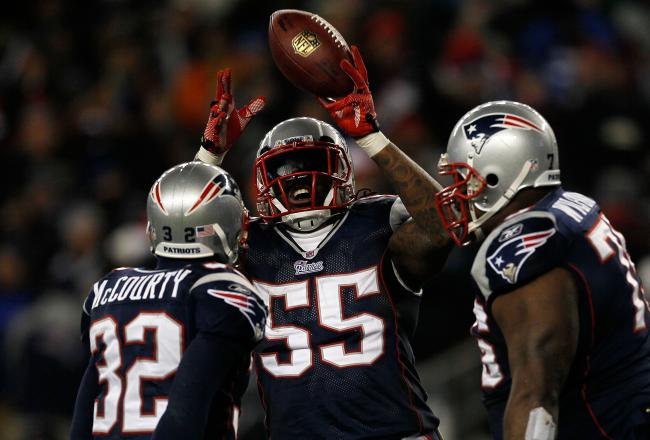 The Patriots have gotten more help from their defense over the past two years than you might think.
Jim Rogash/Getty Images
Teams live and die by turnovers, for better or worse, but whether they're among the best or the worst, it's a tough act to follow.
In a recent post on BeyondTheBets.com, turnover differential is highlighted as a key ingredient in setting the odds for improvement or decline for the following season.
Phil Steele has been tracking turnover margin since 1991 and its effect on a team's win total in the following season. Most of the time, teams with an abnormally high or low turnover differential in one season will see a regression to the mean in the next, and their record will either suffer or improve as a result.

The Patriots have been one of the most efficient teams in turnovers for years; they don't give up many offensively and rake them in on the defensive side of the ball. As a result, they have ranked in the top 10 in turnover margin three years straight. They finished 2010 an NFL-record plus-28 in turnover margin and finished 2011 ranked third.
In fact, they haven't finished in the minus in turnover differential since 2005, a year in which they tallied just 18 defensive turnovers, second fewest in the league.
How have they stayed successful for so long?
"An elite quarterback will throw less interceptions than a poor one," Steele said, "and that's a big reason why Tom Brady and the New England Patriots have had a positive turnover margin in eight of the past nine seasons."
It would seem they've avoided the hands of fate.
Technically, though, their run of dominance falls under Steele's observations; the Patriots did regress in turnover margin from their record-setting plus-28 to a slightly more reasonable plus-17. Their record also "suffered" as the Patriots dropped from 14-2 to 13-3.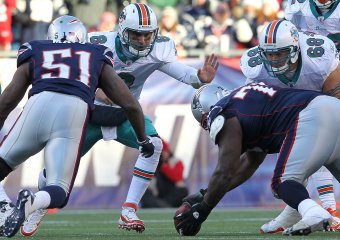 Right place at the right time. That's just the way the ball bounces sometimes.
Jim Rogash/Getty Images
The Patriots could continue to dominate in one of the most important stats in football with Brady under center, since he won't likely throw four interceptions in a game again in 2012. However, Brady isn't the only one responsible for the Patriots' success in turnover margin; he shares that success with a defense that has looked as porous as Swiss cheese at times, but has been as opportunistic as a rodent grabbing the fallen cheese off the ground.
They have been among the league's best teams in defensive turnovers two straight years and have ranked in the top 10 four out of the past six seasons. Defensive turnovers are important but have proven difficult to maintain from year to year.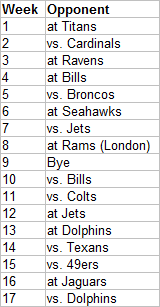 The Patriots are also up against the softest strength of schedule based on last year's win-loss records. That has proven to be a non-factor in the past, but bears mentioning as we try to predict next year's outcome.
Looking at the schedule
, it's hard to point to more than three games that they will lose, but the NFL season always has a way of surprising us.
If the Patriots can remain among the most efficient teams in turnover differential, they have great odds at repeating their success from 2010 and 2011, but that's primarily on the defense. Even if the Patriots are among the elite teams in the league once again, it shouldn't come as a shock if the Patriots slip a little in turnover differential, win-loss or both.
Erik Frenz is the AFC East lead blogger for Bleacher Report. Be sure to follow Erik on Twitter and "like" the AFC East blog on Facebook to keep up with all the updates.
This article is
What is the duplicate article?
Why is this article offensive?
Where is this article plagiarized from?
Why is this article poorly edited?