WWE Money in the Bank: Which Former WWE Champion Should Win That Ladder Match?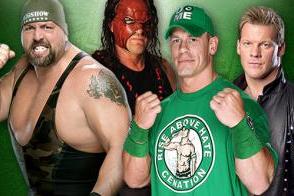 Photo courtesy of WWE.com

Throughout the history of Money in the Bank, we've seen the match feature six, seven, eight and even 10 participants.
This year, the WWE is making a drastic change.
As far as we know, in just under two weeks, we will see the first ever four-man Money in the Bank match when The Big Show, Kane, Chris Jericho and John Cena face off with a contract for a WWE championship match on the line.
Whatever the reasoning behind this decision, it's an interesting twist to what is already one of the most interesting matches in the WWE.
Four former WWE champions will enter one contest in which the odds of winning will be at the highest they've ever been in the short history of the MITB match.
In fact, you could make a case that all four superstars could and/or should win the WWE championship contract in the Money in the Bank match.
After all, the WWE's current creative direction makes me think that Kane might win the match, but the same goes for Jericho, Cena and Big Show.
I'm not here to talk about who could or will win the match, though. I want to talk about who should win it.
It's not Big Show, Cena or Kane.
It's Chris Jericho.
The man known as Y2J returned to the WWE back on Jan. 2, and he promised "the end of the world as we know it."
Presumably, the end of the world that he was referring to was him winning a world title, preferably by beating CM Punk for the WWE championship.
Up to this point, though, that obviously hasn't happened.
Jericho competed for a world title at four straight pay-per-views (Elimination Chamber, WrestleMania 28, Extreme Rules and Over the Limit), but he lost each one of those matches and failed to live up to his quest to become world champion.
However, the upcoming Money in the Bank match gives Jericho his first chance to do what he has literally not done since returning earlier this year. That is, to win a pay-per-view match.
This would be fitting for someone who has spent all of 2012 putting others over.
Y2J was the last person eliminated in the Royal Rumble after a nice little sequence with Sheamus, he put Punk over by losing to him clean on two straight PPVs (WrestleMania and Extreme Rules) and he put Sheamus over again by taking the pin in the fatal four-way at Over the Limit.
In true Jericho fashion, he has been the same selfless superstar that he's been throughout his career.
Jericho knows how to look good in defeat, and even though all he's done is lose since his return, he did it for a reason and is still viewed as a top star in the WWE.
He should be rewarded for that—and not just because of his selflessness, but because it makes sense, too.
There are two great storylines that could result from Jericho winning the Money in the Bank match and the guaranteed WWE title shot that comes along with it.
Either we get a final chapter in the Punk/Jericho saga, or we get Punk vs. Bryan.
I've always felt like the great feud between Punk and Jericho from earlier this year never really got a proper ending, so it could be very fitting for Jericho to eventually cash in on Punk (perhaps at Money in the Bank or before SummerSlam) to set up one last showdown between the two.
Who should win the WWE Title Contract MITB match?
Having said that, if the WWE decides to go in a different direction with the Punk/Bryan feud and put the WWE championship on Bryan, how good does a Bryan/Jericho feud sound?
Bryan and Jericho were on TV together a few times on this week's episode of Monday Night Raw, and it was nothing but pure greatness from two of the WWE's best heels.
Whether this was a simple tease or not remains to be seen, but at the very least, it made me want to see Jericho vs. Bryan—and it made me want to see it soon.
If Jericho wins the Money in the Bank match, we have the potential for some closure to his feud with Punk or a potentially epic feud with the hottest act in pro wrestling (Bryan).
If Big Show wins MITB, what is there to get excited about?
He feuded with Punk two years ago leading to a SummerSlam match, and both the feud and the match were downright awful.
So, how about Cena winning Money in the Bank?
As someone who has unlocked the secret passcode for unlimited title shots, I think Cena is probably the last person who needs to win or should win that bout.
What about Kane?
I've enjoyed Kane's recent work with Bryan and Punk, but he's feuded with just about all of the WWE's top stars in 2012. It's time to move on and time for Kane to give someone else the spotlight.
That leaves us with one remaining option, and that is Y2J.
The man who invented the Money in the Bank match has participated in many, but failed to win even one, just like he's failed to "end the world" and win a world title.
If the WWE let Jericho win the Money in the Bank match, they will effectively solve a handful of problems at once.
Not only will they end Jericho's losing streak, they will give him a world tile win (eventually) and they will make sure that the MITB briefcase doesn't go to one of three guys who don't need or deserve it.
Jericho definitely deserves it. If it doesn't happen now, it may not happen eeeeeeever again.
Drake Oz is a WWE Featured Columnist for Bleacher Report. You can follow him on Twitter and ask him any wrestling-related questions on Formspring.

This article is
What is the duplicate article?
Why is this article offensive?
Where is this article plagiarized from?
Why is this article poorly edited?