Euro 2012: Why Spanish Victory Confirms Status as World's Best Squad
July 3, 2012
Denis Doyle/Getty Images
Sometimes, the world is just not enough.
With Sunday's victory over Italy, Spain capped off the 2012 Euro Cup with an unprecedented third straight major title.
The repeat winners dismantled Italy to the tune of 4-0, capturing their second consecutive Euro Cup title to go along with their 2010 World Cup trophy. 
In reality, Spain's win just confirmed what many people already thought: they're No. 1.
If you want to see a clinic of how to maintain possession and execute pinpoint passes, look no further than Sunday's match.
Spain used its trademark ball control strategy perfectly, moving the ball in short, rhythmic passes across the pitch before striking at the opportune moments.
Unfortunately for Italy, those came all too often as Spain found the back of the net on four occasions in the route.
In wrapping up the Euro Cup, the Spanish national team showed both their talent and their depth as they got terrific contributions from several players.
Per usual, goalkeeper Iker Casillas played brilliantly throughout the tournament.
The team captain surrendered a single goal in six games.
On the other hand, Spain led the tournament with 12 goals, six more than the Italian squad that made it to the finals.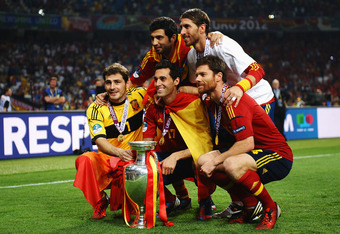 Laurence Griffiths/Getty Images
It may sound simple, but when your defense is impenetrable and your offense gets hot, there's not much an opposing team can do.
Along with the hardware lining their trophy case, Spain's collection of elite players separates their squad from the rest of the pack.
Fernando Torres showed why he is among the most feared scorers around the world as he became the only player to score in two European Championship finals.
The all-world striker finished the tournament with three goals in 189 minutes, earning the Golden Boot Award.
However, as good as Torres was, it's Spain's group of midfielders that makes it the best squad in the world.
The quintet of Andres Iniesta, Xavi Hernandez, Cesc Fabregas, Xabi Alonso and David Silva is clearly in a class of its own.
Spain's midfielders scored seven of the team's 12 goals and largely dominated the pitch.
Looking forward, no team can match that group which displays incredible vision, chemistry and experience.
While a team like Portugal boasts the best pure scorer in Cristiano Ronaldo and Italy has a top-notch goalie in Gianluigi Buffon, no team can match up at every level against the Spanish squad.
At this point, Spain doesn't even need to win the 2014 World Cup to earn the title of the best team of this era.
But you can bet they will be the favorites.
With no discernable weaknesses and a trifecta of championships, Spain enviably sits atop the throne as the world's elite team.