Mario Balotelli: Why the Italian Will Win the Golden Boot in the EPL Next Season
July 3, 2012

Claudio Villa/Getty Images
Last season in the Premiere League was one of the stepping stones in Mario Balotelli's evolution as a player.
For the majority of the first half of the season, Sergio Aguero and Edin Dzeko were partnered up in the front. They were doing a stellar job. Both Dzeko and Aguero were scoring many goals. In the 5-1 victory against Tottenham, Dzeko scored four of the goals. In Aguero's debut, he scored two goals and assisted David Silva.
The noisy Manchester neighbors couldn't have started off the season any better than they did.
However, later in the season, form just dropped.
Aguero continued to score goals, but Dzeko's hot form suddenly dipped. 
It was close to this point in the middle of the season that hot-headed Mario Balotelli was introduced to the starting lineup. In his spell of good playing time, he scored 13 goals in 23 appearances. Those are some pretty good scoring numbers.
Along with his goals came a level of immaturity. Balotelli is known for not being very disciplined. In his career at Manchester City, he has recorded four red cards.
His attitude has also been a problem. When he has been subbed off on a few occasions, he hasn't come out with the best of attitudes. When he has received a red card, he doesn't usually go off with tranquility.
This is an aspect of himself that will improve with time—he is just 21, so this maturity will come to him eventually.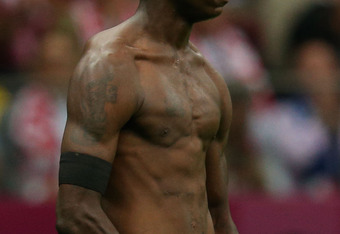 Joern Pollex/Getty Images
He proved this in the Euros of 2012.
In this tournament, Balotelli managed to control his temper and didn't cause too many problems for the Italian team. In fact, he proved that he deserves to be called "Super Mario". 
He had one of the better tournaments compared to the likes of other great forwards. 
He tied the number of goals scored with players such as Fernando Torres, Mario Gomez, Cristiano Ronaldo, Mario Mandzukic and Alan Dzagoev, each having scored three goals.
His first goal came against Ireland in a 2-0 victory. The Italians had a 1-0 lead, and then toward the end of the match, Balotelli put in a superb volley. This victory would place the Italians into the quarterfinals of the tournament.
His second and third goals came in the same match—the semifinal against Germany. 
This match seemed to be one for the Germans to take, but Italy came out strong from the beginning. Balotelli got his first goal of the match in the 20th minute, scoring on a header from a cross from Antonio Cassano.
Then, in the 36th minute, Balotelli scored again. This goal came on the counter off a long ball from Riccardo Montolivo.
Italy went on to win 2-1, but lost 4-0 in the final to Spain.
Ultimately, in this tournament, Balotelli showed that his maturity is evolving. I foresee that this discipline will carry into his upcoming season with Manchester City. Knowing that he was able to do well for the Italian team will increase his confidence.
He will probably start for Manchester City, given his great performance at the Euros, given that Manchester City doesn't add on a player such as Robin van Persie. That would probably jeopardize the likelihood of him starting.
But, if something like that doesn't happen, he could then play alongside Argentine Sergio Aguero.
Like I mentioned earlier, Balotelli scored 13 goals in 23 appearances in his spell in the second half of the season. 
With the form he's in at the moment, he could definitely score a variety of goals in the coming season. Balotelli is a strong player and is pretty tall, around 6'2". He is also a technical player with pace. And he has the flare that a player should have. He is the complete forward package.
Along with this momentum from the Euros, I wouldn't be surprised if Balotelli scored more than 20 goals in the coming season.
Mario has shown the discipline that it takes to be successful in football in the Euros. This will allow him to do even better than last season.
I predict that Balotelli will have an outbreak of goals next season and will win the Golden Boot in the Premier League season, scoring around 27 or 28 goals.
Do you think Mario Balotelli has what it takes to score many goals and win the Golden Boot next season?
Thanks for reading!